04/19/2018
Tech's Now a Top Concern for Grocers – Here's Where They're Investing in It: Annual Report
Read the Rest of the Report
(Editors' note: This is part five of a five-part series)
Although human capital and competition remain the chief concerns over which grocers lose sleep, keeping up with technology has reached unprecedented heights of concern, rising to No. 3 (45.5 percent) from No. 9 since last year's Annual Report. And while Amazon might have many grocers backed into a corner, these retailers aren't going down without a fight: Nearly three in four (73.6 percent) respondents plan to increase their technology spend in 2018.
Technological innovations for marketing and merchandising have taken priority over traditional methods in 2018: Taking up the top three spots on the list of important strategies are in-store signage/digital media (71.1 percent), digital marketing (67.5 percent) and mobile marketing (57.9 percent), trailed far behind by direct mail (38.6 percent), newspaper inserts (29.8 percent), newspaper ads (23.7 percent), radio advertising (19.3 percent) and TV advertising (18.4 percent).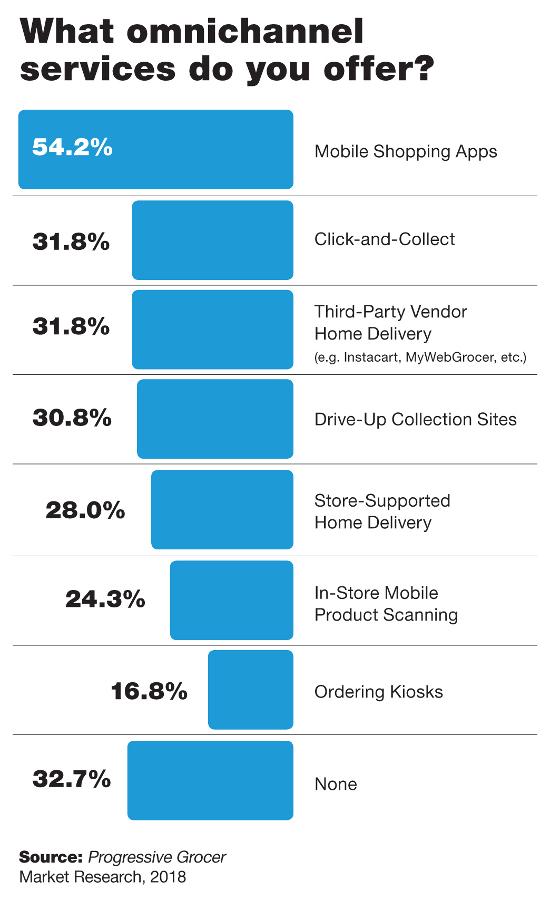 The biggest news comes on the omnichannel front: Fewer grocers are still in the planning and development phase, with 56.1 percent — compared with 43.3 percent last year — currently executing or running a fully integrated strategy using in-store, online and digital channels. However, smaller chains are further behind than larger ones, showing the advantages that third-party companies can have in assisting where scale and resources might be limited: While about one-third (32.1 percent) of respondents with fewer than 50 stores (versus 79.6 percent of those with 50-plus locations) are executing or running a fully integrated strategy, roughly half (50.9 percent) said they're just getting started.
Although last year's report showed growth only in select omnichannel services being offered compared with the year prior, this year's showed robust expansion across the board. Mobile shopping apps saw the strongest amount of growth — from 29.6 percent to 54.2 percent — which corresponds with a shift in what grocers value in mobile devices over the past year.
Social media no longer seems to be the greatest value in mobile for grocers: Facebook, which topped last year's list, fell dramatically in this year's survey (59.1 percent to 25.9 percent), while order online/pickup in-store (42.6 percent versus 27.9 percent last year); POS loyalty card (32.4 percent versus 23.6 percent); ecoupons (55.6 percent versus 51.9 percent); and personalized discounts (27.8 percent versus 23.4 percent) saw stronger favor. Mobile wallets and scan-as-you-go/bypass checkout, although not represented last year, were selected by 16.7 percent and 17.6 percent of respondents, respectively.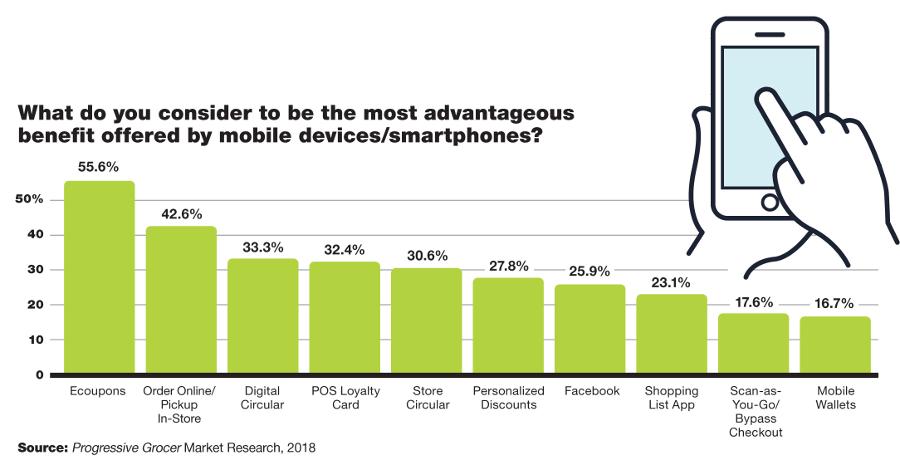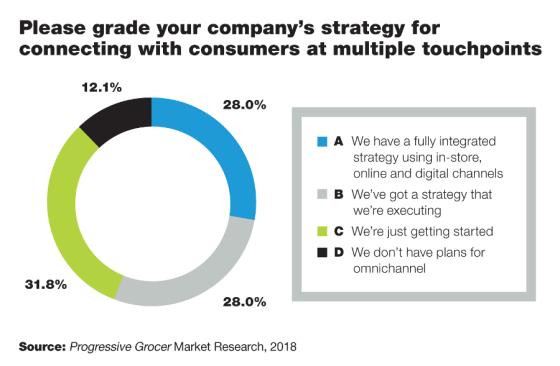 Meanwhile, retailers large and small have worked to expand mobile wallet functionality across stores, including Walmart, Target and Kroger, while checkout-free technology has also expanded from giants like Kroger and Walmart to independents such as Macey's, in Utah.
Aside from mobile shopping apps, all omnichannel offerings other than click-and-collect saw double-digit growth over the past year. This could be because click-and-collect saw strong growth in last year's report, meaning that grocers have moved into more sophisticated waters — for instance, in-store mobile product scanning (24.3 percent versus 8.5 percent) and ordering kiosks (16.8 percent versus 2.8 percent) saw some of the most impressive growth, while delivery services — whether store-supported (28 percent versus 14.1 percent) or third-party (31.8 percent versus 16.9 percent) — also had their year in the sun, possibly due to Amazon's ante-upping in the space: Walmart, Target, Albertsons and Costco alone have been working to expand same-day delivery. Click-and-collect still grew, however, with nearly one-third of grocers now offering it, compared with just more than one-fifth last year.