01/31/2018
Kroger Unveils 18 Divisions to Get Checkout-Free Tech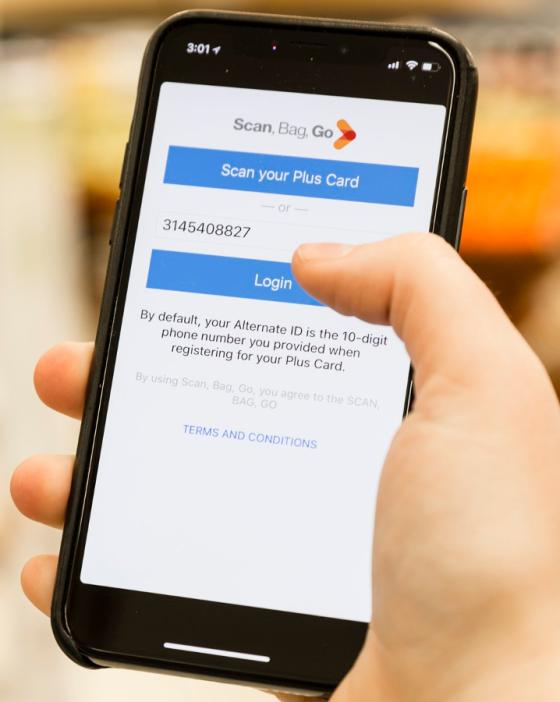 The Kroger Co. has revealed the 18 divisions where it will expand its Scan, Bag, Go technology this year, bringing the service to 400 locations across the country.
The divisions that will receive the technology this year are Atlanta, Central, Cincinnati, Columbus, Dallas, Delta, Dillons, Fred Meyer, Fry's, Houston, King Soopers, Louisville, Michigan, Mid-Atlantic, Nashville, Ralphs, Smith's and QFC. Scan, Bag, Go will be offered as an option alongside staffed checkout, self-checkout, online ordering, curbside pickup and home delivery in select cities.
With Scan, Bag, Go, customers use a wireless hand-held scanner or the namesake mobile app to scan and bag products as they shop, making checkout faster and easier. Customers currently visit a store's self-checkout area to provide payment, and will soon be able to pay directly through the app.
Built in-house, the technology also allows users to view and download digital coupons, keep a running total of their order, and view the current week's sales ad.
"The installation of Scan, Bag, Go is a collaboration between the Kroger operations and tech teams that allows us to accelerate the adoption of new technologies in our stores," said Mary Ellen Adcock, Kroger's group VP of retail operations. "We are always excited to execute innovative ideas that benefit our customers' shopping experiences."
Rival food retailer Walmart this month also revealed plans to expand scan-as-you-go technology to additional stores. Currently being tested in the Dallas-Fort Worth, Orlando and northwest Arkansas markets, the Bentonville, Ark.-based mega-retailer's Mobile Express Scan & Go technology will arrive in select stores across 33 states, allowing customers to scan and bag items, including produce, and pay for them via phone. Scan & Go debuted at Walmart's Sam's Club division in the fall of 2016.
Seattle-based ecommerce behemoth Amazon also made news this month with its checkout-free technology: Amazon Go, a small-format concept that employs the same technology used in self-driving cars to detect when products are picked up or replaced, finally opened to the public after a 10-month delay. To use the "just walk out" technology, patrons download and check in via a mobile app, take what they want and walk out the door, where they are charged for the products they take with them. There are no lines or barcodes to be scanned in the process.
Kroger first announced plans to bring Scan, Bag, Go outside its 20-store pilot last October, when it unveiled its Restock Kroger initiative. The technology falls under the second pillar of the grocer's four-pillar plan, which, in order, are "Redefine the Food and Grocery Customer Experience," "Expand Partnerships to Create Customer Value," "Develop Talent" and "Live Kroger's Promise."