04/18/2018
What's Keeping Grocery Execs Up at Night – and How They are Responding: Annual Report
(Editors' note: This is part four of a five-part series)
As grocery retailers attempt to better cater to younger consumers, they're apparently concerned with having the appropriate workforce to keep them on the right path. With Millennials' purchasing power continuing to grow and Generation Z's not far behind, retailers are going to need to make the grocery industry more attractive as a career choice so that their talent within reflects the audience to whom they need to appeal.
Read the Rest of the Report
It makes sense, therefore, that retail executives responding to Progressive Grocer's survey named labor as the top issue keeping them up at night. Replacing benefits (which dropped to No. 7) at the head of the list, recruitment, retention, diversity and training of a workforce to propel them into a new era are seen as key concerns for the coming year.
"We've grown so fast in the last five years, the biggest thing is help," says Doug Cygan, president of Itasca, Ill.-based Jewel-Osco, a 187-store grocery chain in metro Chicago that's part of Albertsons. "We hire people at a record pace. We've got 32,000 people, one of the biggest employers in the state of Illinois. But just finding people to work in our stores – we're hiring at almost every location we have. We're looking for future leaders, for future managers. So we continue to hire, teach, train people to be successful. It's the thing that keeps us up the most at night."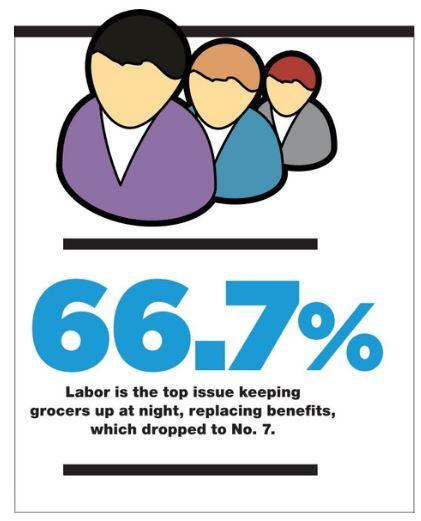 Keeping up with advancements in technology (ranked ninth last year) and online sales ranked third and fourth, respectively – understandably, considering Amazon's acquisition of Whole Foods Market and the accelerated pace at which technology is taking over all aspects of retailing, from shopping to checkout to delivery to the supply chain. Industry statesman Fred Morganthall, the now retired executive who led southeastern grocery chain Harris Teeter through its merger with The Kroger Co., recently told an audience at Western Michigan University's Food Marketing Conference that retailers should be redirecting brick-and-mortar cap ex budgets to online. "If you don't do that, I don't think there's a future," Morganthall remarked.
But it's clear that nearly every issue related to being a relevant retailer in today's climate is constantly on the minds of grocery executives.
"The biggest issue that keeps me up at night is the rising cost of doing business, in particular, the ongoing increase in DIR [direct and indirect remuneration] fees," says Randy Edeker, chairman, CEO and president of West Des Moines, Iowa-based Hy-Vee, which operates nearly 250 supermarkets and as many retail pharmacies, and is the parent company of Amber Pharmacy and Hy-Vee Pharmacy Solutions.

"Right now, retail pharmacies must conduct business in an unpredictable environment where we are unsure of reimbursements and fees for administering much-needed medication for our customers," Edeker tells PG. "Operating in this business situation creates uncertainty not only for a retailer, but most importantly, its patients who are trying to navigate an already complex health care system."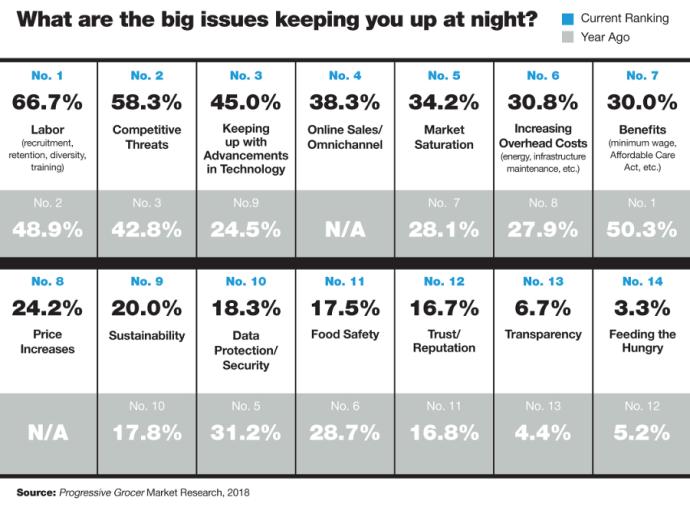 In a retail atmosphere that's focused on convenience and the individual consumer experience, Edeker notes, "My thoughts are on meeting personal shopping needs and on-the-go habits while providing an overall great customer service experience for everyone who walks through the door at Hy-Vee."
The provider that adapts to emerging trends and acts quickly to enable continued growth will be rewarded with loyal customers, according to Judy Spires, chairman and CEO of KB Holding Inc., a Delaware-based investment firm that owns Kings Super Markets and Balducci's, which operate a combined 35 locations in the northeastern United States.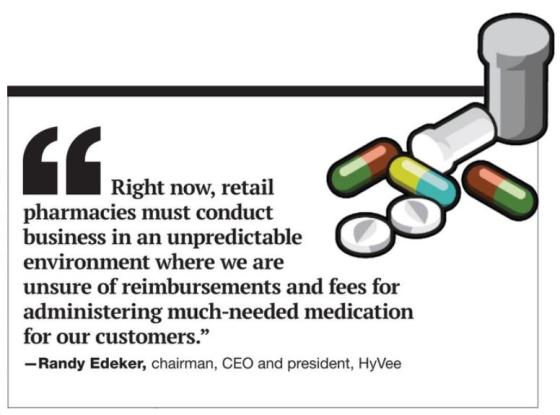 "We are in a new era of food solutions, one that is full and ripe with exciting opportunity," Spires says. "In our industry, the consumer is willing to try anything and is open to tasting new flavor profiles, all while on the quest for the very best quality. Businesses survive and thrive by accepting change and planning for it. My team has clear insight into these trends, and we see the path to success. With so many opportunities, prioritization is an important ingredient to determine our future and what we'll continue driving forward to move our business ahead."
Edward "Trey" Basha, president and CEO of Chandler, Ariz.-based Bashas' Family of Stores, which operates 130 locations under three banners, observes that growing sales, integrating innovation and battling competition "are three key components of everyone's sleepless nights."
Basha continues: "Sales will always be a crucial driver of success in the grocery industry, and finding ways to increase sales is a delicate balance of having the right products on the right shelves and in the right stores. What's equally important is that we're taking care of, and responding to, our customers."
Basha expects online sales to grow in the coming year. "With online delivery of shelf-stable and nonfood items becoming more of the norm, especially for time-pressed families, organizations need to grow these areas with the demand," he said. "This connects with the critical element of continuing to invest in remodels and technology, with the end goal of providing a better shopping environment for our customers and a better work environment for our employees."