08/24/2017
Amazon to Bring Lower Prices, Prime to Whole Foods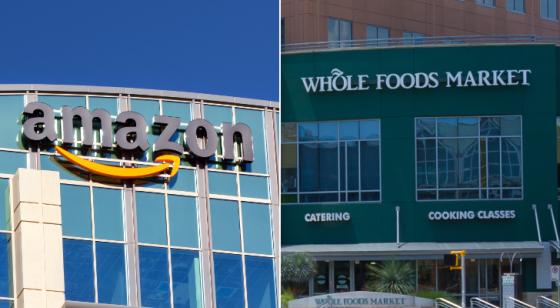 In addition to announcing the closure of Amazon's acquisition of Whole Foods in four days, the two retailers have shared their vision for a future where Whole Foods' products will be affordable for everyone, with new pricing initiatives and Prime membership playing a key role immediately.
Beginning Aug. 28, Whole Foods will lower prices across all stores on a selection of best-selling grocery staples, with more to come. The items include Whole Trade organic bananas, responsibly farmed salmon, organic large brown eggs, animal-welfare-rated 85 percent lean ground beef, creamy and crunchy almond butter, organic Gala and Fuji apples, organic rotisserie chicken, and 365 Everyday Value organic butter, to name just a few.
Additionally, Amazon and Whole Foods' technology teams will begin integration of Amazon's Prime membership program into the Whole Foods POS system, allowing Prime members to receive "special savings" and in-store benefits upon completion of the integration. The two companies will invest over time in additional areas, including merchandising and logistics, to enable lower prices for Whole Foods customers.
"It's been our mission for 39 years at Whole Foods Market to bring the highest-quality food to our customers," said John Mackey, Whole Foods co-founder and CEO, who will remain CEO after the acquisition and continue working out of the chain's Austin, Texas, headquarters. "By working together with Amazon and integrating in several key areas, we can lower prices and double down on that mission and reach more people with Whole Foods Market's high-quality natural and organic food. As part of our commitment to quality, we'll continue to expand our efforts to support and promote local products and suppliers.
Additional changes:
Whole Foods' private label products – including 365 Everyday Value, Whole Foods Market, Whole Paws and Whole Catch – will be available through Amazon.com, AmazonFresh, Prime Pantry and Prime Now.
Amazon Lockers will be available in select Whole Foods stores. Customers can have products shipped from Amazon.com to their local Whole Foods store for pickup, or send returns back to Amazon during a trip to the store.
Whole Foods will continue to grow its team and create jobs in local communities as it opens new stores, hires new associates, and expands its support of local farmers and artisans. The company will maintain operations under the Whole Foods brand, preserve its standards and commitment to providing natural and organic foods, and continue to source from its already established vendors and partners around the world.

Seattle-based Amazon shocked the world of grocery on June 16 when it announced its bid to acquire Whole Foods for $13.7 billion. Since then, industry speculation has ranged from fears that the buy will deal a major blow to the competition and industry as a whole, to brush-offs that Amazon's purchase really isn't the game-changer others make it out to be. Although attempts have been made to block the deal, the Federal Trade Commission yesterday approved the transaction, believing it won't hamper competition or provide Amazon with an unfair advantage in the market. Many of Whole Foods' clientele certainly see an advantage to Amazon's ownership: Recent research from global market researcher GfK shows four in 10 Whole Foods patrons favoring the deal.