New Small-Format Sam's Club Places Mobile at the Center of Shopping Experience
Get great content like this right in your inbox.
Subscribe
More than six months after pulling the plug on Scan & Go scan-as-you-shop technology in its Supercenters, mass-merchandiser Walmart Inc. is opening a smaller-format, grocery-focused club store that places shoppers' mobile phones at the center of the grocery shopping experience, while adopting and testing other technologies.
At 32,000 square feet, Sam's Club Now, which is "very close to opening" in Dallas, is a quarter-size Sam's Club store that calls itself a "mobile-first shopping experience" powered by the retailer's new Sam's Club Now app, whose foundation is Scan & Go. Because of its ideal size, it will function as a center to incubate, test and refine new grocery technology to "help define the future of retail."  Sam's Club's technology team, including technologists from the retailer's Innovation Center in Dallas, is leading development of the mobile app and the store's technology.
"And here's what we already know – the future of retail is as much about people as it is about technology," said Jamie Iannone, CEO of SamsClub.com and EVP of membership and technology, Walmart. "As a result, Walmart is introducing a new in-store role called the member host – someone empowered with new technology that helps them serve members better and faster.
"We've known for a long time our associates make the difference, and that won't change just because shopping preferences evolve," Iannone added.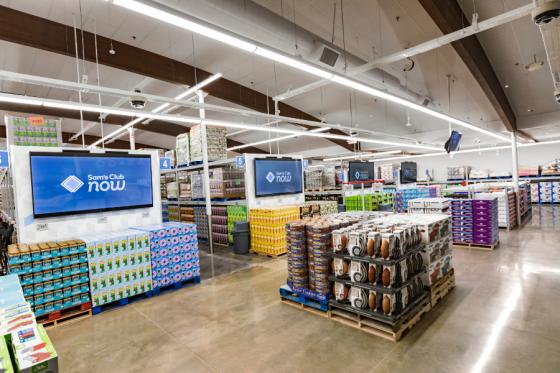 Features in the app include:
Smart shopping lists
Combining machine learning and purchase data to autofill shopping lists, these allow for easy adding or removal of items, and as items on the list are scanned, they will be moved to the mobile basket automatically.
Wayfinding and navigation
Currently a combination of voice search and new wayfinding and navigation features that direct users via a map to the item they need, this eventually will make use of beacon technology and a smart shopping list to draw the best route through the store.
Augmented reality (AR)
With both practical and fun uses, AR will let Sam's Club Now share new ways to use products and integrate stories that highlight "cool features" – including sourcing – or even "transform" members' digital carts into such vehicles as pirate ships or rocketships.
One-hour Club Pickup
Using the app, members can now place and pickup an order within an hour.
Other plans for in-store technology tests include electronic shelf labels that will instantly update; and using the 700-plus cameras in the club to help manage inventory in new ways and optimize the layout to make shopping effortless.
"We're putting Sam's Club on the cutting edge of innovation in the warehouse channel," Iannone noted. "Using all available technologies – including computer vision, AR, machine learning, artificial intelligence, robotics, just to name a few – we will redefine the retail experience today and into the future."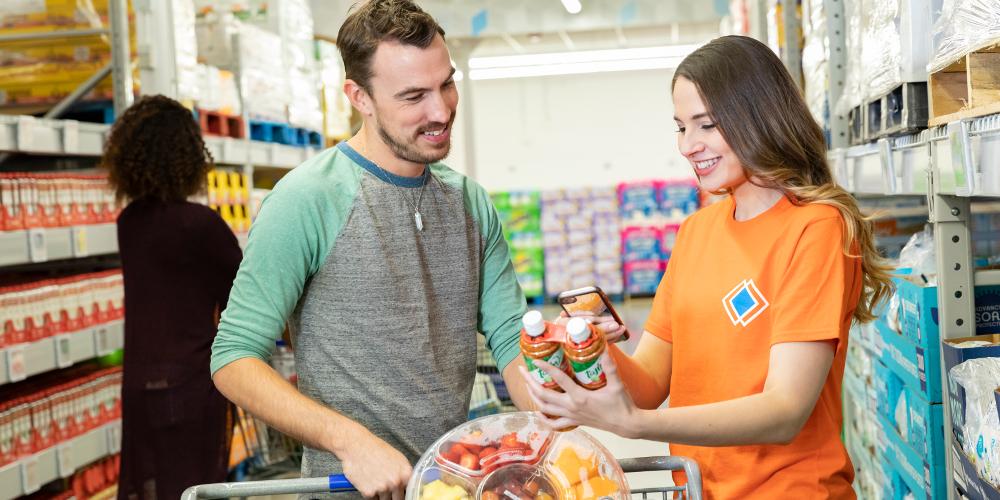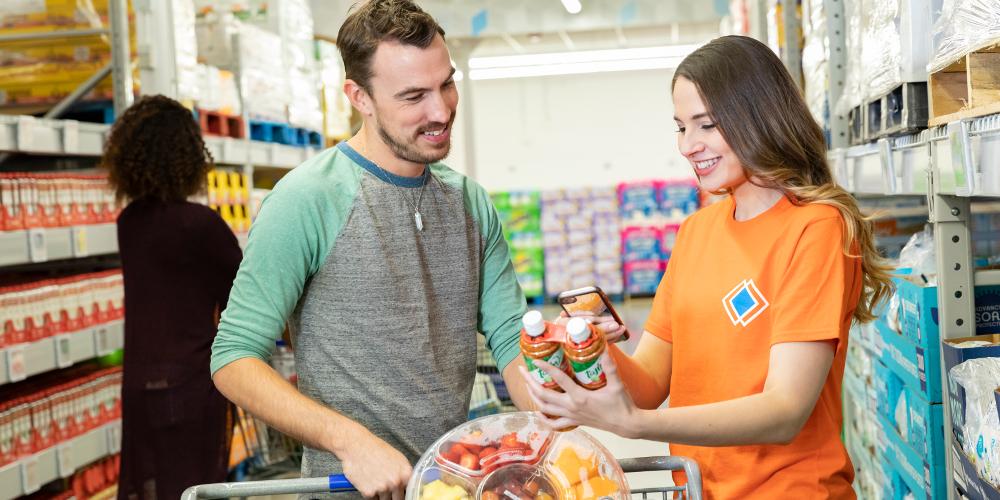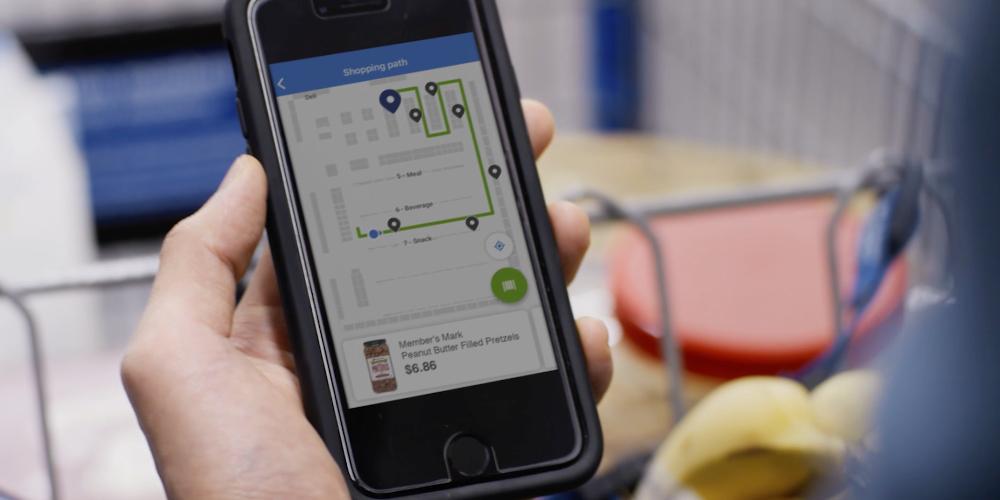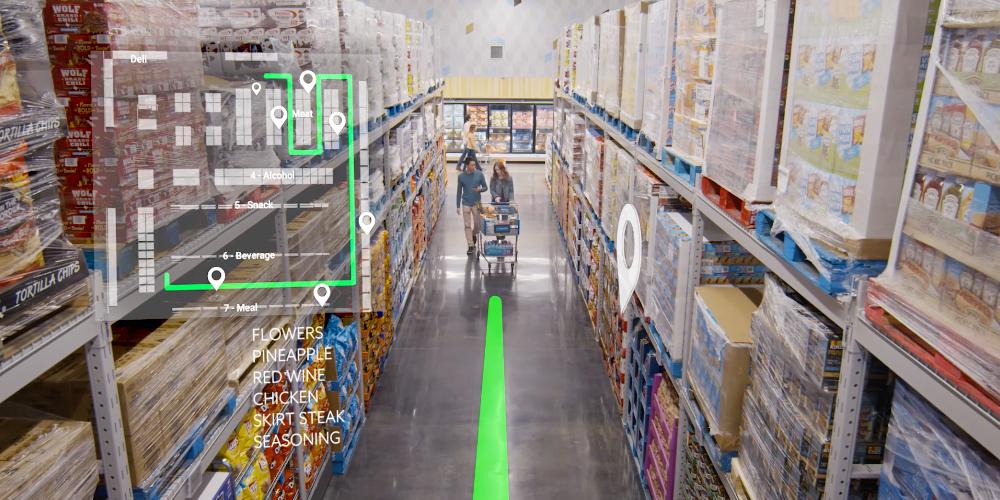 Reports of the new concept first arose in mid-June, when The Dallas Morning News reported that Walmart was planning the location to open in an old Walmart Neighborhood Market in Dallas' Lower Greenville neighborhood. The report noted that the store will carry about 1,000 to 2,000 items – compared with the average 6,000 in a full-size Sam's Club – with focus given to convenience items, fresh food, and grab-and-go meals.
Earlier this month, Sam's Club also revealed plans to grow its same-day-delivery footprint to half of its locations by the end of October. It first added same-day delivery of groceries and everyday essentials through Instacart back in January, piloting the service at 61 locations in three markets: Austin and Dallas-Fort Worth, Texas, and St. Louis. The retailer also recently expanded the service into San Diego and Los Angeles.
The automated Sam's Club location comes at a time when a number of retailers and grocery technology companies are focusing on smaller formats and such technologies as machine learning, vision sensors, AI and more to make the shopping process as seamless, quick and easy as possible.
Seattle-based Amazon already has opened three locations in Seattle, two in Chicago and one in San Francisco, and is planning one in New York, two more in Chicago and another in San Francisco – with plans to have 3,000 locations in just a few years. Similar concepts that also have opened include Standard Market, powered by artificial-intelligence company Standard Cognition, and a concept powered by the Zippin checkout-free software platform, both in San Francisco.
Sam's Club is the club store division in Bentonville, Ark.-based Walmart's U.S. division. Walmart is No. 1 on Progressive Grocer's 2015 list of the top grocers in the United States.