Amazon Opens 2nd Location of Cashierless Concept
Get great content like this right in your inbox.
Subscribe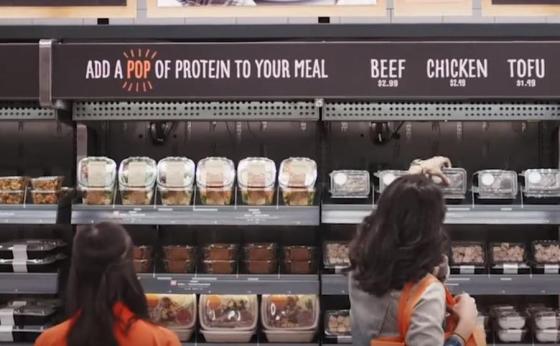 Amazon has opened the second location of its Amazon Go automated convenience store format, which, like the first location, is located in the company's hometown of Seattle, TechCrunch has reported.
Located at 5th and Marion avenues, the new location is 1,450 square feet, smaller than the original store's 1,800 square feet, and will require it to rely on an Amazon kitchen elsewhere for fresh foods rather than housing its own, The Seattle Times reported. But like the original store, it will offer a number of grab-and-go options for breakfast, lunch, dinner and snacks, as well as Amazon's Meal Kits, the news outlet stated. It also will employ the same "just walk out" grocery technology for which the first store is known.
Amazon has other stores under its new format in the works in other areas of the country. Earlier this year, reports stated that San Francisco and Chicago would be the next two cities after Seattle to get Amazon Go stores, with the Chicago Tribune reporting soon after that the Windy City will get not just one, but two locations of the checkout-free concept. Los Angeles also has been reported as a potential home to an Amazon Go store.
The "just walk out" technology that makes Amazon Go's store cashier-free uses the same innovation found in self-driving cars, employing computer vision, sensor fusion and deep learning to automatically detect when products are removed from, or placed back on, shelves. Patrons download and check in via a mobile app, take what they want and walk out the door, where they are charged for the products they take with them. There are no lines or barcodes to be scanned in the process.
Amazon took longer than anticipated to open its first store to the public due to some unexpected hangups with its technology, forcing a delay of 10 months for its public debut. During a March presentation at ShopTalk in Las Vegas, Amazon Go VPs Dilip Kumar and Gianna Puerini revealed some of those issues, which included pulling off the "just walk out" technology in a way that makes it seamless and effortless, developing algorithms that are beyond state-of-the-art for computer vision and machine learning to solve the problems of who took what, and creating the robust hardware and software infrastructure to support everything. Even retraining customers' behavior when shopping and leaving a typical grocery store presented a challenge.
This week marked the one-year anniversary since Amazon officially took ownership of Austin, Texas-based natural and organic grocer Whole Foods Market. Through the transaction, Amazon now ranks No. 8 on Progressive Grocer's 2018 Super 50 list of the top grocers in the United States.