Amazon Go May Open New Stores in Seattle, L.A.
Get great content like this right in your inbox.
Subscribe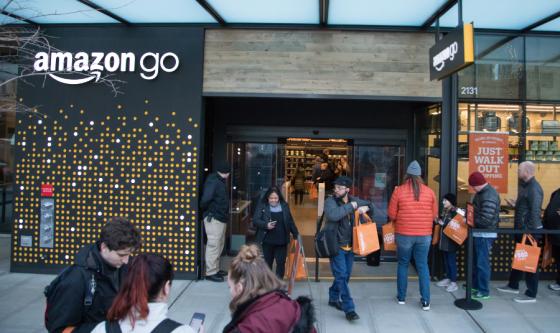 Amazon reportedly is ready to turn its Amazon Go cashierless convenience concept into a chain, Recode has reported, citing multiple people familiar with the matter.
Amazon Go, which opened to the public earlier this month in the ecommerce giant's hometown of Seattle, will get several stores in the same city and also in Los Angeles, the news outlet said. The Emerald City could get at least three locations, while the latter may get one in The Grove, a 600,000-square-foot outdoor shopping area created by billionaire developer Rick Caruso, who has been in "serious talks" with Amazon about opening a store there.
The "just walk out" technology that makes Amazon Go's store cashier-free uses the same technology as self-driving cars, employing computer vision, sensor fusion and deep learning to automatically detect when products are removed from, or placed back on, shelves. Patrons download and check in via a mobile app, take what they want and walk out the door, where they are charged for the products they take with them. There are no lines or barcodes to be scanned in the process.
The store debuted to employees in December 2016, with plans to open to the public the following March. However, difficulty tracking more than 20 people at a time or items moved from their specific shelf spaces caused a delay, pushing the public debut back to earlier this month.
Automated cashierless small-format stores aren't a new concept in the world – and weren't even when Amazon unveiled Amazon Go. China-based retail and technology company Alibaba – which often is compared with Amazon, and whose founder and chairman, Jack Ma, is often likened to Amazon CEO and founder Jeff Bezos – operates a similar chain of convenience stores in the East, called BingoBox. While they don't use the same technology as Amazon Go, relying instead on RFID, they operate with the same purpose: Each detects what a person walks out with and charges him or her upon exit.