05/15/2018
Amazon Go Stores Coming to Chicago, San Francisco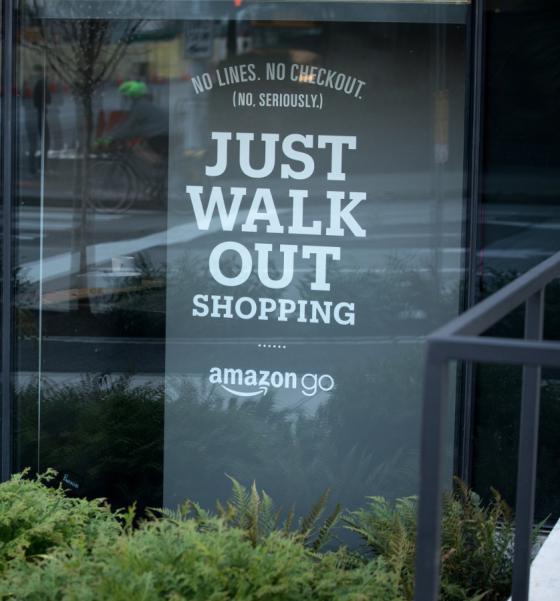 Amazon is planning Amazon Go stores for Chicago and San Francisco, job listings on the ecommerce giant's website revealed several months after reports that the retailer was planning to turn its one-store cashier-less convenience concept into a chain.
Listings for open managerial positions in the Windy City and the Golden Gate City have gone up April 19 and 23, respectively. They describe the ideal candidate as someone willing to create a "vibrant store culture based on customer obsession, trust, respect, continuous learning and fun." The Seattle-based company already has opened and operates brick-and-mortar stores in both regions under its Amazon Books format.
Already, reports have surfaced about properties Amazon has leased in both cities' downtown areas. Curbed Chicago said that plans to build an "Amazon store" are underway in the Loop neighborhood, according to a building permit filed in February, while the San Francisco Chronicle reported just two days ago that Amazon is rumored to have plans for a "grab-and-go store" in the Union Square district.
Reports also hint at other location possibilities, The Seattle Times noted.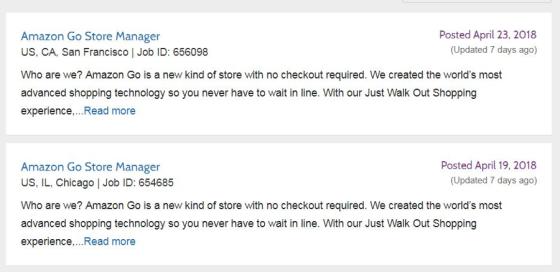 Following Amazon Go's long-postponed public debut in late January, reports surfaced that the concept was being planned to expand in its hometown of Seattle and into Los Angeles. At the time, it was said the former could get at least three locations, while the latter could receive one in an upscale outdoor shopping area created by a billionaire developer who was in "serious talks" with Amazon about the matter.
The "just walk out" technology that makes Amazon Go's store cashier-free uses the same innovation found in self-driving cars, employing computer vision, sensor fusion and deep learning to automatically detect when products are removed from, or placed back on, shelves. Patrons download and check in via a mobile app, take what they want and walk out the door, where they are charged for the products they take with them. There are no lines or barcodes to be scanned in the process.
Before it could open the first store to the public and expand the concept, Amazon had to address several problems, Amazon Go VPs Dilip Kumar and Gianna Puerini shared in a March presentation at ShopTalk. These included pulling off the "just walk out" technology in a way that makes it seamless and effortless, developing algorithms that are beyond state-of-the-art for computer vision and machine learning to solve the problems of who took what, and creating the robust hardware and software infrastructure to support everything. Even retraining customers' behavior when shopping and leaving a typical grocery store presented a challenge.
Amazon made news earlier this month when it landed as No. 7 among the nation's top 50 grocers, according to Progressive Grocer's 2018 Super 50 list. While it made its way onto the list by purchasing Austin, Texas-based Whole Foods Market last August, the news signals that one of grocers' greatest worries in recent years is now officially a reality: Amazon is currently among the toughest competition in today's brick-and-mortar grocery retail market. This is anticipated only to grow as physical operations expand.