05/16/2018
Walmart's Scan & Go Has Failed - It's Time to Empower Associates
Walmart has put an end to its mobile-checkout program, Scan & Go, which it began expanding just earlier this year, due to lack of popularity, CBC News has reported. Which means it needs to take what it has learned and start working on expanding its associates-powered mobile checkout program: Check Out With Me.
First, some background: Scan & Go allowed customers to scan and bag items, including produce, while they shop, and pay for their purchases with their mobile devices. Available for Android or iOS devices – or via handheld devices provided at kiosks in test stores – the app securely stores credit or debit card information for fast and easy checkout, just like shopping with the Walmart Pay mobile wallet. Once customers finish shopping and pay for their products, they walk through the Mobile Express lane, bypassing checkout. 
After testing the program in the Dallas-Fort Worth, Orlando and northwest Arkansas markets, Walmart announced in January plans to expand it to 100 more stores nationwide, in 33 states. The program first debuted in Sam's Club stores in the fall of 2016, and will remain at the club chain.
It's worth noting that two other major U.S. food retailers also have unveiled and announced plans to expand scan-as-you-shop technology of their own in recent months. In January, Kroger revealed the 18 divisions where it will expand its Scan, Bag, Go technology this year, bringing the service to 400 locations across the country. And in April, Meijer introduced Shop & Scan, set to be available in all 235 Meijer stores by summer's end.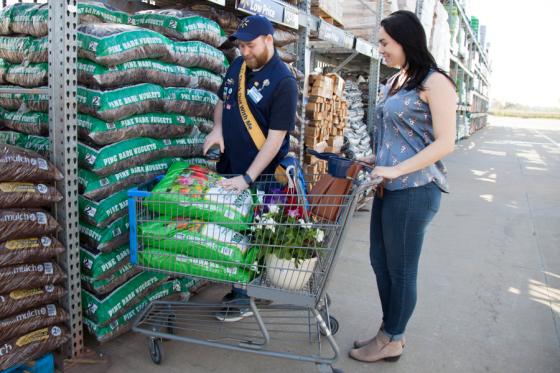 Power to the Associates
Check Out With Me, on the other hand, could make much more sense expanding across the store. Currently available only in the Lawn & Garden Center, it empowers associates with cellular devices and Bluetooth printers to check out customers and provide receipts right where they are, with no need to enter the store and stand in traditional checkout queues. It puts scanning in the hands of associates rather than patrons' own, and that's critical. 
This way of using mobile checkout technology is referred to as "line-busting" by Chase Thomason, founder and CEO of Skip, a mobile self-checkout solutions provider based in South Jordan, Utah. For instance, Skip's technology allows associates operating an event in the parking lot to scan items for people seeking to check out without having to go into the store.
Walmart would not explain the reasons behind low adoption rate, but retail expert Steve Tissenbaum, a professor at Ryerson University's Ted Rogers School of Management, told CBC News that Scan & Go may have failed because it asked customers to do too much work.
"They want it to be as quick and as seamless as it is when they're ordering stuff online," Tissenbaum told the outlet.
Take Amazon, for instance: The Seattle-based ecommerce giant, not long before Walmart's plan to axe Scan & Go, said it was expanding its Amazon Go cashierless concept from one store in Seattle to two more: in Chicago and San Francisco. If the initial Amazon Go store was a success in the company's hometown, and enough of one to warrant expansion, it could be not just because it eliminates checkout, but also because it doesn't require extra effort on shoppers' part.
Because what shopper wants to adopt technology that's supposed to make checkout easier, only to require more work on her own part?
Of course, it's also possible that Walmart shoppers are more likely to want face-to-face interaction during their shopping trips. CBC News quoted a customer in Missouri as noting that the technology "really takes away from a lot of people interaction, which I personally like." And if Walmart chooses to expand the Check Out With Me concept to other areas of the store, then it might have shoppers more willing to adopt and even become fans of mobile checkout.