04/20/2018
Walmart Empowers Lawn & Garden Associates with Mobile Checkout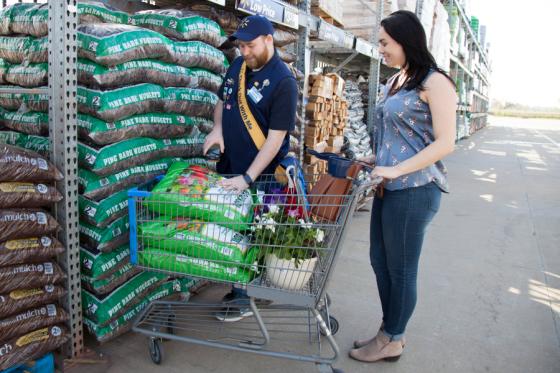 Walmart is empowering its Lawn & Garden Center associates with cellular devices and Bluetooth printers to check out customers and provide receipts on the spot.
Check Out With Me, a new program from the Bentonville, Ark.-based mega-retailer, saves customers the time by allowing on-the-spot payment in the centers for such products as mulch, soil and flowers. A Walmart associate scans their items with the Check Out With Me mobile device, swipes their credit card and provides a printed or e-receipt.
Previously, customers had to exit the Lawn & Garden Center and enter the store itself to pay for lawn- and garden-related products.
"As we continue to test this new process, we'll be listening to our customers and working on ways to bring their expectations to life," Walmart said. "Check Out With Me is the latest example of our commitment to deliver a more convenient shopping experience that saves our customers time."
The new program is yet another way Walmart is working to empower its employees. In January, the retailer said it would raise the starting wage rate for all hourly U.S. associates to $11, expand maternity and parental leave benefits, and give eligible full- and part-time workers a one-time cash bonus of up to $1,000. Also, late last year, Walmart unveiled an app featuring a new suite of services to help employees plan ahead for bills and savings goals while allowing access to wages ahead of paychecks for unexpected expenses.
It's also another way that Walmart is using mobile to make shoppers' path to purchase more convenient. At the beginning of the year, the company announced its plan to expand its self-checkout technology from test stores in the Dallas-Fort Worth, Orlando and northwest Arkansas markets – as well as all Sam's Club stores – to 100 additional Walmart stores nationwide. The following month, it added a handful of new and improved features to its namesake mobile app – not only to help customers get in and out quickly, but also to assist them before they even left home. New app offerings include a smarter list-building feature, individual store maps for help finding items down to the shelf level, and additional information on particular stores' specialized services and departments.