Amazon Go Expands into East Coast with 1st NYC Store
Get great content like this right in your inbox.
Subscribe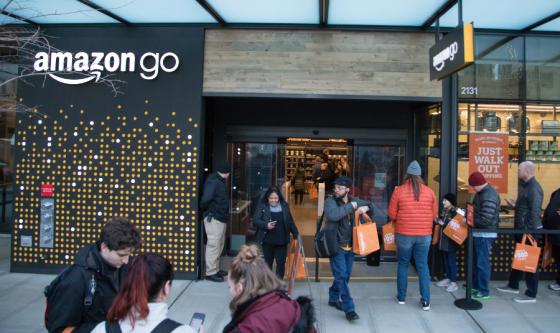 Amazon is planning to open one of its cashierless convenience concepts in New York, evidenced by several listings posted on the ecommerce giant's jobs page.
The Seattle-based company is seeking at least three positions for a planned Amazon Go store in the Big Apple: store manager, assistant store manager and training lead associate. The new store will mark the format's entrance into the East Coast.
Amazon Go's technology is the same as that used in self-driving cars: Computer vision, sensor fusion and deep learning make up the "just walk out" technology, developed to automatically detect when products are taken from or returned to shelves, and to keep track of the items in a virtual cart. Shoppers check in by scanning a barcode on a dedicated mobile app, and, upon leaving, are charged via their Amazon account.
Amazon Go stores provide a "curated selection" of ready-to-eat breakfast, lunch, dinner and snack options made by both Amazon chefs and select local kitchens and bakeries. Grocery essentials offered range from staples such as bread and milk to artisan cheeses and locally made chocolates.
Amazon already is planning an Amazon Go store in San Francisco and two in Chicago, having listed jobs in both cities on its board earlier this year. In the past month, it also has opened the second and third locations under the banner, which, like the first location, are located in the Emerald City.
The first Amazon Go store was intended to open to the public in March 2017, but problems with the technology fueling the format delayed the debut by 10 months. During a presentation at this year's Shoptalk event, Dilip Kumar, VP of technology for Amazon Go and Amazon Books, said challenges here included the ability to pull off the "just walk out" technology in a way that makes it seamless and effortless; creating algorithms that are beyond state-of-the-art for its computer vision and machine learning to solve problems of who took what; and creating a robust hardware and software infrastructure to support everything.
Since solving the dilemma, Amazon has been hard at work expanding the concept to other markets. But it's not without its fast followers: While other grocery retailers, such as Walmart and Albertsons, are working on similar technology of their own, two truly rival concept stores have opened in San Francisco in the past month, both powered by technology companies:
A concept from San Francisco-based technology startup Zippin, whose checkout-free software platform integrates its own software with readily available hardware, combining overhead cameras and smart shelf sensors to accurately show what shoppers are picking up or replacing on shelves. The company claims that while "early approaches" such as Amazon's have relied solely on cameras to track purchases, which caused the problems that resulted in the delay of the store's public debut, Zippin's combined technologies assure the "highest level of accuracy," working even in a crowded store.

Standard Market, powered by San Francisco-based artificial-intelligence company Standard Cognition, uses a system of cameras and other technology to let consumers shop and pay without scanning or stopping to check out. One major differentiator here compared to some other services, though, is the lack of using facial recognition technology – something Standard Cognition claims helps alleviate concerns over privacy.