NRF Recap: Grocery Retail Transformation Can't Be Pulled Off Alone
Get great content like this right in your inbox.
Subscribe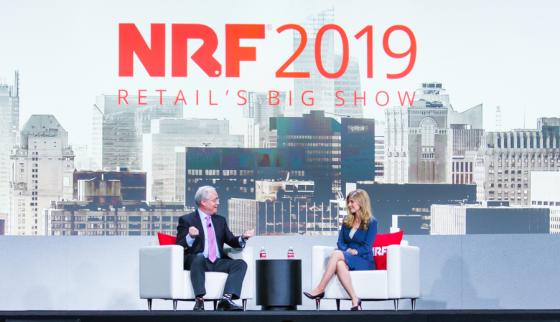 No grocer is an island. Every single one's success depends on its united associates, its solid partnerships and its willingness to put money down on both.
That sums up many of the messages shared by grocery retailers at Retail's Big Show, which hosted more than 36,500 attendees, 300-plus speakers and more than 700 exhibitors from across the globe. Produced by the Washington, D.C.-based National Retail Federation, the event took place Jan. 13-15 at the Jacob K. Javits Center, in New York. 
Kroger: Power in Partnerships
In his Jan. 13 interview with Sara Eisen, anchor of CNBC's "Squawk on the Street" and "Closing Bell," Kroger Co. CEO Rodney McMullen shared that while Kroger's Restock program has been a tremendous success – quipping that it's transforming the Cincinnati-based retailer from a "grocery company" to a "growth company" – it most certainly would be far less of one, if even one at all, were it not for the grocery giant's keen awareness of where it can innovate alone and where it must rely on a partner to do so. It's easy to say that this awareness is what has helped the grocer rank No. 2 on Progressive Grocer's list of the top grocers in the United States – and become 2018 Retailer of the Year.
As examples, he pointed to the retailer's partnerships with companies working to assist in ecommerce development, from automating the order and fulfillment process through U.K. online grocer Ocado, to selling organic private label groceries online in China through Chinese technology company and retailer Alibaba Group, or delivering groceries via autonomous vehicles with Driverless vehicle provider Nuro.
And while he shared many other insights, he stressed that retail isn't going away – it's just going to look different. What grocers need to do to look different is to focus on what's next, not what's already there, and build a solution that, while it might not be exactly what the shopper wants, will let the shopper direct them to that.
Target: Physical or Digital, It's About People
Brian Cornell, CEO of Minneapolis-based Target Corp., No. 13 on the 2018 top grocers list, noted in his Jan. 14 morning keynote, that his company's success has also been due to its focus on investing, always putting the consumer at the center of every decision it makes, and continual self-disruption.
Will 2019 Be the Year You Get Ecommerce Right?
Join Progressive Grocer on Jan. 29 for "Grocery Ecommerce: Tap Into an Exciting, Exploding Market," a free webinar that will teach you the must-know strategies needed to ride the grocery ecommerce growth wave in 2019.
But disruption doesn't mean turning all things physical digital. In fact, it can mean the opposite.
A few years back, the retail conversation was all about if everything would become digital and traditional retail would disappear. Currently, Cornell said, it's not an either-or situation, but a both-and-one, with many digital pioneers innovating by opening physical stores – think ecommerce giant Amazon with its Amazon Go format.
Cornell's advice: Bring the best of your brand to both the physical and the digital experiences. Make it easy for guests to interact with your brand however they want.
Also remember, however, that whether physical or digital, it's the people behind the brand who create the brand experience and serve as your brand ambassadors. Last year was Target's best year in more than a decade, Cornell noted. And while store remodels, new brands, fresh technology and more all played a role, the biggest reason for this success was the retailer's $1 billion investment in its own associates.
Southeastern Grocers: Empower Associates to Empower Each Other
Investing in its associates has also seen dividends for Jacksonville, Fla.-based Southeastern Grocers, No. 11 on the 2018 top grocers list, which introduced a new microlearning platform from Waterloo, Ontario-based training-software provider Axonify to train employees where they are through small nuggets of information at a time. In a Jan. 14 interview with Progressive Grocer at the show, Southeastern Grocers Chief People Officer Liz Thompson reported a knowledge lift of 15 percent and 97 percent participation from the grocer's 45,000 associates – up from 85 percent per year – with the platform, which can be used on desktop computers, laptops or mobile devices.
"In 2016, we had 12 topics [and a] blended learning approach," she said. "Now today, we have all 45,000 associates on the system and over 450 topics. Just this past year, 70 million questions were answered in the system. So it's been a tremendous success for us."
What is perhaps most fascinating is the cultural shift the platform has brought to the grocer. According to Thompson, associates are going into the system multiple times a week to take advantage of repetitive learning. Components such as gamification help make it more interesting.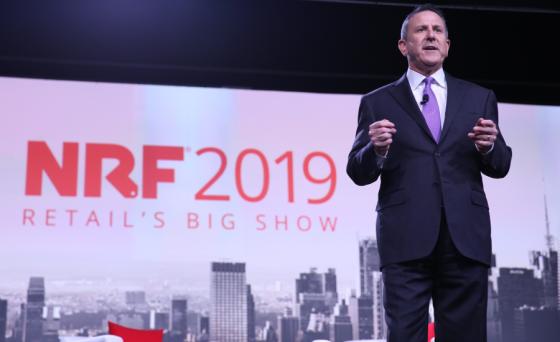 But such components are also creating an atmosphere of friendly competition. When associates are able to earn and share digital trophies for different accomplishments – and access a social platform where they can "like" their colleagues' achievements – engagement improves, and, so, in turn, does customer service.
Walmart: Know When to Divide
Another retail behemoth that shared its success through investing in associates was Walmart Inc. During a Jan. 13 session, Jeremy King, the Bentonville, Ark.-based mega-retailer's EVP and chief technology officer (CTO), noted that his company added 1,700 employees to its technology team, with plans to bring another 2,000 in.
Success didn't stop with that move, however – restructuring played an important role, too. Two years earlier, Walmart – No. 1 on the 2018 top grocers list – divided its technology organization between the CTO and the chief information officer, with the plan for one to focus on the internal side of the business and the other to focus on the retail side.
"Customers, of course, don't see the difference between Walmart.com and a Walmart store," he told attendees, noting that the move made organization easier while helping to ensure complete focus on the shopper.
Ahold Delhaize USA: Robots Repurpose Rather than Replace
Customers can see when associates are focused on their immediate needs and journey, or whether they're too busy checking shelves or searching for potential hazards to fix or clean up. That's a major reason that Carlisle, Pa.-based Ahold Delhaize USA, No. 4 on the 2018 top grocers list, has invested strongly in in-store robots, which are deploying at almost 500 Giant/Martin's and Stop & Shop stores through a partnership between the grocer's Retail Business Services division and Nicholasville, Ky.-based Badger Technologies.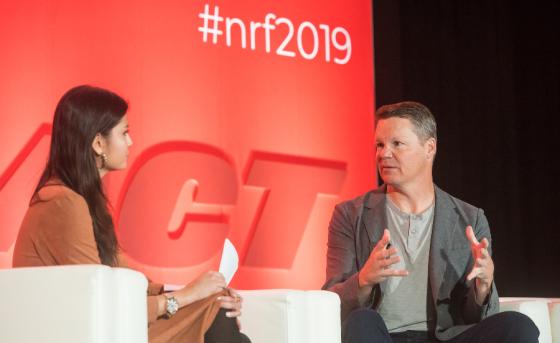 The robot model, known as Marty, was the topic of a Jan. 14 panel discussion, "Why Is There a Robot in My Store?" – moderated by Joe Skorupa, editorial director of Progressive Grocer sister brand RIS News. During its pilot at a number of stores, Marty identified hazards such as liquid, powder and bulk-food-item spills, and reported them so they could be cleaned up. The robots helped stores mitigate risks caused by such spills, enabling store associates to spend more time servicing and interacting with customers.
Many critics are quick to say Ahold Delhaize is using automation to cut costs at the expense of employees' jobs. However, the message from the panel – which included Nick Bertram, president of Giant Food Stores; Tim Rowland, CEO of Badger Technologies; and Steven Platt, director and research fellow with the Retail Analytics Council – was clear: Marty is an investment in, not a replacement for, associates. Labor is expensive, indeed – which means grocers need to ask themselves: Where is the best place to put every associate on the floor?
Whether you're Kroger, Walmart, Target, Southeastern Grocers, Ahold Delhaize USA or even just the independent grocer down the street – whether you're just starting on your journey to transform or far down the road – the answer should always be the same: wherever the customer currently needs them.
Check Out Our Sister Brands' Takes on Retail's Big Show
Still looking for more information on one of the most forward-looking retail trade shows in the world? Check out the wide array of content from Progressive Grocer's sister brands listed below.
Apparel
Chain Store Age
Consumer Goods Technology
Convenience Store News
RIS News

Also, register here for RIS News' free upcoming webinar for a deeper dive into the hottest topics discussed at Retail's Big Show 2019.