10/31/2018
Kroger, Ocado Define Terms of Their U.S. Partnership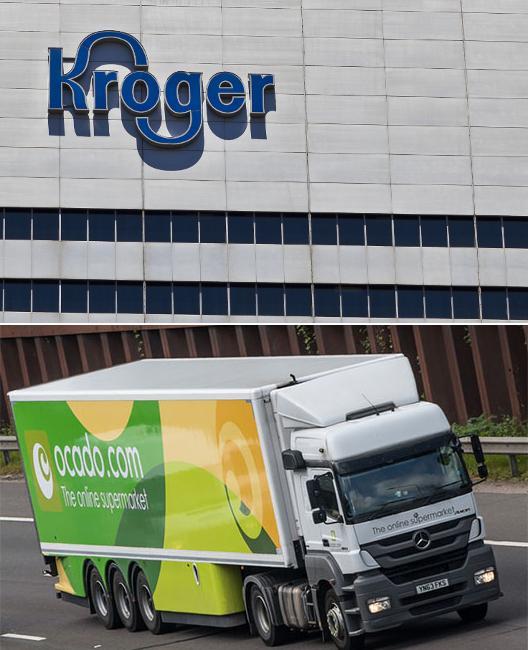 The Kroger Co. and U.K. grocery ecommerce giant Ocado have signed the terms of their service partnership, which the two companies unveiled in May.
In the deal, Kroger has agreed to order 20 customer fulfillment centers (CFCs), the first three by the end of this year. Locations of those three will be revealed in the coming weeks.
The warehouses are targeted to begin operation within two years of each order's placement. Before then, Ocado will install and maintain modules of the mechanical handling equipment necessary to handle production.
"Ocado expects the earnings impact of the Master Services Agreement to be neutral in FY18," the ecommerce provider noted. "Up to the point when the final funding structure has been finalised, Ocado will finance Kroger's CFCs in a similar basis to previous deals. We do not expect that this will involve more than the first three CFCs. The expected peak cumulative net outflow for Ocado of these initial three CFCs is £90 million. With over £500 million of financing headroom, Ocado has more than sufficient funds to cover this."
Ocado anticipates that the earnings of the agreement will be neutral in fiscal 2018. The anticipated peak cumulative net outflow for Ocado of the first three warehouses is £90 million (approximately US $115 million).
"The Kroger and Ocado teams have been working hard for some time to prepare for the opening of the first CFCs in the United States," Luke Jensen, CEO of Ocado Solutions. "We are very excited at the prospect of helping Kroger bring new services and value to its customers and transform the food retail market in the U.S."
Even though Kroger announced its partnership with Ocado in May, it had been in talks on and off with the grocery ecommerce company for about two-and-a-half years, Kroger CEO Rodney McMullen told Progressive Grocer recently. However, it took Ocado CEO Tim Steiner some time to get comfortable with the company's ambition to serve America.
"It took him a while to get comfortable that we were serious," McMullen said. "As they've grown in terms of talent and capabilities, their technology has made tons of progress over the last few years, so it really was a combination of Tim getting comfortable, in terms of what our aspirations were, and the technology that they had really started. ... They were improving upon something that was pretty good and making it great, and so it was really all those pieces working together."
Yael Cosset, chief digital officer for Kroger, described Ocado as a way to "accelerate and simplify the fulfillment of delivery by concentrating and consolidating volume," in a recent interview with PG. Its grocery technology creates automation and efficiency, which has a "very positive" financial impact for shareholders, while allowing the grocer to provide a service that's affordable to its ecommerce shoppers.
"It also allows us to start distributing what's referred to in the industry as a piece pack capability, and start bringing orders or small replenishment to different touchpoints for the customer," Cosset said. "Smaller store formats can greatly benefit from that asset. When you think about reaching and being available to all of America, Ocado removes some of these barriers."
The Kroger Co. operates a seamless digital shopping experience and 2,800 retail food stores under a variety of banner names nationwide. The Cincinnati-based company is No. 2 on PG's 2018 Super 50 list of the top grocers in the United States.