05/17/2018
Kroger Inks Deal with Ocado to Enhance Ecommerce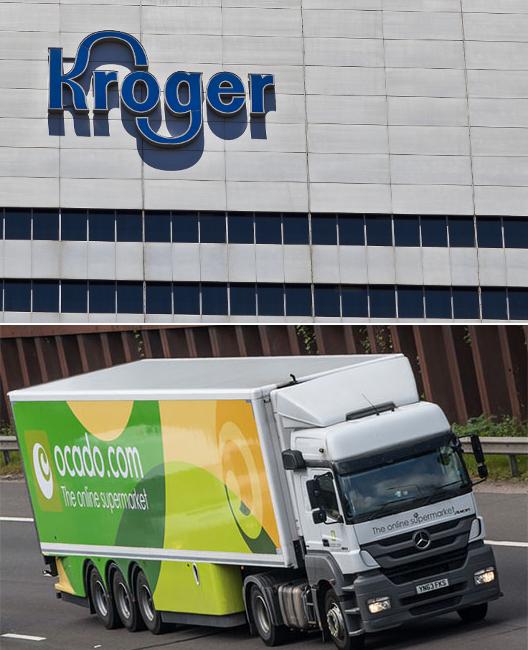 The Kroger Co. has launched an exclusive partnership with U.K.-based online supermarket Ocado in the United States to enhance Kroger's ecommerce program, including online ordering, automated fulfillment and home delivery.
Ocado will boost Kroger's digital and robotics capabilities, helping to expand its seamless coverage area to provide every family in America with the convenience of shopping for anything, anytime and anywhere – furthering the Cincinnati-based company's commitment to being "America's grocer." 
Part of Kroger's effort to "accelerate [the] creation of a seamless shopping experience for America's families," the partnership will debut the foundations of the Ocado Smart Platform in the United States for the first time. Kroger will grow its existing investment in Ocado by 5 percent in a subscription rights agreement, bringing its total investment to more than 6 percent.
"We see Ocado as an innovative, exciting and transformative partnership in pursuit of our Restock Kroger vision, to serve America through food inspiration and uplift," said Rodney McMullen, Kroger's chairman and CEO. "We are actively creating a seamless digital experience for our customers. Our partnership with Ocado will speed up our efforts to redefine the food and grocery customer experience – creating value for customers and shareholders alike."

Added Kroger SVP of Business Development Alex Tosolini: "We look forward to innovating together with Ocado to provide our customers the best possible online and in-store experience. Through Restock Kroger, we will continue expanding partnerships to create customer value."
Tim Steiner, Ocado CEO, noted that his company's success as a retailer proves it can offer customers "unrivalled choice, quality and convenience, efficiently and profitably." The opportunity to transform the way Kroger's customers purchase groceries marks a significant chance to create value for both Kroger and Ocado stakeholders.
"As we work through the terms of the services agreement with Kroger in the coming months, we will be preparing the business for a transformative relationship which will reshape the food retailing industry in the U.S. in the years to come," he noted.
Kroger and Ocado are already working to identify the first three sites in 2018 for development of new, automated warehouse facilities in the United States, and will reveal up to a total of 20 over the first three years of the agreement.