8 Grocery Retail Transformation Takeaways from Kroger CEO Rodney McMullen's NRF Interview
Get great content like this right in your inbox.
Subscribe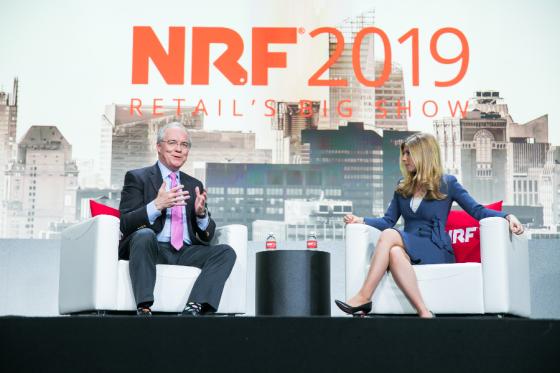 While it's certainly not the only one, a major key to grocery retail transformation lies in knowing when to go it alone with a plan – and when to get a partner.
That's a key takeaway shared by Rodney McMullen, CEO of grocery giant The Kroger Co., during an opening keynote on Jan. 13 at Retail's Big Show 2019, hosted by the Washington, D.C.-based National Retail Federation and held at New York's Jacob K. Javits Convention Center.
During an interview with Sara Eisen, anchor of CNBC's "Squawk on the Street" and "Closing Bell," McMullen pointed out that Kroger's Restock program (which is a major reason that Progressive Grocer named the Cincinnati-based grocery giant its 2018 Retailer of the Year) has relied strongly on the philosophy that the grocer should do what it does best on its own, but also rely on others' talents in areas where it might not be so skilled. For example, he pointed to Kroger's work with:
U.K. online grocer Ocado, which is working to enhance Kroger's ecommerce program, including online ordering, automated fulfillment and home delivery. Ocado is boosting Kroger's digital and robotics capabilities, helping to expand its seamless coverage area to give every American family the convenience of shopping for anything, anytime and anywhere. McMullen noted that while Kroger could have done this on its own, it would have taken at least five years – this partnership speeds that up and helps each party involved further achieve its goals.
Chinese technology company and retailer Alibaba Group, which is selling Kroger's Simple Truth products through its Tmall Global platform, a business-to-consumer website for local Chinese and international businesses to sell branded products to consumers. Using the grocery technology, the partnership began with select products under the brand, providing Alibaba's more than half-billion Chinese consumers with easy access to the brand.
Driverless vehicle provider Nuro, which is now delivering groceries via autonomous vehicles for Kroger in Scottsdale, Ariz., helping make the convenience of grocery delivery accessible and affordable to customers everywhere. Customers place same-day delivery orders via Kroger's ClickList grocery ecommerce system and Nuro's mobile app, which are fulfilled by Nuro's fleet of on-road autonomous vehicles.
Moreover, McMullen shared additional insights on Kroger, grocery transformation and the future of retail, including that:
You don't have to know exactly what your customer wants from the get-go. But you do have to build something that lets the customer respond and show you where to go.
Retail is not going away. Sure, it won't look like it does today, but it won't disappear. Maybe it will involve ordering from in-store screens. Maybe it will involve technology telling shoppers what they want for dinner upon scanning a loyalty card. McMullen assured attendees that whatever the changes, they ultimately will be "super fun."
The future of grocery retail will not be digital, and it won't be physical, either. It will be problem-solving and purpose-driven.
Retail is incredibly important. What other field is known to give so many people their first job – and such an opportunity to take on so many responsibilities in that role?
When positioning your company for the future, focus on what's next rather than what's there.
The store of the future might be the same size as a traditional grocery store today – but half might be experience-based, while the other half might be efficiency-based.
While Amazon's entrance into grocery certainly has lit a fire under a lot of grocers, it isn't what ultimately led Kroger to begin its transformation. McMullen stressed that Kroger's transformation journey began not because of what any other retailer did, but because of what it thought other retailers were going to do, although it did suspect the Amazon was going to enter brick-and-mortar grocery retail.