Whole Foods, Target Ramp Up Delivery, Click-and-Collect Before Holidays
Get great content like this right in your inbox.
Subscribe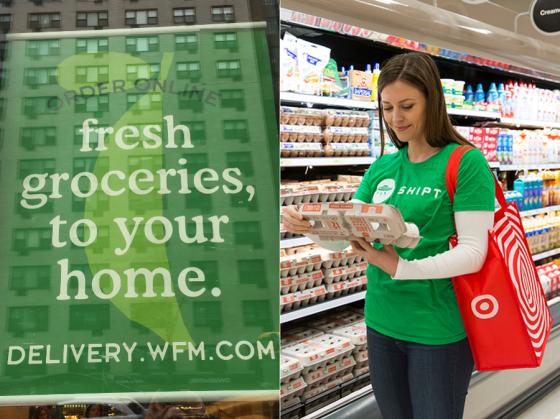 Whole Foods Market and Target are both continuing their ramp up of delivery and click-and-collect services for groceries and other goods in time for the holiday season.
For Whole Foods, members of Amazon Prime in nearly a combined 80 cities now have access to ultra-fast delivery or pickup. Delivery currently extends to Albuquerque, N.M.; Boise, Idaho; Charleston, S.C.; Colorado Springs, Colo.; Hartford, Conn.; Kansas City, Mo.; Providence, R.I.; Salt Lake City; and Stamford, Conn. Some 63 cities now provide delivery, with plans for continued expansion nationwide throughout the year.
Additionally, Prime members in Boise; Las Vegas; San Diego; and Jacksonville, Tampa and West Palm Beach, Fla., now have access to curbside pickup from Whole Foods via Prime Now. The service is currently available in 14 cities, with plans to also continue expanding.
Grocery pickup, available 8 a.m. to 9 p.m. daily, is available at no charge in as little as one hour for orders of $35, or for $4.99 in 30 minutes. Grocery delivery, meanwhile, is available every day until 10 p.m.
Amazon launched grocery delivery for Prime members via Whole Foods stores in February, just prior to the merger of its Amazon Fresh and Prime Now programs, which likely united to better streamline the Seattle-based ecommerce company's grocery technology. The service has since expanded to several major cities, among them Atlanta, San Francisco, Los Angeles, Chicago, Minneapolis, Houston and New York, helping the ecommerce giant earn its name as a major player among online grocers.
The launch of Prime Now click-and-collect came in August, beginning with service in Sacramento, Calif., and Virginia Beach, Va. Amazon expanded the service for the first time the following month, and again earlier this month.
At Target, all guests can now take advantage of free two-day shipping on hundreds of thousands of products, with no membership or minimum purchase amount required. Moreover, millions of guests in hundreds of markets across 46 states can choose from 55,000 products – including groceries – for delivery in as little as one hour through Target delivery subsidiary Shipt.
And for guests seeking to order online but pick up at the store, Target's Drive Up click-and-collect service will be available at nearly 1,000 stores by the end of this month, ahead of the company's expansion schedule. Shoppers can choose from more than 250,000 products to be delivered directly to their vehicle, with orders ready within an hour.
Target has been strongly expanding same-day delivery of groceries and more since purchasing Shipt late last year. As for Drive Up, the service began rolling out earlier this year, with original plans to reach 1,000 locations by the end of 2018.
Whole Foods Market operates more than 470 stores throughout the United States, Canada and the United Kingdom. Under the name of its parent company, Amazon, the Austin, Texas-based grocer is No. 8 on Progressive Grocer's 2018 Super 50 list of the top grocers in the U.S.
Minneapolis-based Target Corp. operates 1,800 stores and its ecommerce site, Target.com. The company is No. 13 on PG's Super 50 list of the top grocers in the United States.