10/23/2018
One of America's Top Grocers Shares 5 Key Food Predictions for 2019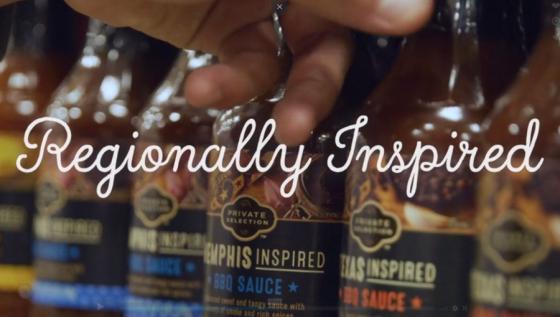 Leveraging the insights and expertise of its private label team, the Kroger Co. has brought together product developers, chefs and innovators to predict what will happen in the world of food and groceries in 2019, focusing on flexible eating styles.
Using the predictions to point to on-trend private label products under such brands as the national-brand-equivalent Kroger, premium-tier Private Selection and natural and organic label Simple Truth, Kroger's Our Brands team predicted the hot areas to be:
Regional Flavors
Exotic flavors from across the globe are big with many consumers today – but so are flavors and foods influenced by regions within the United States. From barbecue sauces to potato chips with a twist, products are taking inspiration from such regional dishes as Nashville hot chicken, Southern Appalachian pimento cheese, and more from other geographies.
"America's culinary heritage is as varied as it is delicious," Kroger noted.
Plant-Based Foods
It's arguably easier than ever to work more plant-based foods into a daily diet – whether consumers are doing so for a Meatless Monday, Flexitarian Friday or any other meal on any other day of the week. In fact, last year, nearly one-third (31 percent) of consumers participated in meat-free days once per week.
Eating Styles
A growing number of consumers are purchasing better-for-you products and subscribing to different eating styles, from vegetarian and flexitarian to keto and Paleo diets. A recent study, in fact, reports that 15 percent of the U.S. population identifies as vegetarian or vegan.
Gut-Healthy Foods
More than ever, consumers want to take charge of their health and immune systems with foods that support both, such as products rich in probiotics. Medical studies show that a healthy gut is the foundation to overall wellness.
Low Sugar and Natural Sweeteners
Many consumers are seeking to reduce or eliminate the amount of sugar they consume – or replace it with more alternative sweeteners such as honey and agave. In fact, 47 percent of consumers admit to working to minimize their sugar intake. In response, grocers are adding new solutions to better meet these needs.
Kroger's Our Brands team has shown an impressive understanding of private label and its true potential in recent times. Earlier this year, the grocer reported that it achieved the highest-ever dollar share in the history of its Our Brands program. Moreover, sales of its Simple Truth brand of natural and organic products officially reached $2 billion. The Cincinnati-based grocer even recently inked a deal to launch Simple Truth online internationally through a partnership with Alibaba Group Holding Ltd., the world's largest retailer and one of its largest internet companies.
While Monrovia, Calif.-based Trader Joe's took the cake for shoppers' preferred private brand, Kroger is within the top-five most-beloved grocers for private label. Recent research from retail consultancy Magid shows that after Trader Joe's – where 56 percent of U.S. consumers said they would purchase private label groceries – consumers expressed the most interest in private label grocery items from Meijer and Aldi, at 55 percent each, while the respective private label grocery offerings of Publix, Kroger and Costco each received top marks from 53 percent of respondents.
Cincinnati-based Kroger operates nearly 2,800 stores under a variety of banner names across the United States. The company is No. 2 on Progressive Grocer's Super 50 list of the top grocers in the United States.