Kroger Seeks to Reduce Food Waste Via New Imperfect Produce Program
Get great content like this right in your inbox.
Subscribe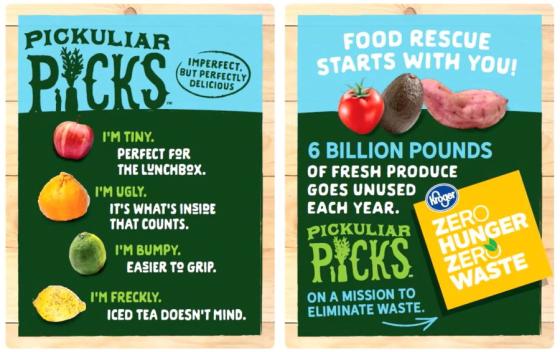 The Kroger Co. next year is launching a private label that will give new life to produce that might not live up to consumers' visual expectations but still meets taste and safety standards.
During Food Forward, an event hosted by the U.S. Chamber of Commerce Foundation, in Washington, D.C., Nicole Davis, senior innovation manager for Our Brands with the Cincinnati-based grocer, announced Pickuliar Picks, a new part of the grocer's Zero Hunger | Zero Waste initiative intended to help eliminate waste from the system while also ending hunger in the communities the grocer serves. Currently, 6 billion pounds of produce go unused every year.
"When produce comes in or has grown and comes off the farm, if it doesn't meet a specific spec or color or shape or size, it gets rejected," she told attendees during her Oct. 10 presentation. "But if 6 billion pounds of produce … are too tiny or too bumpy – or [it] has freckles on the outside but still tastes delicious and [is] perfectly food-safe – why can't we capture some of that and use it to feed people?"
In its marketing materials, which describe the produce as "imperfect, but perfectly delicious," Kroger explains what actually makes imperfect produce just as appealing as unblemished counterparts. For instance, produce that's too tiny is "perfect for the lunchbox." Produce that's too bumpy is "easier to grip." And when it comes to produce that's too freckly, "iced tea doesn't mind," as a lemon with or without freckles can impart the same citrus flavor.
Davis noted that the grocer intends to introduce the brand at stores during the first quarter of 2019.
Both brick-and-mortar and online grocers have been working to improve produce sales, reduce waste and help shoppers eat better by removing the stigma from, and educating about, the benefits of imperfect produce. Some examples since last summer include:
Produce is big business for Kroger. In February, Kroger SVP of Merchandising Robert Clark boasted that the grocer "offers one of the largest organic produce departments in America," and that it's "proud to have led the way in making this category more mainstream, accessible and affordable." He also noted that, at that time, Kroger represented nearly 20 percent of the United States' annual organic produce business, and that its sales in that sector had reached $1 billion.
The Kroger Co. operates a seamless digital shopping experience and 2,800 retail food stores under a variety of banner names nationwide. The company is No. 2 on Progressive Grocer's 2018 Super 50 list of the top grocers in the United States, and is PG's 2018 Retailer of the Year.