03/07/2018
Grocers Rethink Frozen Foods as Daypart Solutions
If the grocery store is a family, does the middle child get less attention? How do products merchandised in the center of the store, particularly in the frozen food section, fit into customer-focused solutions, interstore connectivity and profitability?
While the freezer aisle may not get the attention of the "siblings" in this analogy, such as the buzzworthy fresh perimeter or prepared food department, there are ways for retailers to make frozen foods a destination by focusing on frozen entrées, snacks and desserts as important components of meal solutions that solve in-demand daypart needs.
Grocers can connect their customers with solutions by encouraging them to take a new look at frozen foods for innovative products, consumer-friendly packaging, and items that can be paired with other fresh and center store items.
"I think there's an opportunity for retailers, in partnership with the frozen food and beverage industry, to think about dynamic new retail strategies featuring these exciting, innovative food options as a method to drive people down the frozen food aisle," agrees Adrienne Seiling, VP of communications at the American Frozen Food Institute (AFFI), based in McLean, Va.
Key Takeaways
Encourage customers to reconsider frozen foods for innovative products, consumer-friendly packaging, and items that can be paired with other fresh and center store items.
Promote hot segments in the category, such as breakfast foods and restaurant-style products.
Meet consumers' health-and-wellness needs with items that are better-for-you, convenient and budget-friendly.
Engage shoppers via social media.
In a category that has experienced flat sales in recent years, some excitement is needed, in promotions as well as offerings.
"When I think about innovation and new food options in the frozen food aisle, I also think of a quote I read from Conagra Brands President and CEO Sean Connolly: 'A Millennial does not know what a Salisbury steak is.' That's so true! That's why you're seeing some legacy brands offering new items like Buffalo-style chicken mac 'n' cheese," notes Seiling.
AFFI is doing its part. The organization is hosting AFFI-CON in early March, a networking convention that presents trends and invites collaboration among processors, suppliers, retailers and foodservice operators from all sectors of the frozen industry.
March is a particularly good time to focus on frozen foods and how they relate to customer daypart needs and overall store connectivity, given that it's National Frozen Food Month. The National Frozen & Refrigerated Foods Association (NFRA), based in Harrisburg, Pa., is focusing its national Frozen Food Month promotion this year on "Savor the Taste of Real Food … Just Frozen." Sponsoring brands are running digital coupons and offers on Coupons.com, and an integrated partnership shares frozen food messages across a variety of traditional media, digital media and social media channels. Stores have ordered and received POP materials to remind consumers that frozen food is, indeed, "real" food.
NFRA provides other tools to help retailers maximize interest in frozen foods and, with that, their own sales. As part of its public relations outreach, the association has refreshed the dedicated Easy Home Meals website that provides interactive recipes and enhanced search capabilities to show people how to incorporate frozen foods into their eating occasions. A recipe for Cherry Coke Meatballs, for example, calls for a branded gluten-free meatball product, along with other ingredients commonly found in supermarkets, including brown sugar, cherry cola, pineapple bits and jalapeños.
Go Where it's Trending
Beyond taking advantage of national programs and events, grocers can highlight frozen foods as a key component of meal solutions by promoting products that are already piquing consumer interest.
An example of a hotspot in frozen meal solutions is breakfast. According to the "NFRA 2017 State of the Industry" report, the top 10 fastest-growing categories in supermarkets include frozen breakfast entrées. Breakfasts like frozen pancakes, waffles and French toast do especially well among younger consumers, including Millennials, the report notes.
Stores have ordered and received POP materials to remind consumers that frozen food is, indeed, 'real' food.
New product introductions reflect the buzz around frozen breakfast. Kraft Heinz, based in Pittsburgh, recently rolled out a line of Nancy's Petite Stuffed Bagels, designed for quick and portable consumption, while Sheboygan Falls, Wis.-based Johnsonville introduced a Premium Breakfast Sandwich Collection in late 2017.
Other brands that have gotten into frozen morning meals include Wellesley, Mass.-based Good Food Made Simple, which introduced a line of four organic burritos last fall, and St. Louis-based Start Right Foods, which recently debuted lean beef-sausage-and-egg and turkey-sausage-and-egg-white waffle sliders.
"Traditional breakfast sandwiches typically only meet the convenience factor, but lack any sort of good nutrition," says Start Right co-founder Clint Matthews. "That's why we thought breakfast sandwiches were the logical next product for us."
Grocers can also encourage their shoppers to recreate restaurant breakfast experiences at home with co-branded breakfast items like a line of frozen IHOP breakfast foods (available at Walmart stores) and frozen breakfasts sold under the Moe's Southwest Grill brand, which teamed with Battle Creek, Mich.-based Kellogg Co. to produce Southwestern-style favorites for a retail audience in addition to its restaurant patrons.
According to NFRA's "State of the Industry" report, other top frozen categories are, in order, entrées, ice cream, novelties, seafood, pizza, vegetables, sandwiches, appetizers, potatoes and onion rings.
Here, too, new product innovation and category expansion fuel the perception that the frozen section is a dynamic one reflecting modern eating trends. In the entrée arena, bowls are big, mirroring foodservice trends.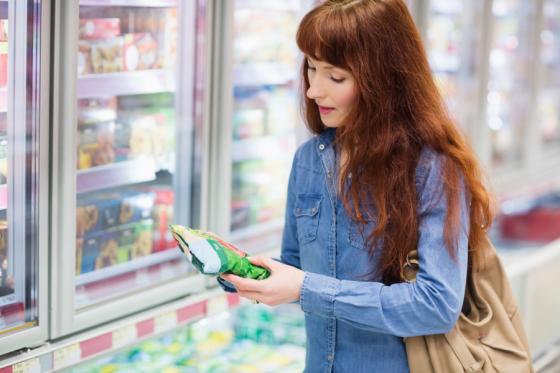 Several frozen brands offer bowls that can be touted as meal solutions, such as a new line of Crazy Cuizine Asian Bowls from Santa Fe Springs, Calif.-based Day-Lee Foods, and Chicago-based Conagra Brands' Healthy Choice Power Bowls, Frontera Taco Bowls and Banquet Mega Bowls.
Healthy Products, Healthy Sales
Another tactic for providing shoppers with solutions and enhancing a store's profitability is by meeting consumers' health-and-wellness needs with frozen meal solutions that are better-for-you, convenient and, in some cases, budget-friendlier than their fresh counterparts.
The "State of the Industry" report shows that gluten-free and free-from claims are delivering sizeable shares in frozen foods. There are, to be sure, many new gluten-free and free-from products that have been added to grocers' cases in recent years, from Englewood Cliffs, N.J.-based GeeFree's gluten-free frozen appetizers and sandwich pockets, to Santa Rosa, Calif.-based Amy's new gluten-free pesto pizzas, among many others.
Free-from increasingly encompasses meat-free products. Some frozen food brands are helping grocers connect to their vegan or plant-eating consumers with innovative entrées and sides, like Mebane, N.C.-based PlantPure Inc., which offers a plant-based frozen entrée line. That line is part of a larger movement for PlantPure, which has also produced a film, cookbooks, and weight-loss and health programs.
The frozen vegetable segment has a lot of potential as a healthy side and center-of-the-plate item that can be easily prepared and combined with other ingredients for colorful, good-for-you meals. On the topic of color, one brand that has set itself apart as a solution provider is Stahlbush Island Farms, based in Corvallis, Ore., which offers multihued cauliflower, butternut squash and sweet potatoes; tricolored sliced carrots; and new golden beets and cut rainbow chard.
"When we first started out, people were asking us, 'What ingredients are you adding'? And the answer is none — we're fortunate to be able to have these vegetables that have no artificial coloring or flavor, with no GMOs, and that are all-natural," says Debbie Cozzetto, chief management officer and director of sales.
Emily Hall, director of marketing, notes that the items appeal to children and represent another way to reach out to busy parents.
"The color grabs their attention, and when they eat, they like it," she says.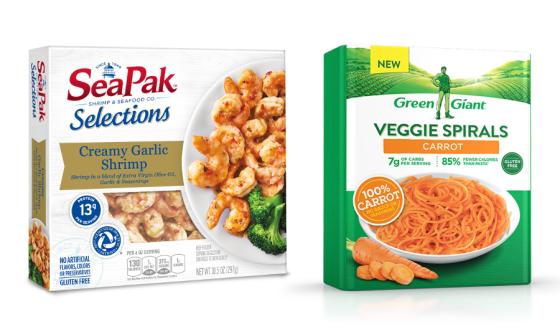 Interesting — and trending — frozen vegetables include different forms of veggies. That's evident in Pinnacle Foods' Birds Eye Steamfresh Veggie Made Riced Cauliflower and Veggie Made Mashed Cauliflower, available in original and seasoned varieties. B&G Foods North America, based, like Pinnacle, in Parsippany, N.J., has gone to another type of frozen veggie format with its Green Giant Veggie Spirals.
There has also been a seguing of frozen vegetables into traditional frozen food products for a best-of-both-worlds kind of solution. One example is a Los Angeles-based cauliflower-based frozen pizza crust brand called Caulipower, which is gluten-free and nutrient-rich. Birds Eye, for its part, has gotten into veggie "pasta," offering new Spinach Lentil Pasta and Zucchini Lentil Pasta.
Healthy frozen foods are a foundation of meals prepared and served at home, and can be positioned as such, AFFI's Seiling notes.
"All of these innovative food options make home cooking so much easier," Seiling says. "There's a plethora of new offerings in the frozen food aisle: ethnic flavors, organic, vegetarian, and unique fruit and vegetable varieties. Frozen ingredients can be great time savers, because the cleaning and chopping are already done."
At the same time, grocers can marry the benefits of frozen foods with those that are better for the planet. As Seiling points out, "Frozen foods can also be more easily portioned and stored for later use, which reduces spoilage and food waste, further increasing the value."
Piggyback on Brand Campaigns, Promos
Grocers can connect consumers with frozen food products — and other complementary items in the store that are part of meal solutions — by learning about, and seeing how they fit into, manufacturers' own promotional campaigns.
SeaPak, based in St. Simons Island, Ga., is one brand tapping into consumer needs when it comes to meal solutions. The brand recently launched a "Chillax" campaign focusing on the stress of planning a meal.
"It reinforces the notion that busy families can reduce stress and increase wellness just by adding more mindfulness and calm into their daily routines," explains Kristen Beadon, shrimp and seafood marketing manager.
The campaign includes an initiative to engage consumers via social media.
"SeaPak is establishing relevancy among shoppers, particularly parents looking for easy and nutritious meal solutions, by bringing social media to the freezer section," says Beadon.
As part of that effort, the Buzzfeed Tasty logo will appear on SeaPak Shrimp Scampi packages from January through June.
"As the first-to-market frozen retail brand to feature Buzzfeed Tasty, the largest social food network, on-pack, we anticipate the awareness of the SeaPak brand at the shopper level will increase," asserts Beadon.
Stahlbush also works with retailers to help them garner more shopper engagement and sales. The company's promotional campaign includes coloring books and crayons that play off the colorful palette of its frozen vegetables.
"The whole idea is to start involving more nutritious colors," says Cozzetto, adding that grocers have placed the coloring books in juice and smoothie bars, and by checkout areas.