09/13/2018
Earnings, Comps Up in Q2 at Kroger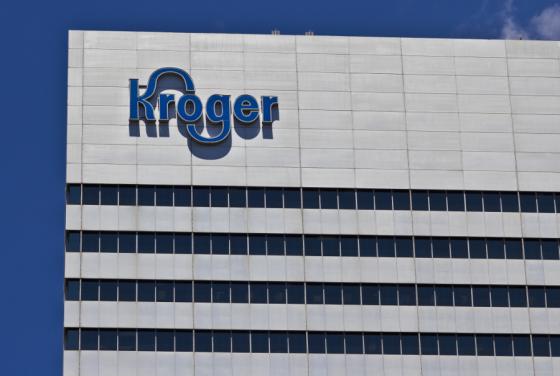 The Kroger Co. is making "solid progress" on its Restock Kroger campaign, with a laundry list of omnichannel initiatives highlighting the retailer's second-quarter earnings call this week.
Total sales crept up 1 percent to $27.9 billion in Kroger's Q2 ending Aug. 18, with identical store sales up 1.6 percent. Adjusted net earnings were $336 million, or 41 cents per diluted share. Comps, excluding fuel, are expected to range from 2 percent to 2.5 percent in 2018.
"We feel good about our net earnings per diluted share and ID sales results in the second quarter. We expect our investments in space optimization during the first half of 2018 to become a tailwind late in the third quarter," Chairman and CEO Rodney McMullen said.
Kroger's digital sales are up more than 50 percent in a growing coverage area that now reaches 80 percent of its customers.
"We are only two quarters into our three-year Restock Kroger plan, and we are making solid progress," McMullen declared. "Kroger customers have more ways than ever to engage with us seamlessly through our recently launched Kroger Ship, expanded availability of Instacart, successful ClickList offering, and selling Simple Truth in China through Alibaba's Tmall."
Since the August launch of Kroger Ship, 41 of the top 50 items sold are Kroger's own brands, likewise for four of the top five items on its ClickList service. Our Brands continue to outpace Kroger's ID sales growth, led by more than 15 percent growth in the Simple Truth and Simple Truth Organic lines during Q2. In 2018, Simple Truth reached more than $2 billion in annual sales.
"You can see our vision coming into focus in several of the exciting announcements we've made over the last couple of months," McMullen said. "They are the culmination of long, focused, strategic work by our teams, and they are the new beginning of exciting innovations and growth platforms for the future."
Progress on Restock Kroger detailed at this week's earnings call included the following:
Launch of Kroger Ship direct-to-consumer grocery delivery in four U.S. cities, with additional expansion under way
Launch of OptUP, a datadriven app that helps customers make more informed, healthier purchase decisions, with 130,000 downloads in two months and goal of 1 million downloads in one year
Announcement of new apparel brand, Dip, developed by globally renowned fashion designer Joe Mimran
Introduction of Bromley's For Men shaving and grooming products
Third Natural Foods Innovation Summit in partnership with 84.51°
Launch of Kroger's Simple Truth products in China via Alibaba's Tmall Global platform
Expanded partnership with Instacart to increase customer delivery coverage area to 75 additional markets throughout the U.S. by late October
Seamless coverage area increased to 80 percent of Kroger households through curbside pickup and home delivery from store
Piloting autonomous delivery in Scottsdale, Ariz., with Silicon Valley startup Nuro
Exploring sale of Turkey Hill dairy and beverage manufacturing business
Launch of Boosted Products in searches on Kroger digital properties, which in one month delivered 200 million product impressions for advertisers
Established new Digital HQ in downtown Cincinnati, with plans to grow digital team to more than 1,000 over the next three years
Received 1,810 applications from associates for financial support through Feed Your Future, Kroger's education benefit
Agreement with the University of Cincinnati to operate an innovation lab within the school's 1819 Innovation Hub
Announced plan to phase out single-use plastic bags across all Kroger banners by 2025
"All the changes we are making to build digital platforms will also create opportunities to grow our business and improve margins in the future," McMullen said. "We are aggressively investing in these transformational opportunities. And while we are investing for the future, we are delivering for our customers and shareholders today."
Cincinnati-based Kroger operates nearly 2,800 stores under a variety of banner names across the United States. Kroger ranks No. 2 on Progressive Grocer's Super 50 list of the top grocers in the United States.