Kroger Launches Mobile App to Simplify, Score Healthy Eating
Get great content like this right in your inbox.
Subscribe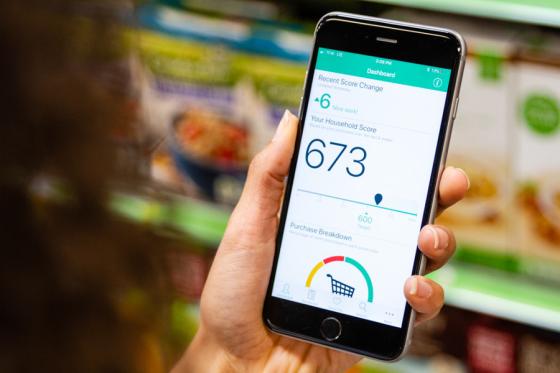 The Kroger Co. has debuted a mobile app that helps customers make more informed, health-conscious decisions when buying groceries.
OptUp is part of the Cincinnati-based grocer's Wellness Your Way platform, which supports the Restock Kroger initiative, said Collen Linzhold, president of pharmacy and The Little Clinic at Cincinnati-based Kroger. It encourages shoppers to engage in a "balanced, holistic approach to selfcare" by putting nutritional information at shoppers' fingertips and making it easier to find and purchase better-for-you groceries.
The new grocery technology bases scores on a nationally recognized dietary standard enhanced by Kroger's registered dietitians. The product score range is between one and 100: Products scoring 71 or better fall in the "green category"; are lower in saturated fat, sugar, sodium and calories; and may be higher in such content as fiber, protein, fruit and vegetables, or nuts. Meanwhile, products scoring between 36 and 70 fall in the yellow category, and those between one and 35 fall in the red category. Kroger dietitians recommend that shopping carts contain at least 50 percent green category products.
OptUp scores range from zero to 1,000, reflecting a customer's purchase history over the past eight weeks. The ideal score is 600 or better.
Other key features include:
Personalized product recommendations
A feature for scanning and searching items to find nutritional facts and alternative products
A grocery ecommerce link that lets users add better-for-you products to a digital cart for curbside pickup or delivery
"OptUP is a collaboration among our health, tech, digital and 84.51° teams," said Yael Cosset, Kroger's chief digital officer. "The data-driven app creates a more transparent and educational experience for our customers, continuing our commitment to help Americans shop, eat and live healthier on their terms."
Kroger plans to continue improving the grocery technology by adding more features and greater personalization for specific health needs and preferences. Compatible with iOS and Android, the app can be downloaded through Apple's App Store and the Google Play store.
At Progressive Grocer's Healthy Shopper Summit last month, Allison Kuhn, Kroger's director of retail nutrition, presented on the OptUp app before an audience of retail dietitians and other health professionals.
Grocers have been making an increasing push to encourage healthy eating – and make it easier – through mobile apps. In the past few months alone, two independent grocers have introduced apps that help incentivize healthier eating, including:
Wisconsin and Illinois grocer Woodman's Food Markets, which launched MyUpside, an app that helps shoppers find better-for-you brands while earning cash rewards and other perks through in-store purchase and social engagement. Available at all 16 independent grocery stores operated by the retailer, the app builds a coalition of purpose-driven brands and retailers tailored to the activities and passions of today's consumers.
Colorado and Florida grocer Leevers Supermarkets, which launched Snap2Save, an app that encourages healthier eating by incentivizing the purchase of fruits and vegetables. Available at all 20 independent grocery stores under the Save-A-Lot licensee, the app was developed in partnership with digital customer engagement firm Green Pirhanas Inc. and gives registered customers one point for every dollar spent, redeemable for gift cards or health care rebates.
Kroger hopes that the new app will continue to fuel its Restock Kroger initiative, which recently was said to be off to a "fantastic start." On a recent call to discuss quarter-one 2018 earnings, the company reported positive results, with a lift in comparable-store sales and high expectations for the full year.
Kroger operates 2,800 retail food stores under a variety of banners. It holds the No. 2 spot on PG's 2018 Super 50 list of the top grocers in the United States.