Woodman's Pilots Mobile App to Incentivize Healthy Eating
Get great content like this right in your inbox.
Subscribe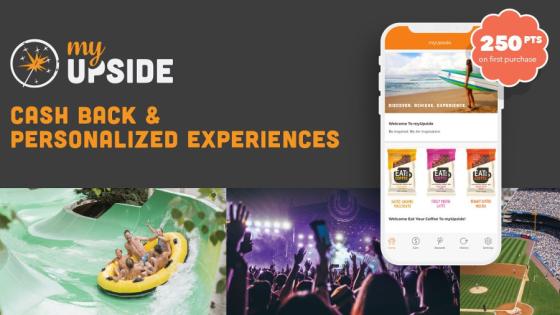 Wisconsin and Illinois grocer Woodman's Food Markets is piloting a mobile app in all of its stores to help shoppers find better-for-you brands while earning cash rewards and other perks through in-store purchase and social engagement.
The app's developer, MyUpside, is partnering with Woodman's and other regional retailers, including independent grocers, for this "next step in rewards programs," building a coalition of purpose-driven brands and retailers tailored around the activities and passions of today's consumers. Such partnerships allow the grocery technology program to reach crucial shoppers with a turnkey program that increases shopper visits, purchase frequency and basket size.
MyUpside complements retailers' existing rewards programs by filling an in-store need to grow excitement and drive a stronger emotional affinity between consumers and brands, which can be critical for building loyalty with Millennial and Gen Z shoppers. It can help retailers create more personalized experiences sponsored by brand partners to show gratitude for members' achievements and purchases. Past experiences, for instance, have included sideline passes to a Green Bay Packers game at Lambeau Field, tickets to U2 concerts and "Escape Day" packages for local spas.
"Although we are a Seattle startup, the Midwest and Woodman's is a perfect place to launch because of Woodman's strong customer base that is passionate about better-for-you brands," said Jeff Sampson, CEO of myUpside. "Our mission is to be the champion of the independent retailer serving consumers looking to incorporate high-quality, purpose-driven brands in their lives. Rather than depend on the transactional approach – think coupons, rebates, temporary price reductions – our community is embracing the language of experiences and personalization. That's what myUpside is all about."
Woodman's and MyUpside cited three-quarters of American adults as saying they are taking more personal responsibility for their health than they were a decade ago, showing that the trend toward healthy living has become mainstream. Millennials (18 to 36 years old) particularly are taking personal interest in their health in record numbers, and, in doing so, are increasingly driving sales in categories such as healthy food. Unlike prior generations, Millennials are not driven by discounts and have a general mistrust of large food and beverage manufacturers, choosing transparency and authenticity instead.
Last year, Woodman's launched a partnership with the Healthy Savings discount program to help make healthier eating more convenient and affordable to shoppers. It joined such Wisconsin banners as Copps, Metro Market and Pick 'n Save as participating retailers in the state.
Woodman's operates 16 independent grocery stores in Wisconsin and Illinois. The Janesville, Wis.-based grocer took the No. 43 slot in Progressive Grocer's 2018 Super 50 list of top grocers in the United States.