Kroger Debuts Direct-to-Customer Ecommerce Platform
Get great content like this right in your inbox.
Subscribe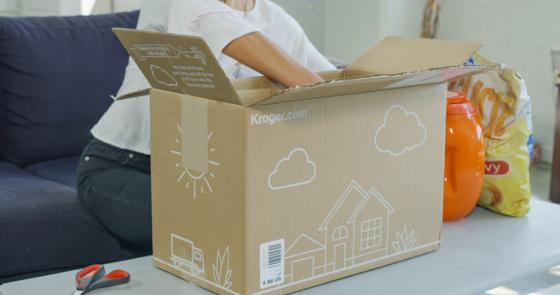 The Kroger Co. has launched the direct-to-customer ecommerce platform Kroger Ship.
"Kroger Ship is our next step in creating a seamless experience that allows our customers to shop when and how they want," noted Yael Cosset, chief digital officer at Cincinnati-based Kroger. "Our new service is just one more way we are redefining the customer experience as part of Restock Kroger, bringing more convenience and options to shoppers across America. Kroger Ship complements and joins our 2,800 grocery stores, 1,250 curbside pickup locations and delivery service from 1,200 locations."
The service is coming to four markets – Cincinnati; Houston; Louisville, Ky.; and Nashville, Tenn. – with plans to roll out to additional areas over the next few months. During the first phase, customers can shop from a curated selection of 4,500 Our Brands items, which can't be purchased elsewhere online, and 50,000-plus center store groceries and household staples, influenced by information and insights from Kroger's data analytics company, 84.51°.
Expert's View
"Kroger's new direct-to-customer delivery service is a clear indication that online grocery is growing stronger and more available," noted Sylvain Perrier, president and CEO of Toronto-based digital solutions provider Mercatus. "The launch of Kroger Ship shows that the grocer clearly knows the value of its brand and understands what it must do to further its reach and deliver on customer convenience. With continuous-delivery announcements coming from Amazon/Whole Foods and Walmart, the industry's focus on ecommerce grocery delivery is heating up, and shoppers are the ones who will benefit from more convenient and seamless experiences. We've seen rapid adoption of these services, and as they continue to grow and evolve, grocers will increasingly focus on factors necessary to continuously enhance the brand's offerings. It is no longer a question of if a grocer should incorporate last-mile delivery, but when. The decision for grocery retailers now is whether a homegrown solution or ecommerce partner will best suit their journey for ongoing digital growth and increased customer loyalty."
Kroger Ship offers competitive ecommerce prices and fast, free doorstep delivery via package carrier on orders of more than $35; otherwise the shipping fee is $4.99 per order. Customers will receive discounts through promo codes and pricing deals, along with a set-and-save subscription model. As the service launches, customers will get free shipping, with no minimum purchase required, and 15 percent off their order with a one-time-use promo code.
Continued Cosset: "Kroger Ship brings together the best of our digital, technology, logistics, 84.51°, merchandising and Our Brands teams to deliver our customers convenient and curated food inspiration. Kroger's ecommerce platform expands our offering beyond the physical store to include even more products. Along with staples and customer favorites, Kroger Ship will carry bulk and additional sizes, and focus on Our Brands, local and international food and flavors, specialty items, and health-and-wellness products – making it easier than ever before to be your family's hero at mealtime or anytime."
"Kroger is building on our expansive logistics and fulfillment infrastructure to support the rapid rollout of Ship," added Frank Bruni, the grocer's VP of supply chain and procurement. "With the support of Our Brands, and Kroger's manufacturers and suppliers, our vision is to build a seamless ecommerce system that offers our customers an ever-growing number of products and allows Kroger to ship nationwide, serving America through food inspiration and uplift."
Kroger operates 2,800 retail food stores under various banners. The company was No. 2 in Progressive Grocer's 2018 Super 50 list of the top grocers in the United States.