08/16/2018
Kroger Reveals Pilot Market for Autonomous Grocery Delivery Vehicles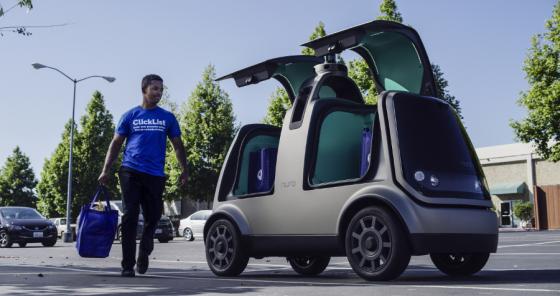 A month and a half after first announcing the pilot, the Kroger Co. has revealed where it plans to begin testing grocery delivery via autonomous vehicles.
Scottsdale, Ariz., will be the first city to receive groceries via self-driving cars developed by Nuro, which claims to be the "maker of the world's first driverless delivery vehicle." Fry's Food Stores – a Kroger banner that serves Arizona – will build the orders for Scottsdale residents, who can shop for their groceries via the banner's website or its mobile app.
"Kroger wants to bring more customers the convenience of affordable grocery delivery, and our pilot with Nuro will help us test and learn to understand customer acceptance of autonomous vehicles in our seamless offering," said Kroger Chief Digital Officer Yael Cosset. "We thank Arizona Gov. Doug Ducey, Scottsdale Mayor Jim Lane and the Scottsdale community for being terrific partners and for supporting customer-focused innovation."
Residents can schedule grocery orders, based on slot availability, for same- or next-day delivery. The cost is a $5.95 flat fee, with no minimum order required.
In an interview with Progressive Grocer, Ken Fenyo, head of consumer markets at McKinsey Fast Growth, and onetime VP of loyalty at Kroger, noted that one key to profitability in the grocery delivery game is automating back-end processes to reduce costs and improve service levels, which makes autonomous delivery a likely win for Kroger. The grocer also recently partnered with U.K.-based delivery service Ocado to develop robotically operated warehouses.
Moreover, McKinsey research shows that a 40 percent saving in delivery costs would translate into a 15-to-20-percentage-point increase in profit margin, or a 15 percent to 20 percent cut in prices.
"This is a substantial opportunity in an industry with margins ranging between 2 percent and 5 percent," Fenyo observed. "Most likely, retailers will need to adopt a range of last-mile delivery options depending on location, demographics, competition and other factors, including autonomous vehicles, drones, on-demand services, click-and-collect and even dedicated trucks."
Mountain View, Calif.-based Nuro will begin the pilot using its self-driving Toyota Prius fleet, introducing a custom R1 driverless vehicle this fall.
Kroger operates 2,800 retail food stores under a variety of banners. The Cincinnati-based grocer holds the No. 2 spot on PG's 2018 Super 50 list of the top grocers in the United States.