06/28/2018
Kroger Pilots Autonomous Online Grocery Delivery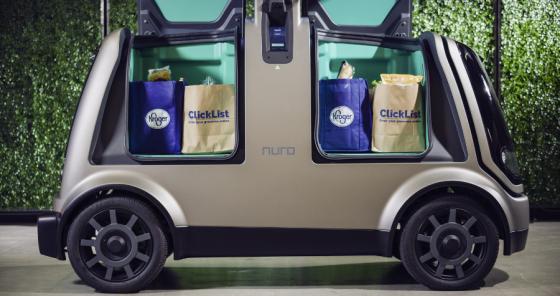 The Kroger Co. is piloting a delivery program that uses unmanned road vehicles to fulfill online grocery orders.
Partnering with Nuro, the Mountain View, Calif.-based developer of the world's first fully unmanned road vehicle, the Cincinnati-based grocer is working to make convenience of grocery delivery accessible and affordable for customers everywhere. Through the innovative partnership, customers can place same-day delivery orders via Kroger's ClickList grocery ecommerce system and Nuro's mobile app, which will be fulfilled by Nuro's fleet of on-road autonomous vehicles.
"We are incredibly excited about the potential of our innovative partnership with Nuro to bring the future of grocery delivery to customers today," said Yael Cosset, Kroger's chief digital officer. "As part of Restock Kroger, we have already started to redefine the grocery customer experience and expand the coverage area for our anything, anytime and anywhere offering. Partnering with Nuro, a leading technology company, will create customer value by providing Americans access to fast and convenient delivery at a fair price."
The grocery ecommerce pilot marks the first application and deployment of Nuro's hardware and software. Its market will be announced soon and will begin receiving service in the fall.
"Unmanned delivery will be a game-changer for local commerce, and together with Kroger, we're thrilled to test this new delivery experience to bring grocery customers new levels of convenience and value," said Dave Ferguson, co-founder of Nuro. "Our safe, reliable, and affordable service, combined with Kroger's ubiquitous brand, is a powerful first step in our mission to accelerate the benefits of robotics for everyday life."
Ken Fenyo, head of consumer markets at McKinsey Fast Growth, and previous VP of loyalty at Kroger, believes the grocer is on the right track with autonomous vehicles for delivery, noting that while shoppers pick and drive their own food home in traditional brick-and-mortar retail, online grocers that deliver orders must take on those activities, and the costs attributed to them, themselves.
"One of the keys to profitability is automating back-end processes to reduce costs and improve service levels," Fenyo told Progressive Grocer. "For example, Kroger recently partnered with [U.K.-based delivery service] Ocado to develop robotically operated warehouses."
Similarly, Fenyo stated, using autonomous vehicles or drones can dramatically reduce the costs of delivering groceries to the home. According to McKinsey research, a 40 percent saving in delivery costs would translate into a 15- to 20-percentage-point increase in profit margin or a 15 to 20 percent cut in prices.
"This is a substantial opportunity in an industry with margins ranging between 2 percent and 5 percent," Fenyo stressed. "Most likely, retailers will need to adopt a range of last mile delivery options depending on location, demographics, competition, and other factors including autonomous vehicles, drones, on-demand services, click and collect, and even dedicated trucks."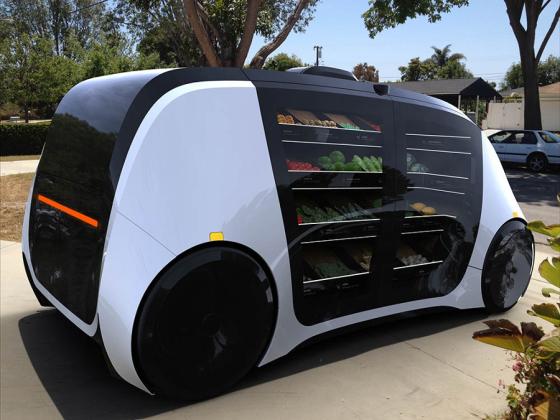 Kroger isn't the first grocer this year to propose self-driving vehicles to solve the last-mile conundrum. Santa Clara, Calif.-based Robomart, said to be the world's first self-driving store, made its debut Jan. 9 at the Consumer Technology Association's CES show, and addresses the fact that nearly nine in 10 consumers age 26 to 44 don't purchase fresh produce online because they feel home delivery is too expensive and they want to purchase their own produce, according to Robomart research. The electric vehicle is refrigerated and sports stadium-style shelves, keeping perishables cool and giving consumers a good look at them.
And according to Venturebeat, Robomart plans to launch a pilot program in its hometown this fall. The pilot will deploy six driverless vehicles in the area.
Big Strides
Kroger has made huge strides so far in fiscal 2018 in leveraging its technological prowess to create a better experience for the shopper. Some ways it has done this include:
And just last week, Kroger even was named to Computerworld's Top 100 Best Places to Work in IT. The honor marks the second time Kroger's technology department has been recognized in the program for having a "dynamic, industry-leading workplace culture and mission," the grocer said.
The Kroger Co. operates 2,800 retail food stores under various banner names, employing nearly half a million associates. The retailer landed the No. 2 spot of Progressive Grocer's 2018 Super 50 list of top grocers.