08/16/2018
Alibaba Deal Further Shows Kroger's Plan to Partner Internationally in Amazon Battle
Earlier this week, the Kroger Co. revealed its intent to introduce its Simple Truth line of private label natural and organic products in China through a partnership with Alibaba Group Holding Ltd., the world's largest retailer, one of largest internet companies and often called the Amazon of China (although the retailer's business model differs from that of the Seattle-based ecommerce giant). This came roughly seven months after reports surfaced that the two companies had been in talks on how to "speed up the integration of online and offline sales," according to a Chinese government press release.
While it's unclear whether this partnership was the sole topic of conversation or there are more partnership opportunities on the horizon between the Cincinnati-based grocery giant and the Chinese behemoth, the deal further proves an important point: Just as it revealed in its agreement earlier this year with U.K. online grocer Ocado to enhance its ecommerce program, Kroger – No. 3 on Progressive Grocer's 2018 list of the nation's top grocers – is willing to partner with international technology companies to bolster its efforts to take on Amazon, Tom Gehani, director of client strategy and research at New York-based business intelligence company Gartner L2, told Progressive Grocer.
"It's possible that there still may be further partnerships with Alibaba, particularly on in-store technology – mobile payments, ship-from-store in-store routing and logistics – as this has been where Hema has been experimenting the most," noted Gehani, referencing Alibaba's Hema supermarkets, which are said to be the "purest manifestation of Alibaba's ambitions to marry online with offline," offering shoppers a "more efficient and flexible" shopping experience.
Kroger's Partnership Goals
But what are the specific goals of the partnership? Gehani offered two primary ones for Kroger:
Marrying Simple Truth's power with China's fast-growing consumer economy – Private label, and retailers' goals with it, has evolved dramatically over the past decade in the grocery channel: What once was a strategy to offer "low-cost alternatives to national-brand items" – and back up the products with little to no marketing – is now a focus on developing "major brands in their own right," Gehani stressed.
"In 2017, private label-branded products made up 18 percent of CPG sales – that's up from 15.4 percent in 2005, based on Nielsen data," he added. "Kroger is pushing to take advantage of that: They have given prominent shelf placement to their private label brands, both in-store and increasingly online – in Gartner L2's recent analysis of 133 ice cream-related keywords on Kroger's Clicklist, visibility of Kroger's Simple Truth brand grew from 48 percent to 61 percent between Q1 and Q2." Additionally, in 2018, Simple Truth reached more than $2 billion in annual sales.
This represents another venue to continue to build the scale and potential reach for the fast-growing consumer economy in China.
Developing customer audiences in markets where it doesn't have stores – In 2017, Kroger ended the year with actually fewer stores than it started with, due to closures outpacing growth. Gehani noted that the Ocado partnership is meant to allow Kroger to offer fresh groceries in markets where it doesn't operate local stores, such as the Northeast.
"And they have made evident that Kroger Ship is an attempt to expand nonperishable distribution of their products in the same way," he went on to observe. "In general, Kroger is focused on driving growth uncoupled from its stores – and this is a furthering of that strategy."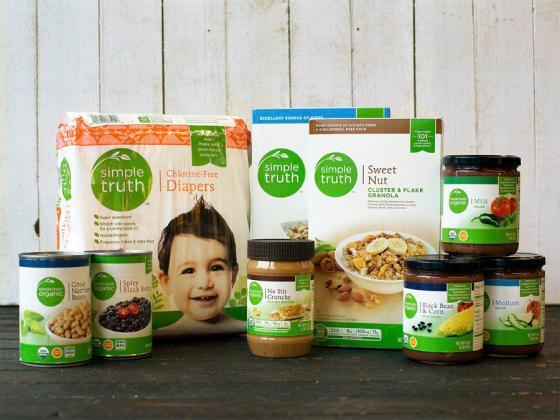 Another expert does see the importance of stores in the equation overseas, however, noting that Kroger will have to add a brick-and-mortar presence in China if it wants to engage, educate and win consumers over with its Simple Truth private label.
"Statistics show that consumers buy more – and more often – when they're able to interact with a knowledgeable associate in-store," Gina Ashe, CEO of Boston-based retail intelligence platform ThirdChannel, told PG. "Physical store interactions will also drive more traffic to their ecommerce channel, and ultimately Kroger will want to view the physical store channel as their customer acquisition channel, and ecommerce as the convenient option for reorders. This allows both Kroger and Alibaba to own the entire customer journey and ultimately drive higher lifetime value for each consumer."
But what's Alibaba's end goal with this partnership, and how does it stand to benefit? Similar to Amazon's strategy in the States, Alibaba wants to become an "everything store" in China, Gehani noted.
"They have focused more on being a platform for other brands – and taking a cut – rather than necessarily needing to be the retailer/manufacturer themselves," he said. "A way to become a bigger part of a consumer's share of wallet is by fulfilling on their food needs as well. This is still the largest single category of spending for urban Chinese households, at nearly 28 percent, and while Alibaba is making first-party investments through stores like Hema, also having an expanding online assortment helps them fulfill these customer needs."