4 New Ways Grocers are Empowering Associates through Technology
Get great content like this right in your inbox.
Subscribe
One of the biggest problems in retail is turnover. Data from Philadelphia-based Hay Group show that retail has one of the highest turnover rates of any industry, reporting a median rate of 67 percent for part-time employees. Additionally, on average, it costs 16 percent of one year's salary to find, hire and train a replacement for one minimum-wage employee.
In the past year, several grocers have helped remedy the situation by raising minimum hourly wages and benefits. For instance, Bentonville, Ark.-based Walmart said it would raise the starting wage rate for all hourly U.S. associates to $11, expand maternity and parental leave benefits, and give eligible full- and part-time workers a one-time cash bonus of up to $1,000. Also, Minneapolis-based Target raised its minimum hourly wage to $12.
Although it helps, paying more money isn't the only way to help keep employees, however: When associates aren't given set goals to meet – or the tools necessary to meet goals – they will become frustrated with their inability to progress and grow in their careers.
Thankfully, grocers have access to lots of new tools that can help. Here are just four ways grocery technology has been used in the past year to empower their associates:
---
Workforce Management and Scheduling
Natural Grocers is known for taking care of its employees and helping them succeed inside and outside the workplace. Last April, the Lakewood, Colo.-based natural food retailer upped its employees' minimum hourly pay to $11 at all stores for both part- and full-time employees. Even the company's CEO, Kemper Isely, mentioned the important role that training efforts played in its strong first quarter of fiscal 2018.
"We are pleased with the success of these marketing and operational initiatives and the momentum they have created," he told participants in a February call to discuss the earnings.
So it's understandable that with 147 stores across 19 states, Natural Grocers would need a strong solution to effectively manage its workforce: It's a complex task to improve productivity, forecasting and labor management. The solution was found in HotSchedules' cloud-based platform, originally designed for the foodservice industry.
Simply put, the grocery technology is intended to make better staffing and management decisions that are influenced by critical sales trends and forecasting data, while also giving more than 3,000 employees the ability to schedule via mobile.
"The Natural Grocers team understands how important it is to give managers tools to effectively forecast demand, optimize labor and help maintain compliance, while also making it easier for hourly employees to schedule shifts around personal obligations," notes David Cantu, co-founder and chief customer officer at Austin, Texas-based HotSchedules.

Added Heather Isely, EVP at Natural Grocers: "Ever since our first store opened in 1955, one of our five founding principles at Natural Grocers has been our commitment to our employees. Part of that commitment is giving our in-store managers and regional leadership world-class tools to help them succeed."
---
Freedom at POS
This past May brought the news that Walmart (No. 1 on Progressive Grocer's 2018 Super 50 list of the top grocers in the United States) was shuttering the mobile checkout platform that it had only recently finished piloting and begun expanding: Scan & Go, which CBC News reported had closed due to lack of popularity. The Android- and iOS-enabled app – which also could be used via hand-held devices provided in-store – allowed customers to scan and bag items while they shopped, and to pay for their purchases with their mobile devices. It securely stored credit or debit card information for fast and easy checkout, and, after payment, allowed shoppers to exit the store through the Mobile Express lane, bypassing checkout.
Just weeks before, however, the mega-retailer had launched a different sort of mobile checkout that focused more on empowering the employee over the customer, while still providing customer convenience. Check Out With Me saves customers time by allowing on-the-spot payment in Walmart's Lawn & Garden Centers for such products as flowers, soil and mulch.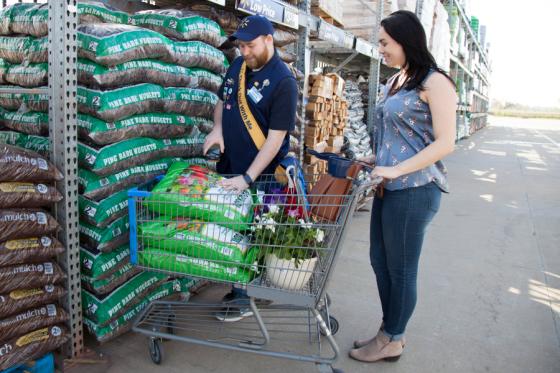 Here's how it works: A customer walks in, chooses what he wishes to purchase, and then brings it to a Check Out With Me associate on the floor. Using a dedicated mobile scanning device, the associate scans the items, swipes the shopper's credit or debit card, and then provides a printed receipt.
Previously, customers had to exit the Lawn & Garden Center and enter the store itself to pay for lawn- and garden-related products.
"As we continue to test this new process, we'll be listening to our customers and working on ways to bring their expectations to life," Walmart said at the time of the launch. "Check Out With Me is the latest example of our commitment to deliver a more convenient shopping experience that saves our customers time."
---
Financial Independence and Management
Walmart isn't empowering its associates just on the job, though. Understanding that less stress at home can lead to happier team members in stores, the company last December introduced a suite of services to help employees plan ahead for bills and savings goals while also allowing them access to wages ahead of paychecks for unexpected expenses.
More than 1.4 million associates nationwide across three divisions – Walmart, Sam's Club and Walmart eCommerce – now have access to the new money-management services, which were created in collaboration with two financial technology startups: Oakland, Calif.-based Even and San Jose, Calif.-based PayActiv – with tools accessible through Even's mobile app, available for iOS- and Android-based devices. Being able to plan ahead eliminates employees' work of determining how much money is OK to spend, while access to earned pay in advance of paychecks via a feature called Instapay provides greater flexibility and helps avoid overdrafts, high-fee funding or credit options.
Even's app securely connects to associates' checking accounts, prepaid accounts or Walmart Associate Paycards, and links to the company's payroll systems. It automatically subtracts anticipated expenses from a user's expected cash inflows, allowing associates to see how much money they're able to spend.
"Traditional approaches to workforce well-being often focus solely on physical health, but we know from listening to our associates that financial well-being is just as important," said Jacqui Canney, Walmart's chief people officer, at the time of the rollout. "We're investing to give our people financial tools that help provide more stability in their lives, which we believe will empower them to be all they can be when they are at work serving our customers."
So employees need not worry about adding the services to their own bills, Walmart covers the entire cost of Even's automated financial management tool for both hourly and salaried associates, and will ensure that associates can use Instapay up to eight times annually at no charge. For employees who need to use Instapay more frequently, Walmart will subsidize the additional Even subscription required to do so.
---
Training
In an industry where customers' trust is extremely difficult to gain but incredibly easy to lose, it's always best to be more proactive than reactive in training employees to ensure that protocol is followed to the letter. One Southern California grocer, Anaheim-based Northgate Gonzalez Markets, realized this when it shopped for grocery technology that could help train more than 6,000 employees across dozens of its stores in the region in understanding and following all government regulations, inspection expectations and compliance requirements for food safety, in addition to abiding by safe work practices and policies.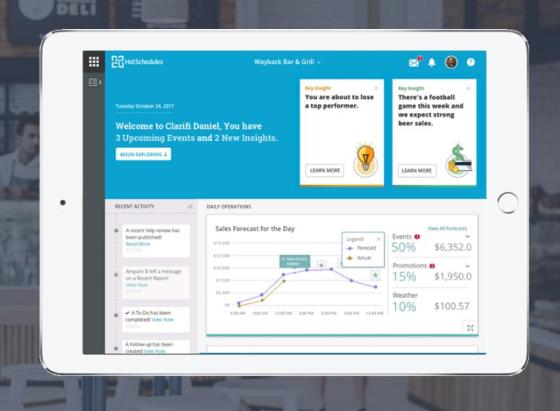 Launched last year, the software helped employees build, sustain and share knowledge in a fun, engaging and gamified way. Associates were able to develop the confidence to perform their roles to the best of their abilities, due to the software's adapting learning content to target and close individual knowledge gaps. One-and-done training events pushed through other learning methods differed from what Gary Orona, Northgate's director of training and development, saw in the system from Waterloo, Ontario-based Axonify – the "same success mechanics and continuous progression" that he used in coaching high school football.
"I used the same principle of repetition, doing the play over and over, repeating it until it was perfect so that the team could remember and execute it on game day," Orona says. "It's the same thing in retail: When the results aren't what you want, you make people do it again so they get it right. If you miss a training question in Axonify, you will get the question again until you remember it."
Participation didn't rise rapidly, but within 12 months after implementation, it went from 20 percent to more than triple that. And as customer surveys reveal other areas in need of improvement, the software is used to optimize training in each sector.
"We started launching training regarding smiling, making eye contact, talking to our customers about what they're making, about their families, and we just really started to dig in a little bit more to try to get the associates to understand the importance that the customer makes the decision to come into our store," Orona notes.
While one might think the end goal to each employee is trivial – to play a game or win a prize – what Northgate discovered was a truly valuable lesson.
"When we launched a survey, one of the questions we asked was 'What feature do you like most about the training platform?'" Orona observes. "We thought it would be the prizes or the gaming part of it. But the No. 1 answer that came back was 'job-performance knowledge.'"