09/27/2017
Northgate Sees Success in Proactive, Regular Training
In grocery, like most industries, training can be one of the more painful ordeals for both employees and their managers, whether for onboarding purposes or updating current knowledge of company protocols. But by switching training sessions from being reactive and occasional to proactive and regular, grocers can reduce the pain and save money.
That's the takeaway for Northgate Gonzalez Markets, an Anaheim, Calif.-based grocer operating 40 stores in Southern California, where training previously occurred only sporadically and as needed. The retailer credits Waterloo, Ontario-based training-software provider Axonify with helping it turn around its culture of training.
Accidents Waiting to Happen
Prior to its wide use of Axonify's software, Northgate trained for requirements and certifications annually, teaching via "Powerpoints and talking-heads methods" in classes, according to Gary Orona, director of training at Northgate.
"People go into class, go through a deck of slides, and then talk to the people pointing fingers who would say, 'Remember this, write this down," he said. "And then they'd leave, and we wouldn't see them again for two years."
As time passed, someone would break or forget a rule, and an accident would occur, whether it was a food safety issue, or a clogged drain in a store tortilleria due to improper disposal of food-ingredient waste. This often resulted in a fine and employee retraining.
"We were like firemen," Orona admitted. "Put the fire out over here. Put the fire out over there."
Northgate Senior Director of Asset Protection Mike Bowers originally came across the software, which, according to Carol Leaman, Axonify CEO, caters to organizations with larger, deskless workforces that often have a high turnover. Bowers believed that the program, which delivers core information critical to business outcomes to those employees on any device, anywhere, anytime, could be useful and effective for safety training. The information has an "underlying brain science component" that is "wrapped in gamification" to help users understand and retain information.
"Northgate is able to convey top-of-mind information [that is] widely distributed very consistently in a way that employees find quite engaging and fun to receive," Leaman said. "They pay a lot of attention to it and, therefore, change their behavior as a result of getting those core bits of information day in, day out."
After loading 10 modules for safety exercises, users were given questions during each session with the program, which asked questions regarding such protocols as wearing protective equipment when handling knives or wearing gloves when using ovens. The software operates with a specific algorithm: Questions answered correctly weren't asked again, but ones answered incorrectly returned in future sessions. Even though the questions asked were highly appropriate, however, the software's use in a sporadic and reactive manner wasn't.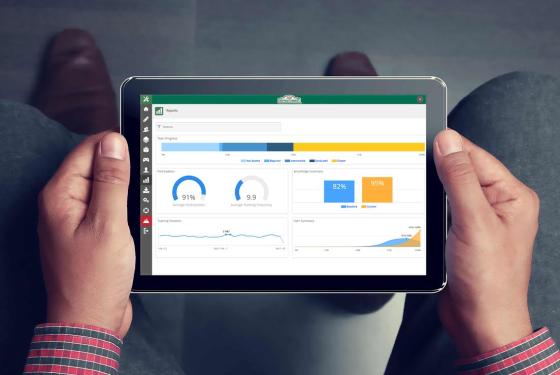 A Proactive Approach
It wasn't until Orona noticed an 80 percent adoption rate at two particular stores that a lightbulb went on in his brain, when he realized there was a correlation between the high participation rate at the stores and far fewer accidents. If he could roll out the program across all stores and market it properly, all stores could achieve a similar rate.
It reminded him of his time as a football coach, when he would train teammates for a play. Those who zigged when they should have zagged retrained for the same play repeatedly until they got it right.
"It's all about execution," Orona noted. "It's about executing on game day."
And it's not just about becoming better to compete against the competition – becoming a better grocer than the others – it's also about building competition among teammates to see who can be the best she can be at her job, he explained. Building in gamification and a points-based system allows for enjoyment and desire to use, and the points can be used to bid on gift cards and other potential prizes to be won. If a question is missed, so are points, which are needed to win a prize.
"It took us about a year to get participation up to the level we have," Orona said, noting that what first was 20 percent 12 months prior rose to 60 percent to 65 percent. And as customer surveys show other areas in need of improvement, the software is used to optimize training in each sector.
"We started launching training regarding smiling, making eye contact, talking to our customers about what they're making, about their families, and we just really started to dig in a little bit more to try to get the associates to understand the importance that the customer makes the decision to come into our store," Orona said. "Without that customer, you don't have a job, we don't have a business. We launched training on why the customer is important to our business."
And while one might think the end goal to each employee is trivial – to play a game or win a prize – what Northgate discovered was a truly valuable lesson.
"When we launched a survey, one of the questions we asked was 'What feature do you like most about the training platform?'" Orona observes. "We thought it would be the prizes or the gaming part of it. But the No. 1 answer that came back was 'job-performance knowledge.'"