Study: 70% of Consumers Buy Specialty Food as 'Treats'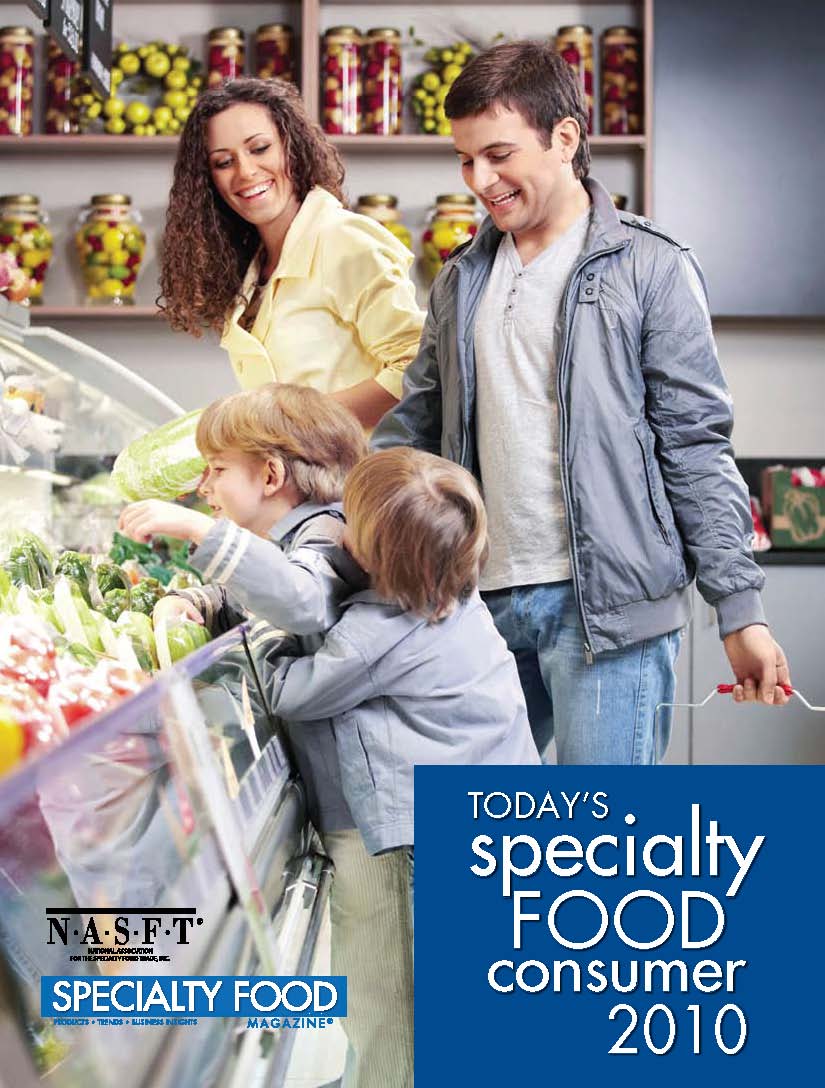 Sixty-three percent of consumers have purchased specialty foods this year, a 37 percent increase over 2009, according to "Today's Specialty Food Consumer 2010," the NASFT's annual report on consumer purchasing habits and trends.
The research was conducted in July 2010 by Mintel International and Toluna USA based on an online survey of 1,500 adults. The NASFT and Chicago-based Mintel hosted a webinar Oct. 12 to discuss the results of the fifth annual survey, which gives a snapshot of who the specialty food consumer is, what she's buying and where.
The increase to 63 percent of consumers purchasing specialty food in 2010 -- up from 46 percent in 2009 -- means 51 million consumers have come back to specialty food after cutting their spending during 2008 and 2009, said Ron Tanner, VP, communications and education at the New York-based NASFT. That's a return to 2006's specialty food consumption numbers, he noted.
While 71 percent of specialty food consumers report purchasing more private label and store brands within the past year, only 49 percent say they plan to in the future.
Consumers continue to watch their food store spending. Twenty-five percent of specialty food consumers' food dollars go towards specialty foods. Overall, specialty food consumers are actually spending a little less on their weekly shopping trips: In 2010, consumers are spending $90 a week on food purchases vs. $100 in 2009. It's important to note that more consumers (70 percent) are buying specialty food as "treats," not as everyday staples, Tanner said. Last year, 61 percent purchased specialty food as indulgences. "That's a tremendous increase of people coming in to buy specialty foods," he noted.
Who is Buying
Consumers age 18 to 34, especially those in the 25-to-34 age bracket with $100,000-plus household incomes, are 35 percent more likely to buy specialty food. These consumers tend to be in the Northeast or the Western United States, college educated and Hispanic.
The specialty food consumer is concerned about sustainability of the foods she purchases. Eighty-four percent believe it is important to purchase foods produced under sustainable conditions. Among specialty food consumers, natural or organic products were the most purchased in the past 12 months. The top five specialty food purchases reported were coffee, chocolate, olive oil/other specialty oils, cheese and cold beverages. Pastas and barbecue sauces posted the biggest gains, as more consumers are cooking more at home.
Mintel's David Browne pointed out that the eco-friendly consumer hasn't shifted her buying habits because of the economy. Product innovations in all price points and high-quality private label products that address sustainable concerns made it easier for consumers to continue to buy sustainable products, or products made with ingredients and/or packaging that don't harm living creatures or the environment. Pointing to the Gulf Oil's spill's effect on the seafood industry and the recent recall of 500 million eggs, Browne said an increasing number of consumers are concerned about food safety.
More and more, "the specialty food consumer and the sustainable food and drink consumer overlap," noted Browne.
Buying local, or products produced within 200 miles, continues to be popular. About one in four of the specialty food consumer's food dollars is spent on local products.
Habits
Outside of shoppers' specialty food habits, the survey asked about other interests. The average specialty food consumer watches 4.5 hours of food television each week. Cooking competition shows, such as "Top Chef," are the most watched, more so than how-to cooking shows. Thirty-two percent of specialty food consumers say they can't cook.
The specialty food consumer is most likely a fan of PBS, goes to at least one movie a month and listens to at least one hour of digital music per day, according to the survey.
Companies looking at attracting specialty food consumers should consider underwriting a PBS program or advertising on an NPR affiliate website,  advertising their products near publications' movie listings, or buying ads on the music site Pandora, Browne suggests.
The specialty food consumer spends two hours daily on the Internet outside of work. Sixty-five percent use Facebook to stay connected, and 35 percent visit YouTube. The social networking sites Twitter and LinkedIn are less popular, with usage rates of 17 percent and 11 percent, respectively.
Specialty food consumers continued to buy their specialty foods at supermarkets (70 percent), followed by natural food stores (35 percent), and mass merchandisers such as Wal-Mart and Target (34 percent.) One notable shift: More specialty food consumers are shopping at farmers' markets (30 percent)– more so than specialty food stores (25 percent.)
Buying specialty food online continues to be small, accounting for just 9 percent of specialty food sales. Coffee is the No.1 specialty food item purchased online.
The webinar will be available for purchase online, and for replay later this month at specialtyfood.com. The full report is available to NASFT members and available for purchase from Mintel. Results will be published in the October issue of the NASFT's Specialty Food Magazine.