10/30/2018
The 1 Reason Grocers Shouldn't See Amazon Go as a Competitor – Yet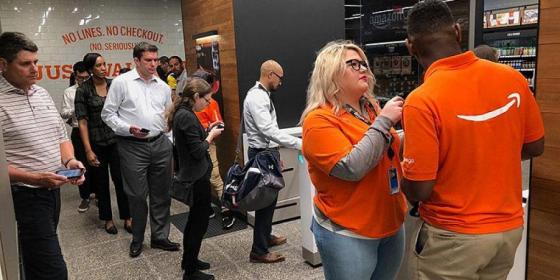 Amazon's cashierless stores are showing impressive sales, with the Seattle Amazon Go location performing an estimated $2,700 per square foot, Barrington, Ill.-based research consultancy Brick Meets Click has discovered. And that number is expected to rise even higher.
But it might be too soon for this information to put fear into the hearts and minds of supermarket operators nationwide. New research from InMarket – detailing 60 days of activity at Amazon Go stores in Seattle and Chicago – found that visits to the locations differ from those to traditional grocers in that the weekdays see strong traffic, but not so much the weekends, while traditional grocers rely heavily on weekend foot traffic to survive and thrive.
Granted, several of the Amazon Go stores aren't open on weekends. However, even when these are taken out of the mix, the weekday peak still exists.
"For Amazon, the decision to keep some of these stores closed on weekends indicates that they don't necessarily see Go as a grocery competitor – yet – as weekends are vital to traditional grocery business," the InMarket report said.
During the period of research, which took place in September and October, Wednesday was the week's busiest day, followed by Thursday, Friday, Tuesday and Monday.
The report also found that:
Peak visits occurred during business hours, with 12 p.m., 2 p.m. and 1 p.m. attracting the most visits, followed by 8 a.m. and 9 a.m.
Shoppers appeared to be stopping by for breakfast and lunch, in particular, when coupling the peak visit times with the stores' focus on fresh, prepared food
Median dwell time at Amazon Go was 27 minutes, suggesting that people were exploring the store or enjoying purchased items in the seating area
Customer retention was occurring: 44 percent of shoppers in the study visited Amazon Go multiple times
Seattle-based Amazon has already opened three locations using the grocery technology in Seattle, two in Chicago and one in San Francisco, and is planning one in New York, two more in Chicago and another in San Francisco – with plans to have 3,000 locations in just a few years. Similar grab-and-go concepts that have opened include Standard Market, powered by artificial-intelligence company Standard Cognition, and a concept powered by the Zippin checkout-free software platform, both in San Francisco.
Amazon is No. 8 on Progressive Grocer's Super 50 list of the top grocers in the United States.