09/07/2018
Another Amazon Go Rival Pops Up in San Francisco
Just weeks after the debut of what is claimed to be the first true rival of Amazon's cashierless convenience format, another contender has emerged in San Francisco.
Standard Market, powered by San Francisco-based artificial-intelligence company Standard Cognition, employs similar technology to that which creates Amazon Go's "just walk out" experience. Using a system of cameras and other technology, the proof-of-concept store allows consumers to shop and pay without scanning or stopping to check out. It correctly matches items to the right shopper and detects when a shopper returns an item to a shelf or inserts it in a bag or pocket – no scanning required.
In development since 2016, the same year that Amazon Go was first announced, the technology is said to be the first solution of its kind available to any retailer, "radically improving the customer experience, reducing costs and opening new revenue streams." Patrons now shop the store through the Standard Checkout mobile app, which is both iOS- and Android-compatible, but later in the year, shoppers will be able to shop without the app and pay via cash or credit card.
Standard's system offers several benefits over other autonomous checkout platforms:
Privacy: No biometric information, including facial recognition, is collected from customers

Scalable: The system's lightweight installation process requires only overhead cameras and no sensors

Seamless experience: There's no checkout process or line to stand in

Flexible: The system allows for dynamic retail environments and flash sales

Insight: Retailers can reap anonymized shopper analytics for the store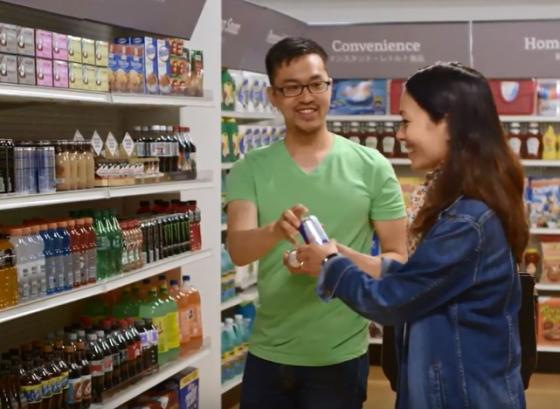 Located at 1071 Market Street, the store will be a testing ground for its system's scale and new features. Store hours, product selection and the total number of shoppers that the store can accommodate will expand quickly over the coming weeks.
Currently, Amazon doesn't have a store under its cashierless format open in the Bay Area, although it's planning to open one there. However, another technology company has announced in recent weeks a concept that's more similar to Amazon's than Standard Cognition's.
Zippin, another San Francisco-based company, now operates a concept powered by its checkout-free software platform. Introduced in August, the technology integrates its own software with readily available hardware, and combines overhead cameras and smart shelf sensors to accurately show what shoppers are picking up or replacing on shelves.
The company claims that while "early approaches" such as Amazon's have relied solely on cameras to track purchases, which caused problems that resulted in a 10-month delay of the Amazon Go store's public debut, Zippin's combined technologies assure the "highest level of accuracy," working even in a crowded store. The company has been issuing private invitations to access the concept store, and plans to open it to the public for limited hours during the week, beginning in mid-September.
Seattle-based Amazon, which is No. 8 on Progressive Grocer's Super 50 list of the top grocers in the United States, currently operates two Amazon Go stores, both in Seattle, and has plans for several others in major cities, including at least one in the Golden Gate City and two in Chicago.