08/06/2018
Walmart, Gobble Partner to Sell 15-Minute Meal Kits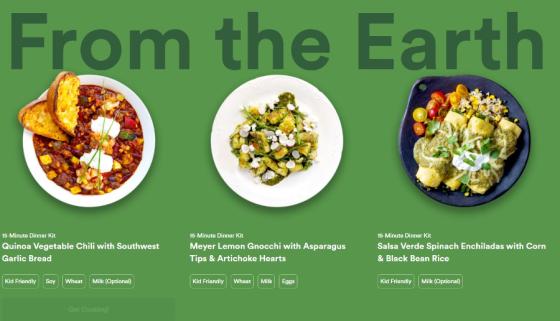 In a move to further differentiate itself from competitors ramping up their own meal-kit offerings, Walmart Inc. is partnering with Gobble to sell its signature one-pan kits.
Gobble will offer its products through Walmart's ecommerce site, Fortune has reported, allowing users to put two servings on the table in 15 minutes or less, using only one pan to prepare the meal. With this type of product, the service differentiates itself from competitors by catering specifically to busy parents and their needs.
Currently, the service divides its kits into four categories: From the Range (poultry-based), From the Ranch (red-meat-based), From the Sea (seafood-based) and From the Earth (vegetarian). Gobble claims to use proprietary taste-mapping technology to suggest weekly meals that are personalized for every family's dietary and taste preferences. Renowned chefs help develop the service's internationally inspired menus.
To scale appropriately, Gobble has built a vertically integrated facility on the East Coast and invested heavily in automation over the past year, Fortune reported. Steve Robinson, VP of supply chain and operations at Gobble, who previously served in the same role at Walmart, said he has applied the "same efficiencies, process engineering and intelligent automation to Gobble" that he applied at Walmart.
"Our state-of-the-art supply chain infrastructure is agile and built for scale to capture opportunities such as this new partnership with Walmart," he told the news outlet. "We are ready for more Gobble families who need this level of convenience in their daily lives."
Nearly 50 percent of Gobble's customers are between the ages of 35 and 44 – versus 25 percent for rival Blue Apron – the company told Fortune. Additionally, customers on average spend more during their first year with Gobble than any other meal-kit service, the outlet noted.
Bentonville, Ark.-based Walmart already offers a variety of meal kits in-store and online. In March, it revealed plans this year to roll out its new meal kits to more than 2,000 stores and through its Online Grocery Pickup service, enabling customers to order online at lunch and pick up the items in time for dinner. Developed and tested in the company's Culinary and Innovation Center, the kits are made fresh in-store daily.
Additionally, late last year, Walmart began selling third-party meal kits online, with its website then showing offerings from two services – Takeout Kit and Home Chef – that offer a variety of options, including diet-conscious and ethnic-inspired meals.
Other partnership and acquisition deals that grocers have inked with meal-kit services include, but are not limited to:
Walmart is No. 1 on Progressive Grocer's 2018 Super 50 list of the top grocers in the United States.