03/05/2018
Walmart Introducing Meal Kits in 2K-plus Stores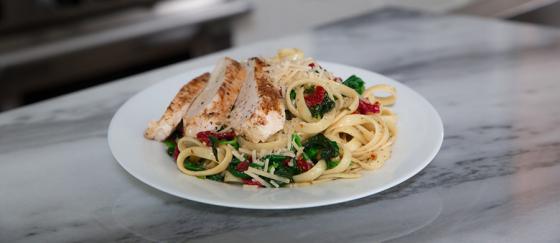 Walmart has revealed plans to roll out its new meal kits to more than 2,000 stores this year. The Bentonville, Ark.-based mega-retailer will also make the meals available via Walmart's Online Grocery Pickup, enabling customers to order online at lunch and pick up the items in time for dinner.
Currently offered in 250-plus stores, the meals were developed and tested in the company's Culinary and Innovation Center, and are made and assembled fresh in-store daily. Available in the deli department, options consist of pre-portioned cooking kits in Steak Dijon, Basil Garlic Chicken, Sweet Chili Chicken Stir Fry and Pork Florentine varieties; kits to accompany Walmart's popular rotisserie chicken, in Thai Curry Chicken and Chicken Fried Rice varieties; and One Step Meals that can be heated up and served in under 15 minutes, in Chicken Alfredo, Cheesy Ravioli Bake, Meatloaf, Spaghetti and Meatballs, Chicken Parmesan, Pulled Beef, Chicken Marsala, Curry Chicken, Pot Roast and Chicken Enchiladas varieties.
"Customers are busier than ever, and we know getting a delicious dinner on the table can be a chore. We're here to help," noted Tyler Lehr, SVP and general merchandise manager, Deli Services, Walmart U.S. "These delicious meals give the best or worst of cooks a fresh, easy option for dinner tonight, or later this week."
The chain's meal kits serve two people and retail from $8 to $15.
Additionally, since late last year, Walmart.com has offered a greater assortment of meal delivery kits, as well as other specialty food items such as farm-fresh crates and snack boxes.
Walmart operates more than 11,700 stores under 59 banners in 28 countries and ecommerce websites.