UNFI Posts Mixed Q1 Results While Working to Integrate Supervalu
Get great content like this right in your inbox.
Subscribe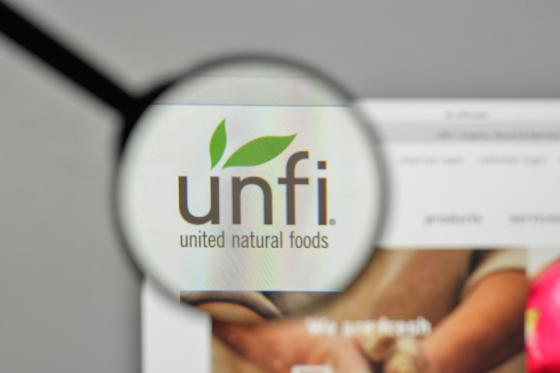 Weeks after completing its acquisition of wholesaler-grocer Supervalu, an undaunted United Natural Foods Inc. (UNFI) reported mixed fiscal 2019 first-quarter results, even as it embarked on a challenging integration process.
"While we are clearly disappointed by the near-term results of Supervalu, we started this process with a viewpoint that in order to build the business for the future and to create considerable value for our constituents, UNFI would serve its shareholders over the long term by becoming the premier wholesaler of products and services throughout North America," said UNFI Chairman and CEO Steven L. Spinner during the company's earnings call. "This thesis has not changed. In fact, as we have begun to integrate, our outlook for the combination is stronger than ever. We have no doubt that the combination of UNFI and Supervalu will translate into more significant value for shareholders than UNFI as a standalone company over time."
UNFI's results, which included six days of Supervalu's operating results and the full impact on the balance sheet, as noted by CFO Mike Zechmeister during the call, included a net sales increase of 16.7 percent, or about $411 million, to $2.87 billion for for its first quarter of fiscal 2019 ended Oct. 27. Excluding about $224 million net sales from Supervalu, net sales grew 7.6 percent compared with the year-ago period.
Spinner said during the call that for the fiscal 2019 Q1 quarter, the company "saw moderate revenue increases in the independent and supermarket channels … driven by a very tough macro environment for many retailers. Our top-line gains didn't translate to the bottom line. Legacy UNFI gross margins were down about 37 basis points to last year, largely driven by continued mix shift towards our lower-margin customers, which was exacerbated by higher levels of supplier out-of-stocks."
Zechmeister noted that Q1 supernatural net sales grew 20.4 percent over Q1 last year, accounting for about 35.8 percent of total net sales; independent channel net sales were up 4.4 percent, representing about 23 percent of total net sales; supermarket channel net sales inched up 0.6 percent, comprising 24.7 percent of net sales; the "other" channel's net sales were down 7.3 percent, which the CFO attributed to ecommerce declines as the company "rationalized out some of our less profitable business," such as the sale of its Earth Origins Markets last July. Supervalu's net sales were presented were excluded from UNFI's customary channel breakouts, although they will be integrated into future reports.
The executive also observed that a continuing deflation or modest inflation "continues to be a headwind to both top- and bottom-line results."
Gross margin for UNFI's first quarter of fiscal 2019 was 14.38 percent of net sales, including a $1.8 million, or 0.06 percent of net sales, inventory fair value adjustment charge related to the Supervalu acquisition.  When adjusted for this charge, gross margin in the first quarter of fiscal 2019 was 14.44 percent of net sales, versus 14.94 percent last year. UNFI attributed the decline to a shift in customer mix, including the growth of the supernatural channel, and higher inbound freight expense, partly offset by increased levels of vendor support and greater fuel surcharge income.
Operating loss was $18.8 million in the first quarter of fiscal 2019 and included restructuring, acquisition, and integration related expenses of $68 million and a $1.8 million inventory fair value adjustment charge associated with the purchase of Supervalu.  When adjusted for these items, operating income was $51 million, or 1.78 percent of net sales, compared with $55.1 million, or 2.24 percent of net sales, in the year-ago period. This decrease was driven by lower gross margins, as a percent of net sales, and higher labor costs, according to the company.
Net loss for the first quarter of fiscal 2019 was $19.3 million, including $2.1 million of income related to discontinued operations, among them Supervalu's remaining retail banners, compared with $30.5 million for the first quarter of fiscal 2018.
'A Single Way of Doing Business'
Also during the call, Supervalu CEO Sean Griffin spoke about the companies' integration efforts to date, explaining that the companies "are creating a path that leads from an entity that has four unique cultures to a single way of doing business. We are moving from legacy UNFI, legacy Supervalu, Unified Grocers and AG Florida toward a wholesaler with one way of going to market. This is complicated work with many moving pieces, and we are addressing the challenges with energy and urgency with a view always towards a long-term solution."

Some "early synergies" Griffin pointed out were the transition of UNFI's Blue Marble Brands into Supervalu's enterprise brand structure and offering, which he said "reduces cost while unlocking cross-selling upside," and the merging of UNFI's Albert's Organics business with Supervalu's produce category "under a single head of house, which we believe will accelerate unlocking the cross-selling opportunities as well as cost structure in this very important category."

Griffin also referenced Supervalu's less-than-stellar fiscal 2019 Q2 wholesale sales, excluding Unified Grocers and AG Florida, which he attributed to "the general softness in our customer base and center store, I think grocery, frozen, dairy and at least partially, we believe, due to the uncertainty following the announcement of the acquisition of Supervalu by UNFI."

Touting the recent news that the company was selling the Hornbacher's banner to Coborn's while securing supply agreements for both banners, and its plan to sell all remaining Shop 'n Save stores, Griffin said, "While Cub and Shoppers continue to perform in line with our expectations, we are moving forward with our marketing efforts and we are optimistic that buyers will be found at the right price."
The wholesaler additionally updated guidance for its fiscal 2019 to include Supervalu: Consolidated net sales are now expected to be in the range of $21.5 billion to $22 billion, including the benefit of a 53rd week and a legacy UNFI net sales growth of about 6.5 percent to 8 percent – down from previous expectations "because of the headwinds across our channels," and a forecasted net sales growth for Supervalu's wholesale business of 0.5 percent to 2.0 percent for the comparable 41-week period versus last year.
Providence, R.I.-based UNFI delivers products to customer locations throughout North America, including natural product superstores, independent retailers, conventional supermarket chains, ecommerce retailers and foodservice customers. Combined with Supervalu, UNFI is the largest publicly traded grocery distributor in the United States. Eden Prairie, Minn.-based Supervalu is No. 18 on Progressive Grocer's 2018 Super 50 list of the top grocers in the United States.