Sweet Earth Foods Healthy-Minded Frozen Pizzas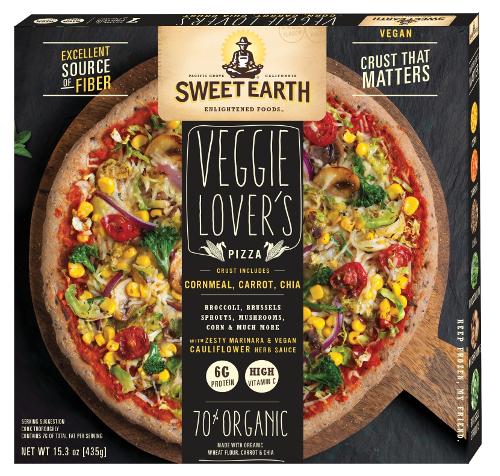 Sweet Earth Foods has launched a line of health-focused frozen pizzas. Available in four varieties, the pizzas deliver on both taste and nutrition, with unique crusts blended with ancient grains, carrot, rosemary, bold sauces and fresh toppings. Each ingredient has been thoughtfully selected and has at least 5 grams of fiber per serving, or 20 percent of the recommended daily value, thanks to ingredients like quinoa, flax seed and chia seed.
Varieties include:
Veggie Lover's, a vegan pizza that features a cornmeal, carrot and chia crust, and is the first-ever frozen pizza topped with Brussels sprouts
Protein Lover's, a pizza that contains 16 grams of protein per serving and is topped with smoked mozzarella, zesty marinara sauce and Planet Pepperoni – Sweet Earth Foods' plant-based version of the classic meat
Truffle Lover's, a mushroom-loaded pizza that comes with sumptuous aromas from caramelized onions, truffle oil and Gruyère cheese
Herb Lover's, a pizza that boasts five premium flavorful cheeses, along with a lemony herb pesto sauce and an aromatic rosemary crust
Each product is rooted in sustainability by using vegetarian protein sources, which use fewer resources to produce and generate fewer greenhouse gases than meat. Sweet Earth Foods also sources local, organic ingredients whenever possible from farms near the production facility in on California's Central Coast. SRP per 15.3-ounce frozen pizza is $6.99-7.99.