Instacart Secures $350M in Financing Round
Get great content like this right in your inbox.
Subscribe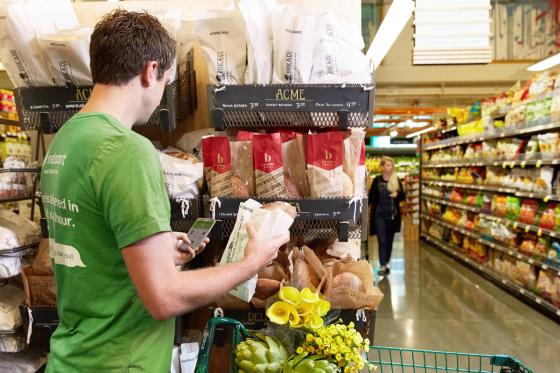 Third-party delivery service Instacart has closed a $350 million Series E financing round led by Coatue Management, Glade Brook Capital and other existing investors, valuing the company now at $4.4 billion.
Instacart will leverage the capital raised to help double the size of its team, continue rapidly expanding its footprint across North America, and invest in new products and services for customers, shoppers and retail partners. One such investment may be in technology that helps its shoppers move faster through checkout: The company recently filed a patent for an online shopping concierge service intended to allow shoppers to purchase items on behalf of customers and check out using a mobile app. 
With mobile self-checkout technology increasingly permeating the grocery industry, Instacart now may be planning to introduce a system of its own, according to a patent filed by the company.
The capital infusion arrives on the heels of a period of accelerating growth for the San Francisco-based grocery delivery service, as it now partners with the eight largest North American grocers: Kroger, Albertsons, Publix, Costco, Ahold Delhaize, H-E-B, Loblaws and Sam's Club.
The signing-on of several major clients comes after Amazon's acquisition of Whole Foods, and grocery ecommerce has heated up as a result. In February, the Seattle-based ecommerce giant said that it would begin offering free two-hour delivery from Whole Foods Market stores via its Prime Now delivery service, beginning in select markets and expanding into others nationwide throughout the rest of the year.
Minneapolis-based mass-merchandiser Target Corp. itself responded to the Whole Foods acquisition by making one of its own, scooping up Instacart's chief rival, Shipt, in December 2017 for $550 million in cash. Although the Birmingham, Ala.-based service's relationships with customers wouldn't change due to the acquisition, Target told Progressive Grocer at the time, news to the contrary could spell more business for Instacart: The service already revealed plans last year to expand nationwide to deliver groceries to 80 percent of U.S. households by the end of 2018.
"The online grocery market hit a tipping point last year, as more and more consumers demanded grocery delivery. We are excited to accelerate our plans to bring online grocery everywhere and to keep transforming the way people shop," said Ravi Gupta, COO/CFO of Instacart. "We are also excited to welcome Coatue to our team and are grateful for the participation of our other new and existing investors."
Since it launched in 2012, Instacart has raised more than $1 billion, the vast majority of which is still in the bank.