03/23/2020
Frozen Foods See a Resurgence, Attract New Fans
A funny thing happened when folks thought the frozen food category was stagnant and outmoded:  It received a new lease on life.
It wasn't that long ago that sales across many frozen food segments were flatlining, leading some to believe that such products would be out in the cold as the fresh perimeter took off. 
While the fresh sector continues to thrive, however, many frozen products are performing well and capturing interest across a broad spectrum of shoppers.
Cold Cash, Warmer Sales
Key Takeaways
Although the fresh sector continues to thrive, many frozen products are performing well and capturing interest across a broad range of shoppers, with particular interest shown by younger consumers.
The bounce in frozen over the past few years is largely attributable to product innovation, including better-for-you items, plant-based offerings, snack products and even greater convenience, aided by industry campaigns.
Production improvements such as nitrogen flash-freezing also have helped boost the frozen category.
First, the big picture.
According to the 2019 "Power of Frozen" report from the American Frozen Food Institute (AFFI) and FMI — the Food Industry Association, both based in Arlington, Va., sales of frozen foods have topped $57 billion annually. The more revealing statistic is growth, and to that end, the report finds that both dollar and unit sales grew in 2018, up 2.6% and 2.3%, respectively.
The Harrisburg, Pa.-based National Frozen & Refrigerated Foods Association (NFRA) just released its annual "State of the Industry" report showing a second consecutive year of sales growth, reaching $54.6 billion. Several segments within frozen experienced "solid" growth in the past 12 months, including pizza, vegetables, seafood, prepared potatoes and desserts, with increases between 3.7% and 5.1%.
Beyond sales figures, other research confirms consumer interest in frozen foods and the reinvigoration of segments within the category. In its daily tracking of U.S. consumer eating behaviors, The NPD Group, based in Port Washington, N.Y., found that frozen foods were included in the 9.8 billion at-home eating occasions last year, a 2% increase from a decade ago. That figure represents billions of meals, by NPD's estimation.
Meanwhile, the 2019 "Power of Frozen" report concludes that an overwhelming 99.4% of U.S. households buy frozen foods.
Taking a closer look at those households, the AFFI/FMI report indicates that shoppers in urban and suburban areas consume frozen food more often. Men are more likely than women to be high-frequency frozen food consumers, and families with kids in the home between the ages of 7 and 12 tend to have higher consumption. Underscoring the broad interest in frozen, the report reveals that core frozen food consumers represent all income levels, and that frozen food consumers generally tend to rely on frozen items as both backup and planned meal occasions.
Other consumer research studies show that many frozen food shoppers are younger, boding well for the future of the category. CB Insights, a tech market intelligence company in New York, pegs frozen foods as one of a dozen industries that will do well thanks to interest among Millennials. According to CB's findings, Millennials spend 9% more on frozen foods per supermarket visit than households of other age-based demographics.
"Frozen foods have seen strong growth over the last few years as innovative products now align with consumers' demands for organic, plant-based, gluten-free and so much more," says Shaw, adding, "NFRA's consumer PR efforts have been successfully working to tell this positive story about today's frozen foods."
Seifer likewise credits innovation for helping revitalize frozen foods as a whole. "When you look at what was being offered until the last few years, the varieties looked pretty familiar — what we'd seen for decades," he recalls. "When we asked consumers what drove them to use frozen products, one thing that came up is that they wanted something new and different. Several manufacturers took note of that, revamped lines and changed flavors. Now there's boldness for younger generations and products that reflect growing demographics, like Asian and Hispanic influences."
Image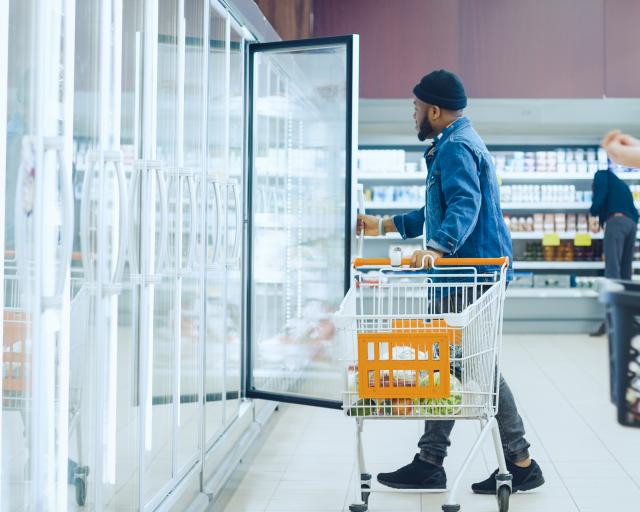 According to Chicago-based IRI, sales of products in the frozen appetizer/snack roll segment grew 2.7% from January 2019 to January 2020, reaching more than $2.06 billion.
While little bites are a big deal, that's not to say that entrées are frozen out. NPD's "Future of Dinner" study, for example, projects that frozen entrées will continue to grow over the next four years. Some of that growth will likely come from the plethora of plant-based frozen meals entering the marketplace.
Selling Shortcuts
Frozen foods, already touted for their convenience, include items designed to make prep easier for end users, from smoothie-ready fruit blends to zucchini spirals that can be used to make at-home meals. 
Conagra, for its part, recently expanded the Birds Eye brand to include Veggie Shreds, with combos like white cabbage and carrots, carrots and broccoli florets, Brussels sprouts and potatoes, and sweet potatoes with broccoli and cauliflower florets.
Julie Henderson, VP of communications for NFRA, says that these kinds of shortcuts appeal to convenience-minded consumers, especially Millennials and Gen Z shoppers.
"Younger generations are embracing semi-homemade meals, which offer a lot of opportunities for frozen foods," Henderson notes. "They are looking for more involvement in meal creation, but not necessarily more complexity."
Looking Good
Although innovations and sales are ticking up, grocers can continue to entice shoppers to the freezer case through a more diverse assortment of frozen foods, as well as through merchandising programs. March is National Frozen Food Month, an opportune time for frozen promotions. Throughout the year, however, there are other ways to engage consumers to browse and buy more frozen foods.
"According to Mintel, freshness and good taste are the two most important factors when shopping for food. [In the] frozen food department, find ways to communicate freshness, and that frozen foods are real foods, just frozen," says Henderson, adding that NFRA's Real Food. Frozen campaign also works to lift the category with retailer collaboration.
Displays that best spotlight frozen foods, from light-up cases to the advent of "digital doors" that spotlight products inside, also hold potential for bringing shoppers into the cold.