06/19/2018
Dollar General Pilots Mobile Checkout App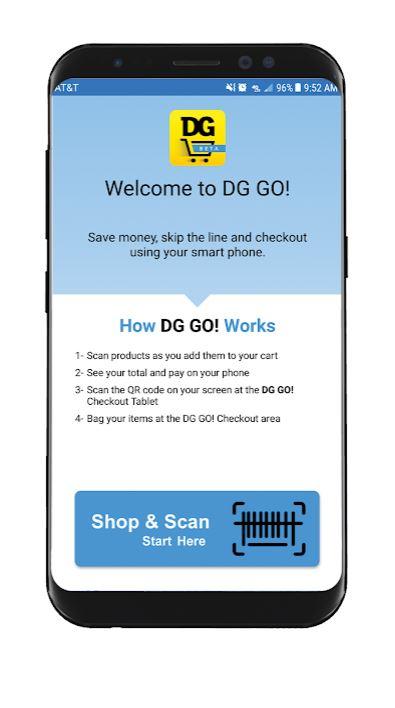 Goodlettsville, Tenn.-based Dollar General is the latest food retailer and first dollar-store chain to move into mobile checkout with a new app.
DG Go, according to its description on the Google Play store, is a shopping app that lets users scan and pay for products they select directly from their phone, allowing them to skip the checkout line altogether. It's available for both Android and iOS devices.
To use the app, shoppers must:
Download the app onto their device from the Google Play store or iTunes store

Scan products as they add them to their physical cart

See their running total and pay directly in the app

Receive and scan a corresponding QR code at the dedicated DG Go checkout tablet at the front of the store

Bag the products and exit the store
Users will receive a receipt immediately via the app and via email. Any digital coupons are applied automatically when customers scan items, and the app alerts users regarding any additional discounts or promotions.
Currently, the app is available only in 10 Nashville-area stores, including five in the city, two in Madison and one each in Hendersonville, Goodlettsville and Old Hickory.
Although multiple grocers have introduced or expanded mobile checkout within the past year, reaction from consumers has been a mixed bag. While both Kroger and Meijer have rolled out scan-as-you-shop technology in stores, Walmart has pulled back: Following launch and expansion of its Scan & Shop technology earlier this year, the Bentonville, Ark.-based mega-retailer pulled the plug on the initiative last month.
It did so, however, after introducing a different method of mobile checkout: Check Out with Me, where associates at the retailer's garden centers use mobile devices to check out shoppers where they are in the store rather than at the end of a queue. This allows those shoppers to walk out with their purchases without requiring them to enter or re-enter the main store and use the traditional checkout stands there.
Success of a mobile-checkout app depends on more than its ability to skip the checkout process. Read six things users liked about one particular mobile checkout app (besides the ability to skip checkout queues), as well as five ways that mobile checkout technology benefits grocers beyond the point of sale.