04/18/2018
Whole Foods Retiring Rewards Program, Mobile Digital Coupons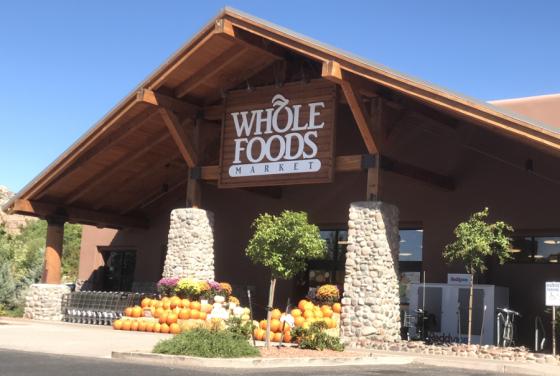 Whole Foods Market is retiring its Rewards Pilot Program and digital coupons through its mobile app, in a change that appears to have the Austin, Texas-based natural grocer switching over to its parent's Amazon Prime subscription-based program.
The changes – which also will include the closure of in-store loyalty programs such as Whole Body Benefits – come as Seattle-based Amazon and Whole Foods plan to "work on new perks," telling Amazon Prime members to "stay tuned for additional announcements" in a FAQ on Whole Foods' website. All rewards, digital coupons and online accounts – including Recipe Box and Shopping Lists – can be used through May 1, and will be "officially retired" starting the following day.
Although it's not yet known what the "new perks" will be, reports surfaced last month that Whole Foods might be planning 10 percent discounts for Amazon Prime members. The news wasn't official when reported, but trial-stage marketing materials were seen in a store one evening (removed the next morning) conveying such messages as "blue signs mean special deals," and one communicating an additional 10 percent off "hundreds of sale prices" for members. Amazon already has offered special rewards on meat, seafood, produce and other products for Prime members shopping Whole Foods stores.
This isn't the first time Amazon has said or suggested that it would be making its Prime program a bigger part of Whole Foods' operations: When it acquired Whole Foods, it promised integration of its Prime program into Whole Foods' POS system, giving "special savings" and in-store benefits to Prime members.
Moreover, the ecommerce giant has since launched free two-hour grocery delivery from Whole Foods stores to Prime members via its Prime Now delivery program, which it said it  would soon merge with its Amazon Fresh grocery delivery service to "eventually streamline a delivery experience for Whole Foods." At the time of the launch, Amazon said it would expand the service throughout the year, which it has done so far in Atlanta, San Francisco and the Los Angeles area.
It's unknown exactly how many Prime members shop Whole Foods' stores. According to research from Morgan Stanley shared by CNBC last September, however, it's estimated that almost two out of five Whole Foods shoppers – about 5 million households – weren't Prime members around the time of Amazon's Whole Foods acquisition. Morgan Stanley said at that time, though, that it expects Amazon to convert half of those shoppers by the end of 2019.
An 'Inevitable' Move
While some experts might not have seen Amazon's decision coming, others believe it was inevitable – including Howard Schneider, VP of loyalty strategy with St. Petersburg, Fla.-based loyalty experience company Kobie Marketing, who told Progressive Grocer that he sees the change as being more about the "continuing march of Amazon Prime" than the discontinuation of Whole Foods' program, which essentially was just an e-coupon program rather than a true loyalty program.
"From a cost-benefit perspective, it makes sense for the Whole Foods brand to piggyback on the popularity and success of Amazon Prime," he said. "But from a loyalty strategy perspective, the jury is out on whether this move will truly nurture brand loyalty for Whole Foods."
An IRI Market Shift Study released yesterday found that Amazon Prime's benefits are likely to motivate 60 percent of Whole Foods customers with Amazon Prime accounts to purchase more groceries at Whole Foods stores. But, Schneider says, this reinforces that Prime, not the Whole Foods brand, is the real focus here.
"The grocery chain becomes just another range of products delivered through Prime," he stated. "Some loyalists who value the uniqueness of Whole Foods may rebel against this transformation. But I predict most consumers will value the convenience and benefits of Prime."
The program, Schneider noted, can drive Prime members to the in-store channel. But this won't necessarily create loyalty of affinity for the Whole Foods brand. Unless Amazon maintains the emotional connection to Whole Foods, nothing will "curb customer churn" when consumers have more convenient or cost-effective options elsewhere on Amazon – or more experiential alternatives in a given market, such as the Pacific Northwest's New Seasons Market chain.