08/23/2019
Specialty Produce Sees Uptick in Grocery
Key Takeaways
Don't dismiss unique and sometimes unusual-looking specialty and exotic fruits as unsaleable; most of the time, sales will surprise you.
Samplings, recipes and information sheets about nutrition and uses of the constantly changing variety of specialty produce are highly recommended.
Some specialty items are relatively higher-priced than the average banana or apple, but don't assume that customers won't purchase these unique items, as many shoppers, especially Millennials, are in search of new and different foods.
Avocados, with their bumpy dark-green skin, were once specialty items. That's hard to imagine now, as we pass the guacamole on a regular basis. The specialty/exotic category can be one of the most vibrant in supermarkets, if merchandised correctly. New varieties, sizes, colors, flavors and recipes for preparation keep shopping interesting. 
Many customers are eager to try new foods if given a few tips and a taste. Three of the most popular specialty items, according to suppliers and produce department management, are featured in this article. In many parts of the country, these items are already making their way into weekly shopping carts and boosting sales. Some specialty produce items have limited growing periods, so customers look forward to their appearance. For example, August is hot in more ways than one with Hatch chiles making their welcome annual arrival. 
Voted Most Likely
In a category with hundreds of items, which are currently the most popular and likely to go mainstream?
According to Robert Schueller, public relations director at Melissa's/World Variety Produce, in Los Angeles, the three biggest specialty produce item trends currently are jackfruit; turmeric, including organic; and dragon fruit, including white and magenta flesh, and also the yellow-skinned variety. Melissa's will be introducing value-added jackfruit in August 2019. Most supermarkets know that customers want these popular items.
"We carry dragon fruit, jackfruit and other exotic items," notes Jeff Wingo, director of produce operations at Fredericktown, Mo.-based Town and Country Supermarkets, which operates more than 20 locations in the Show Me State. "It is a growing segment of the produce business. It is almost a necessity to offer samples, along with product and nutritional info, to entice that exotic fruit purchase." 
Image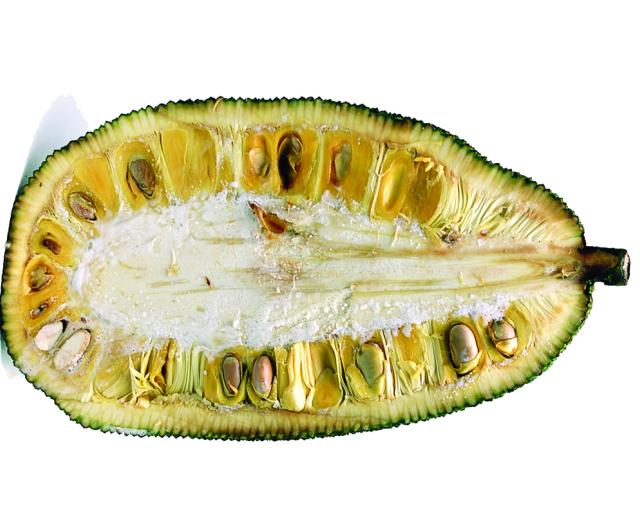 An oblong fruit with dense conical spines, jackfruit is said to be the world's largest tree fruit — weighing up to 80 pounds — and grows low to the ground at the trunk of the tree. If the skin of a jackfruit is green, it's not ripe. The fruit turns yellow-brown when it's ripe inside, with bright-yellow flesh.
Jackfruit is juicy, with a subtle sweetness that's like a banana to some people, and a mango/melon combo to others. It's said that jackfruit inspired the flavor of Wrigley's Juicy Fruit gum. The seeds can be boiled or roasted, and then eaten, with a taste similar to chestnuts. 
Jackfruits sold in supermarkets generally weigh 15 to 30 pounds. The fruit is often used in desserts, but the latest use is by vegans as a meat alternative, due to the fruit's shredded texture, according to Schueller. One cup of jackfruit is a significant source of vitamins A and C. While tasty by itself, there are many jackfruit recipes incorporating the item into sundaes, sliders and smoothies.
Advise customers to choose jackfruit that gives to a little pressure, without bruises or soft spots. The fruit can be stored at home at room temperature for up to seven days. Once the fruit is cut — using gloves — it should be refrigerated well sealed for up to two days, according to Melissa's Great Book of Produce by Cathy Thomas. Jackfruit is versatile. If eaten before it's ripe, it's starchy and must be cooked like a vegetable: boiled, fried or roasted. When the fruit is ripe, it can be eaten raw like any other fruit. 
Image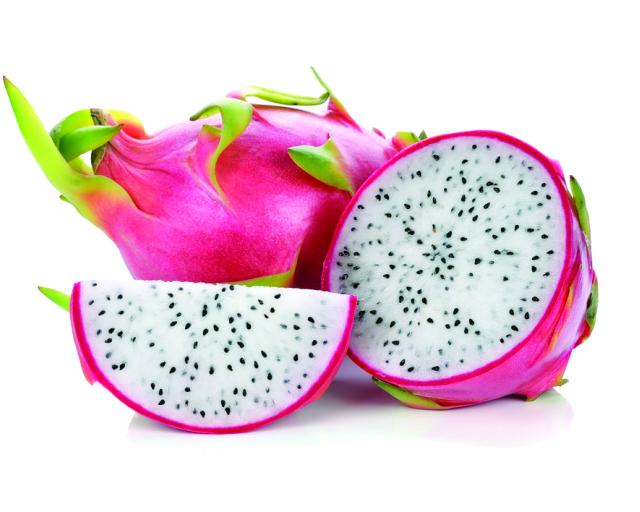 Unusual-looking but highly popular, dragon fruit has magenta skin. Also known as pitaya, this cactus fruit additionally features bright lime-green spines that are supple and curve down like wings. Inside the fruit, the pulp is soft, with a texture like a kiwi but grainier. The imported variety is grayish white inside, with small black specks that are tiny seeds, while the domestic variety has either magenta or pink flesh, with the same seeds. 
The taste of dragon fruit has been compared to a combination of kiwi and pineapple. The magenta variety is said to be the sweetest.
When consumers select the fruit, they should look for hot-pink skin which yields slightly with gentle pressure, and is free of spots or mold. The fruit can be ripened by leaving it at room temperature for one to two days. It sweetens as it ripens. The ripe fruit can be refrigerated for three to four days. Dragon fruit can be eaten out of hand, used in desserts or added to smoothies. One cup is a good source of vitamin C.
Image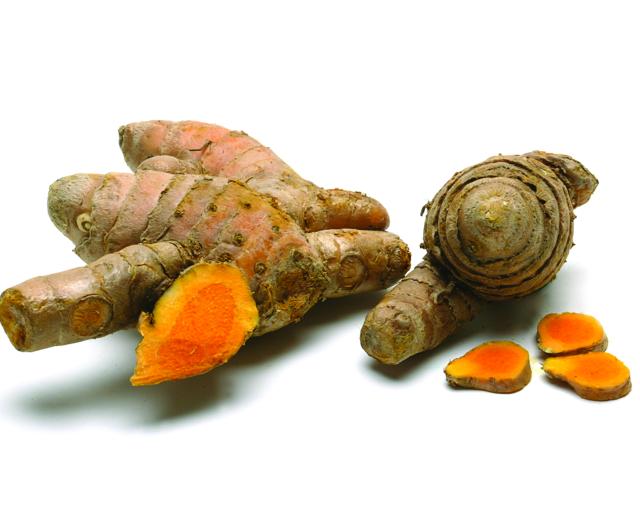 Turmeric root, or curcuma, has long been used for its bright-yellow color in recipes such as rice dishes, curries or chutneys, and pickles. When purchased fresh, turmeric is a 2- to 3-inch rhizome covered with brown skin tinged with orange. Dark-brown bands ring its surface, and the flesh is carrot orange. Turmeric is currently popular as an add-in to smoothies and juices. It should always be used sparingly, however, as it makes the mouth warm, with a slightly bitter aftertaste.
Turmeric should be firm when purchased, without soft spots, mold or shriveling. Consumers should peel it with a paring knife, discard the peel, and then finely mince or grate the fruit. To store turmeric, wrap it in a dry paper towel before slicing and refrigerate it in an unsealed plastic bag for up to two weeks. For longer storage, slice and freeze it in an airtight container for up to three months. One cup of turmeric is a significant source of iron.
Image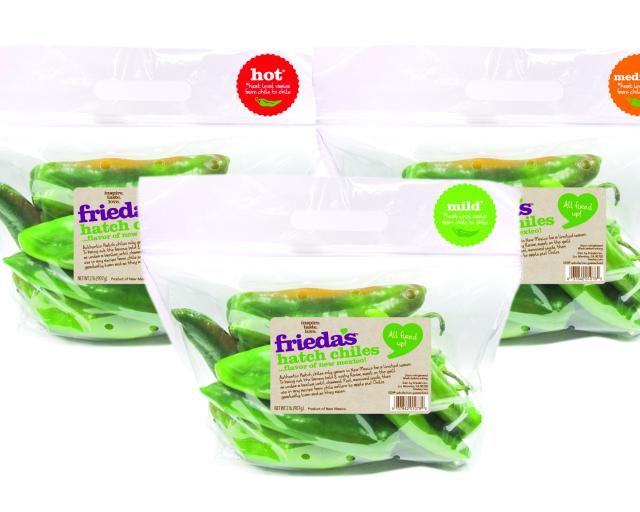 "Hatch peppers will be available in [August]," Town and Country's Wingo says. "It is a big promotional opportunity for the produce teams." One of the most popular peppers enters the marketplace this month and stays until late summer. Spicy food continues to grow in popularity, influenced by Hispanic cuisine. 
Hatch chiles are named after the original area where the peppers were grown. "Hatch chiles are exclusively grown in Hatch, N.M., and are beloved by native New Mexicans, foodies and chile heads around the country for their limited availability and addictive flavor," observes Alex Berkley, director of sales at Frieda's, a specialty produce purveyor in Los Alamitos, Calif. "The season is starting up earlier this year, and it's the perfect opportunity to boost summer sales."
Websites, Apps Can Lead to Specialty Produce Sales
Magazines and cooking shows often feature specialty and exotic produce, tantalizing viewers. Quick blurbs don't provide what many shoppers are looking for, however, before they invest in something totally new and different. While supermarkets usually have information and recipes available, customers can read about Buddha's hand or horned melons at home by visiting supplier websites.
Los Alamitos, Calif.-based Frieda's recently relaunched its website to make it easier for shoppers to know what's in season, sample kitchen-tested recipes and find the specialty produce purveyor's products in stores. A new product locator tool helps shoppers find where to buy Frieda's products anywhere in the United States, while the company's internal team can capture insights on regional product demand.
The site's Trending Now section, recipes and new videos help customers discover specialty produce items. The top 20 most popular items can be found with a click, as can almost 300 popular specialty fruits, vegetables and packaged products with all relevant information.
The website of Los Angeles-based Melissa's/World Variety Produce similarly features photos, new videos, tabbed sections of recipes, a What's In Season section, a Meet Our Chefs section, and much more.
According to chefs, the bright sunlight and cool nights of the valley where the Hatch pepper is grown create a flavor like no other.
Berkley notes that dedicated fans drive across town and state lines to stock up on Hatch chiles by the case.
"Hatch has become the LTO [limited-time-offer] pumpkin spice of the summer," she says. "We are seeing Hatch merchandised all over the store, including produce, prepared foods such as Hatch mac and cheese or Hatch potato fritters, and Hatch-flavored items in the center aisles like potato chips, sauces, salsas, and even alcohol."
Meanwhile, Melissa's holds Hatch chile roastings at various supermarkets, including Kroger and Wegmans. During August, the company also offers Hatch Essentials varying from frozen Hatch, to dried Hatch pods, to Hatch chile shakers in hot and mild varieties.
"Chile and chile products for those who participate in the roastings average triple digits in sales," Melissa's Schueller asserts. "We have over 50 retailers and over 600 retailer stores across the country who will be roasting Hatch peppers again this year."
The peppers usually have a mild to medium heat, although some are just plain hot. The Hatch chile's meaty flesh is suitable for dishes and roasting for salads, soups, sandwiches, stews, salsas, chili and dips. The peppers are also great for grilling.
When selecting these chiles, shoppers should choose bright-green, firm peppers with medium to thick flesh, and avoid those with soft spots. To store the peppers, leave them unwashed and refrigerate them in a plastic bag for up to five days. Hatch chiles are a good source of vitamin C.
By sharing some of this information with customers and sampling these items, you can increase sales of these items and encourage their everyday use.