11/19/2018
Kroger, Ocado Name Location of 1st Automated Customer Fulfillment Center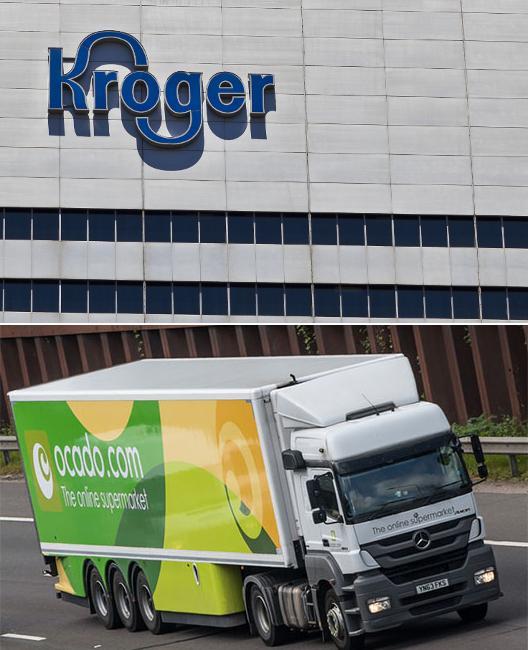 The Kroger Co. and Ocado, one of the most prominent online grocers in the world, have chosen a suburb of Cincinnati, the city where Kroger is based, as the location for their first customer fulfillment center, part of their partnership launched earlier this year to better automate Kroger's grocery ecommerce program.
Set to be constructed in Monroe, Ohio, the facility will be an automated warehouse with digital and robotic capabilities. It will cost $55 million, measure 335,000 square feet, and bring 410 new jobs to southwest Ohio.
Kroger is planning a total of 20 customer fulfillment centers – aka "sheds" – all of which will use the same model as the Monroe location. These facilities will introduce innovative robotics, allowing for next-generation automated storage and retrieval.
Among the unique features of the sheds are:
Space efficiency: The grid makes the best possible use of any available space
Performance: the robots move at speeds of several meters per second and can carry crates weighing tens of kilograms
Intelligence: The system is controlled via a 4G-based wireless protocol, using what is said to be the most advanced real-time optimization system ever created for logistics
High-speed collaboration: The robots work together as a swarm to pick an order of more than 50 items in just a few minutes
Scalability: The grid can easily be built to different sizes, and can accommodate more robots and crates according to changing capacity requirements
Resilience: All robots in a swarm are homogenous, so they can't take over from each other at any given time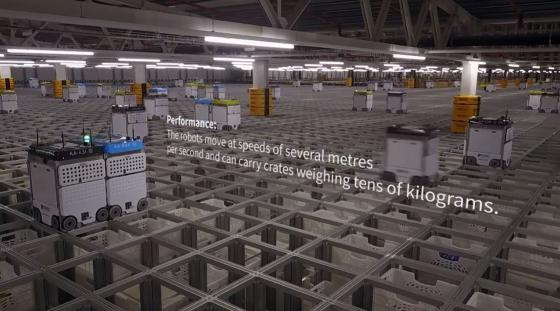 "Kroger is joining with the best partners in the world to co-innovate and leverage technology to redefine the customer experience," said Rodney McMullen, Kroger's chairman and CEO. "We are incredibly excited to partner with Ocado to transform the industry and deliver on our Restock Kroger vision to serve America through food inspiration and uplift. This Kroger shed, powered by Ocado, will accelerate our ability to provide customers with anything, anytime and anywhere."

Added Alex Tosolini, Kroger's SVP of new business development: "Working together, we will develop the strongest possible supply network to support a seamless customer experience that can serve every person in America. It's all about building a seamless supply chain to provide our customers with an amazing shopping experience."
The news of the first shed's location comes less than a month after Kroger and Ocado officially agreed on the terms of their partnership in the States. In addition to agreeing on 20 locations, Kroger said it would open the first three before the year's end, one of them being the Monroe location.
Even though Kroger revealed its grocery technology partnership with Ocado in May, it had been in talks on and off with the grocery ecommerce company for about two-and-a-half years, Kroger CEO Rodney McMullen told Progressive Grocer recently. However, it took Ocado CEO Tim Steiner some time to get comfortable with the grocer's ambition to serve America.
While it might be the largest pure-play food retailer in America, Kroger is not the only, or the largest, retailer with groceries working to automate fulfillment. Last month, Boise, Idaho-based Albertsons Cos. said it is partnering with Waltham, Mass.-based grocery technology company Takeoff Technologies to help simplify the online grocery shopping experience through a "hyper-local" automated fulfillment center, which also helps lower order-assembly and last-mile costs. 
And in August, Bentonville, Ark.-based Walmart said it was partnering with North Billerica, Mass.-based Alert Innovation to introduce automated mobile carts that help store pickers speed up the process of filing online grocery orders. A 20,000-square-foot extension was built onto a Salem, N.H., Superstore to house the technology and serves as a dedicated grocery pickup point with drive-thru lanes for customers.
The Kroger Co. operates a seamless digital shopping experience and 2,800 retail food stores under a variety of banner names nationwide. The Cincinnati-based company is No. 2 on PG's 2018 Super 50 list of the top grocers in the United States. It was also named Progressive Grocer's 2018 Retailer of the Year.