10/31/2018
Albertsons Is the Latest Among Top Grocers to Automate Ecommerce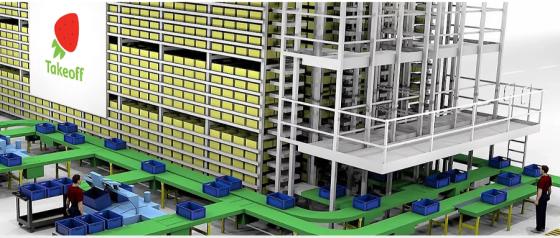 The Albertsons Cos. is embracing robotics and artificial intelligence (AI) to automate and save costs on ecommerce fulfillment.
The Boise, Idaho-based grocer is partnering with Waltham, Mass.-based grocery technology company Takeoff Technologies to help simplify the online grocery shopping experience through a "hyper-local" automated fulfillment center, which also helps lower order-assembly and last-mile costs. Takeoff's platform lets shoppers place online orders through established retailers, and the automated technology fulfills the orders using robots in micro fulfillment centers.  
To be piloted in an existing store, Takeoff's system will be replenished daily – just like shelves – and use Albertsons' existing ecommerce interface, which will deliver orders straight from the customer to the system. Following receipt of the order, the center will save associates' time by employing AI-enabled technology and a system of totes and conveyors, which will deliver products to associates for final preparation.
According to Albertsons, Takeoff has provided certain advantages as a partner that others couldn't, specifically implementation-ready technology, a solution that fits the current supply chain and store footprint, and product-picking flexibility.
"Investing in ecommerce directly benefits our customers, and anything that we can do to simplify their grocery shopping experience to save valuable time is a win," said Narayan Iyengar, SVP digital and ecommerce at Albertsons Cos. "While our partnership with Takeoff Technologies will streamline ecommerce fulfillment and improve our efficiencies, we're excited that Takeoff's AI solution will make it even easier for customers to get their groceries how and when they want. This is a major step in our commitment to being a customer-centric player in the digital food-and-wellness ecosystem."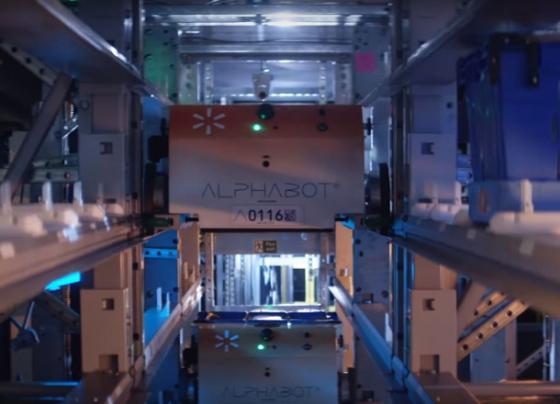 Last of the 3 National Giants
Albertsons' news follows on the heels of moves by America's other two national grocery giants: Walmart and Kroger, which are also seeking ways to reduce costs and save valuable time in grocery ecommerce order fulfillment:
The Bentonville, Ark.-based mega-retailer in August announced its partnership with North Billerica, Mass.-based startup Alert Innovation to launch Alphabot to assist in the picking process. The solution helps store pickers speed up the process of filling online grocery orders, using automated mobile carts that work behind the scenes by picking products from the storage area and delivering them to one of four picking stations, where pickers consolidate the items into customers' orders. Pickers can spend less time walking the aisles for center store items, and more time selecting such fresh items as meat and produce. Walmart followed up on this announcement earlier this month by unveiling plans for the "distribution center of the future" for perishables, where automation will help it move 40 percent more groceries than a traditional distribution center while also greatly reducing damaged goods.
The Cincinnati-based grocery giant in May launched an exclusive partnership with U.K.-based online supermarket Ocado in the United States to enhance its own ecommerce program, including online ordering, automated fulfillment and home delivery. Called part of Kroger's effort to "accelerate [the] creation of a seamless shopping experience for America's families," the partnership involves two prongs: Ocado's agreement to boost Kroger's digital and robotics capabilities by debuting the foundations of the Ocado Smart Platform stateside, and Kroger's agreement to grow its existing investment in Ocado by 5 percent, bringing its total investment to more than 6 percent. Kroger and Ocado revealed the terms of their deal this week.
In a May interview with Progressive Grocer, Ken Fenyo,  head of consumer markets for New York-based consultancy McKinsey Fast Growth, who was previously Kroger's VP of loyalty, acknowledged that grocery ecommerce is more expensive for grocers than traditional operations, and, therefore, these retailers must find ways to automate the supply chain if they have any hope of creating a profitable ecommerce business.
Boise, Idaho-based Albertsons Cos. operates stores across 35 states and the District of Columbia under 20 banners, including Albertsons, Safeway, Vons, Jewel-Osco, Shaw's, Acme, Tom Thumb, Randalls, United Supermarkets, Pavilions, Star Market, Haggen and Carrs, as well as meal-kit company Plated. Albertsons is No. 3 on PG's 2018 Super 50 list of the top grocers in the United States.