07/12/2019
The Importance of Transparency in Seafood Sustainability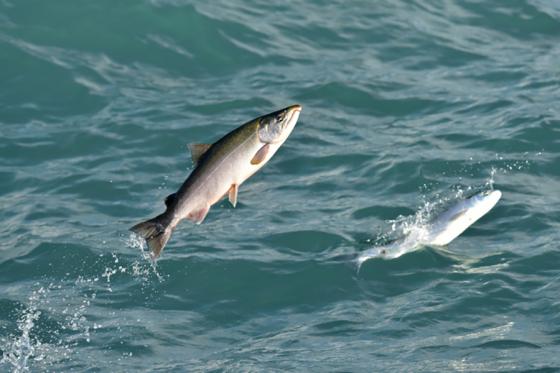 As the old saying goes, knowledge is power. Today in the seafood industry, we know a lot more than we knew before. We know that if you fish a certain species in the same location over and over again, that stock will eventually have difficulty replenishing. We know that some fishing methods can inadvertently capture more than the intended catch. Supply chain transparency is one of the most powerful ways we can wield this knowledge.
When we empower customers to think about where their seafood is coming from, how well the species is doing, and how seafood can be fished with equipment and methods that cause the least disruption to other creatures and their habitats, we empower them to make more informed decisions for a more sustainable world.
That's why since 2009, Publix has partnered with the Sustainable Fisheries Partnership (SFP) to leverage up-to-date information on fisheries and engage stakeholders along the supply chain to become more sustainable. And in 2017, we were recognized as the first U.S. supermarket retailer to participate in SFP's Ocean Disclosure Project (ODP), which promotes supply chain transparency.
This partnership not only enables us to provide more sustainable seafood options to our customers, but also puts us in a unique position to actively work with fisheries to do better.
Why is it important for Publix to care about seafood sustainability? It's very simple: We want our customers to be able to enjoy healthy, delicious seafood.
Part of the Solution
The data we collect and analyze with SFP helps identify fisheries that have strong sustainable practices, which enables us to give our customers the very best sustainably sourced seafood. Equally as important, the data helps us identify fisheries that have room for improvement (or a desire to improve). In those cases, we work together with SFP to sponsor Fishery Improvement Projects (FIPs) that help fisheries become more sustainable.
By inviting fisheries to be part of the solution – instead of punishing them for being part of the problem – we help affect real, lasting, positive change across the seafood industry for this generation and generations to come. To date, we have sponsored nine FIPs to transform fishing practices and create a more sustainable industry.
If we want to continue to sell seafood, we need fishermen. Every solution and action needs to keep fishermen in mind. Giving them the opportunity to engage in the dialogue, and providing them with the tools and market incentive to participate in the solution, is not only the best thing to do for the planet, but also the best thing to do for people.  
In addition to our partnership with SFP, by hosting our Sustainability Summit, collaborating with the National Fisheries Institute (NFI), the Food Marketing Institute (FMI), the Global Sustainable Seafood Initiative (GSSI) and Alaska Seafood Marketing Institute (ASMI), Publix is helping drive sustainable change across the seafood industry. Through our support of Target 75, an initiative that aims to get 75 percent of world seafood production in key sectors sustainable or actively working toward sustainability, we have the potential to dramatically change the way people do business in the seafood industry.
About Publix
Privately owned and operated by its more than 200,000 employees, Lakeland, Fla.-based Publix has 1,221 stores in Florida, Georgia, Alabama, Tennessee, South Carolina, North Carolina and Virginia. The company is No. 5 on Progressive Grocer's 2019 Super 50 list of the top grocers in the United States.
Why is it important for Publix to care about seafood sustainability? It's very simple: We want our customers to be able to enjoy healthy, delicious seafood. I grew up enjoying seafood, and I want my kids to be able to do the same, and my kids' kids. I want them to know about all of the wonderful seafood that teems in our oceans. At Publix, we started this important work more than a decade ago, and it's only continuing to pick up momentum. We have to continue pressing forward to promote the kind of change that will protect seafood for generations to come.
I am grateful to work for a company that is focused on sustainability across all areas, not just seafood, and which affords me the ability to engage and interact across a number of groups, with many stakeholders, to drive the changes needed for a more sustainable future.
We know better now, so we must do better – together.