06/04/2018
HelloFresh Begins Expanding Meal Kits Into Physical Grocery Retailers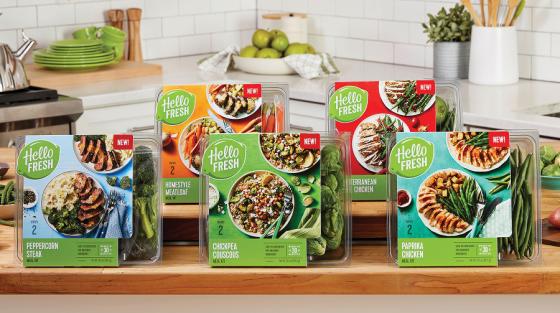 Following rival Blue Apron's own strategy to increase its physical presence, meal-kit service HelloFresh SE has begun its own brick-and-mortar grocery expansion, beginning with two Ahold Delhaize USA banners: Giant Food and Stop & Shop, bringing retail-ready kits to 581 stores altogether.
The New York-based service is partnering with a variety of retailers throughout the year, including smaller-format chains to help revitalize their grab-and-go aisles. Retail offerings include Peppercorn Steak, Mediterranean Style Chicken, Homestyle Meatloaf, Chickpea Couscous, and Paprika Chicken, ranging from $14.99 to $19.99, with each cooking in less than 30 minutes.   
To ensure the kits' great taste, freshness, convenience and success for grocers, HelloFresh conducted global pilot programs to best tweak the retail brand. Additionally, the 60,000-plus U.S. customer data points collected every week help create retail-ready recipes endorsed by a broad customer base.
"How we've been embraced by retail brands shows the quality product line HelloFresh has brought to market," said Tobias Hartmann, president for North America at the service. "HelloFresh strikes a chord with households that want fresh dinners on the table, without artificial ingredients or overly complicated recipes. The addition of retail, a channel well placed to benefit from the unique data, brand and infrastructure assets we have built out over the years, allows us to better address the everyday needs for even more customers, adding what we view as a highly complementary customer segment."
To help make the kits retail-friendly, HelloFresh has expanded its distribution network from five to 11 facilities to help minimize travel time and maintain ingredient quality. Additionally, it has developed unique packaging to optimize shelf space and drive profitable revenue streams for grocers.
After purchasing organic-focused meal-kit provider Green Chef in March, HelloFresh took a 36 percent stake in the meal-kit market, at the same time that rival service Blue Apron – also based in New York – suffered a share decline that brought it to 35 percent earlier this year, versus nearly half a year prior, technology news outlet Recode reported.
Blue Apron isn't going down without a fight, however, and is making strides on its own in brick-and-mortar grocery retail. In March, the service said that it would ditch its subscription-only model and begin moving its kits into physical grocery stores, following up through a partnership with Costco Wholesale Corp. a month ago to sell exclusive kits in the Issaquah, Wash.-based chain's Pacific Northwest and San Francisco Bay Area stores.
Additionally, Blue Apron last month revealed a series of experiential pop-up events nationwide in such cities as New York, Los Angeles, San Francisco and Seattle, coupled with movie nights in Minneapolis, Dallas and Austin, Texas. It also opened its first pop-up, in New York, last week to allow visitors to explore its products. The location will run through June 24 and feature a different theme every week.
Meal kits offered through brick-and-mortar food retailers have experienced impressive gains, recent research from Chicago-based market researcher Nielsen shows. Sales of in-store meal kits grew 26.5 percent over the past year, reaching $154.6 million, with growth likely attributed to two advantages: They require less commitment than those purchased via subscription-based services, and they offer more flexibility for retailers and suppliers to experiment with components and "levels" of convenience that keep customers coming back.