HelloFresh Acquires Green Chef
Get great content like this right in your inbox.
Subscribe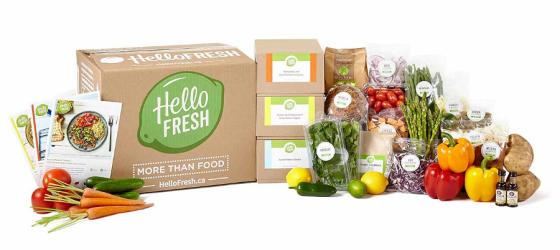 Meal-kit service HelloFresh SE has acquired Green Chef, a Boulder, Colo.-based rival known for its USDA-certified organic meal kits, for an undisclosed sum.
Headquartered in New York, HelloFresh provides subscribers with curated recipes and fresh ingredients for making well-balanced meals. It now claims it will offer the largest selection of meal plans for consumers, adding Green Chef's organic vegan and gluten-free menus, which include plans compliant with Paleo and Keto diets.
"We were the first certified organic and gluten-free meal kit company in the U.S., an important distinction to consumers who are committed to eating organically or are sensitive to gluten. With HelloFresh, we will only further amplify our mission to give consumers across the country a simple way to eat and live healthier," said Michael Joseph, CEO of Green Chef.
The acquisition will drive synergies for operations, logistics and procurement: HelloFresh will gain its first office and production facility in Colorado and integrate Green Chef into its operations and culinary teams. Additionally the companies' mutual interest in food safety and quality means they will commit to sourcing ingredients and sauces that are as fresh as possible, use sustainable packaging and pursue a data-driven approach to meeting and exceeding customer expectations throughout the whole experience.
The news comes at a time when services are learning to turn to others – whether rival services or retailers – if they want to survive in an over-saturated marketplace. Already Chef'd has partnered to sell its kits in Gelson's and Tops Markets stores, and Albertsons Cos. outright purchased Plated. And last week, struggling leading player Blue Apron announced that it no longer can rely solely on a subscription-based mail-order model, and that it would begin selling kits in brick-and-mortar stores.
Meal kits offered through brick-and-mortar food retailers have experienced impressive gains, new research from Chicago-based market researcher Nielsen shows. Sales of in-store meal kits grew 26.5 percent over the past year, reaching $154.6 million, with growth likely attributed to two advantages: They require less commitment than those purchased via subscription-based services, and they offer more flexibility for retailers and suppliers to experiment with components and "levels" of convenience that keep customers coming back. Meanwhile, total brick-and-mortar sales for center store edibles – including shelf-stable, dairy and frozen foods – dipped 0.1 percent to $374 billion during the same period.
HelloFresh, which went public in November 2017, will announce full-year earnings tomorrow, March 21.