Blue Apron Supporting Meal Kits Nationwide through Pop-Up Shops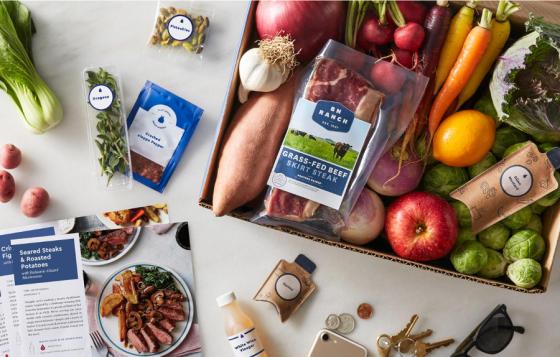 Just two weeks after announcing its plan to gain brick-and-mortar support from Costco Wholesale Corp., meal-kit service Blue Apron has announced a series of experiential pop-up events nationwide in such cities as New York, Los Angeles, San Francisco and Seattle, coupled with movie nights in Minneapolis, Dallas and Austin, Texas.
The experiential retail location in New York will be open May 29 through the end of June, and will include Blue Apron's latest products – incorporating retail offerings – and special occasion box, which is intended for large gatherings. Moreover, visitors will be able to participate in cooking classes and panel discussions with notable chefs. All proceeds, including cooking-class fees, will be donated to food-rescue organization City Harvest.
Meanwhile, mobile pop-ups in Los Angeles, San Francisco and Seattle, each lasting two days, will offer experiences following the evolution of a Blue Apron meal from source to dinner table, as well as chef stories behind various recipes.
As for movie nights, the public can attend free outdoor screenings that also will include lawn games, themed snacks, giveaways and other activities.
"We have always believed in the connective power of a home cooked meal," said Blue Apron VP Michelle Chiu. "As we work to serve the diverse needs of our customers by creating new products and expanding into new distribution channels, these experiential events are an opportunity to extend our brand outside of the home where customers typically enjoy our product, and celebrate home cooking with communities across the country."
The events mark new partnerships, which Blue Apron CEO Brad Dickerson announced in a May 3 earnings call as part of a way to "further broaden" the brand's geographic reach.
"We will continue to … introduce the Blue Apron brand to new consumer segments and expand our total addressable market," he told attendees. "In our view, we have only scratched the surface of how the Blue Apron meal experience can engage with consumers."
The Wall Street Journal first reported in March Blue Apron's plan to begin rolling out its meal kits in physical stores, noting at the time that it had been hemorrhaging subscribers, including a one-quarter decline to 750,000 in February compared with the number a year prior. The New York-based service also has had a lackluster IPO, cut staff and even replaced its CEO as it continued to hold onto its subscription-only model.