09/06/2018
H-E-B's New Austin Facility Continues Trend of Grocers Thinking as Technology Companies First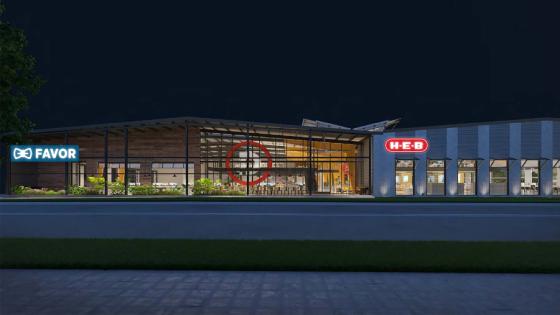 Texas grocer H-E-B, like many other grocers recently, is thinking more like a technology company first by opening a facility dedicated to innovation and grocery technology in East Austin.
The new facility will house the San Antonio-based grocer's growing digital team and Favor, the Austin-based on-demand delivery service H-E-B acquired earlier this year. The San Antonio-based grocer has signed a long-term lease on the building, which is slated to open next spring.
The recently renovated industrial warehouse will become a "creative and collaborative workspace" for Austin-based associates on the grocer's digital team, as well as the headquarters for Favor. H-E-B enlisted HPI Corporate Services as its tenant broker and has engaged global architecture firm IA Interior Architects to fully customize the two-story, 81,000-square-foot facility. Located at 2416 East Sixth Street, the property is within walking distance of several amenities, including restaurants, breweries, coffee shops and the 7th Street H-E-B store.
With the new facility, H-E-B plans to add several hundred jobs to the local economy and is actively hiring across all areas of expertise, including product management, product design and software engineering.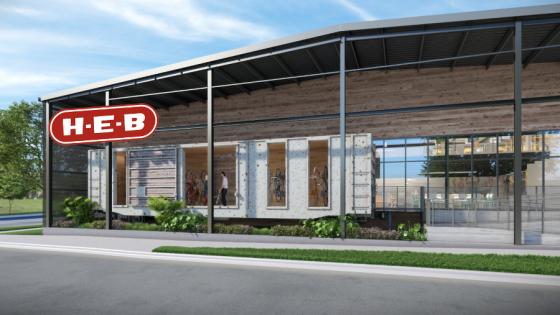 "This state-of-the-art space will be a hub for creativity and innovation as we continue to develop the ultimate digital experience for our customers," said Jag Bath, H-E-B chief digital officer and Favor CEO and president. "Bringing H-E-B and Favor closer together will allow us to promote collaboration between our two companies as we strengthen our commitment to building out H-E-B's omnichannel services."
Thinking Tech First
The new facility appears to continue the recent trend of grocers trying to better emulate a model that Amazon adopted long ago: to think more like a technology company first, rather than a retailer first. Other examples of this in the past year include:
International grocery company Ahold Delhaize, which is working to increase its focus on the development of artificial intelligence technology by joining the Innovation Center for Artificial Intelligence to open its first laboratory. ICAI, which officially launched at Amsterdam Science Park in the Netherlands, is focused on joint development of technology through industry labs with the business sector, government and knowledge institutes.
Cincinnati-based Kroger Co., whose Kroger Technology division is furthering its technological prowess by building an innovation lab within the University of Cincinnati's 1819 Innovation Hub. Housed within the Uptown Innovation Corridor, the 1819 Innovation Hub serves as a "beacon of community innovation and impact in partnership with higher education," and is claimed to be the region's newest destination for "thinking, making, doing, discovery and delivery." Kroger also has revealed plans to open a new headquarters for its digital team in downtown Cincinnati, where it aims to grow headcount from 600 to more than 1,000 over the next three years.
Boise, Idaho-based Albertsons Cos., which has partnered with venture capital firm Greycroft to launch an incubator to help grow emerging companies and technologies in the grocery sector. Intended to eventually have $50 million in funds, the incubator will benefit from Greycroft's investment expertise and connections into the early-stage technology industry and Albertsons' grocery expertise and coast-to-coast footprint.
H-E-B's new facility is just one of several technological strides that the grocer has made this year. Others include acquiring Favor, appointing Bath chief digital officer, and adding Mike Georgoff as chief product officer for H-E-B Digital. In addition, H-E-B continues to enhance its digital offerings with the expansion of its H-E-B Delivery and H-E-B Curbside service, which is available in more than 145 locations across the Lone Star State and is on track to reach 165 stores in 2018. The company is also closing a Houston store to make way for its first ecommerce fulfillment center in the area.
H-E-B operates 400 stores in Texas and Mexico, and employs more than 110,000 associates. It's No. 6 on Progressive Grocer's list of the top grocers in the United States.