Could Amazon Finally Be Testing Full-Size Cashierless Grocery Stores?
Get great content like this right in your inbox.
Subscribe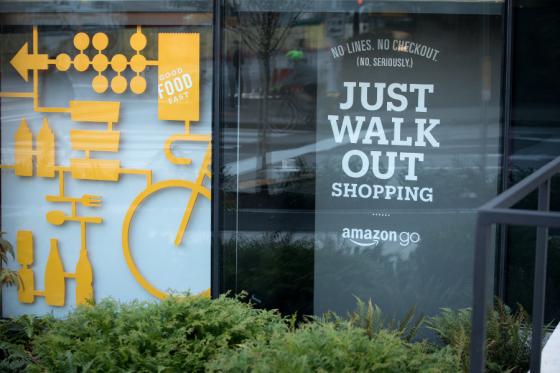 After opening several of its cashierless, "just walk out" convenience stores in the Pacific Northwest and Chicago – and planning up to 3,000 total within the next few years – Amazon is beginning to test the same technology in a larger format, The Wall Street Journal has reported.
The Seattle-based behemoth is testing the technology – which employs computer vision, sensor fusion and deep learning to determine what customers take from or replace on shelves – in a bigger space said to be laid out like a large store, the news outlet said, citing unnamed sources. Although the stores currently employing the technology sell groceries, it hasn't yet been reported that the larger store being tested will be an actual grocery store.
Currently, Amazon operates three Amazon Go stores in Seattle; three in Chicago; and one in San Francisco, with current plans to open one each in San Francisco, Chicago and New York. But even though the ecommerce giant has shown itself ready and able to expand the format dramatically in a short timeframe, larger stores could take more time to open, WSJ said. Amazon Go's own public debut encountered a long delay due to its technology's difficulty tracking people and products, even within its 1,800-square-foot space.
If Amazon is, in fact, planning a "just walk out" grocery store, this could make the ecommerce company and its physical operations stronger threats to brick-and-mortar grocers. Recent research from InMarket suggests that currently, Amazon Go stores are more of a threat to convenience stores than to grocers: Visits to the currently open locations differ from those to traditional grocers in that the weekdays see strong traffic – with Wednesday the busiest day – but not so much the weekends. This contrasts with traditional grocers' heavy reliance on weekend foot traffic to survive and thrive.
Walmart, arguably Amazon's chief rival as of late, is also testing technology to remove the traditional checkout experience from physical stores. In late October, it unveiled its first Sam's Club Now store in Dallas, which, at 32,000 square feet, is a quarter of the size of a traditional Sam's Club store. However, the grocery-focused club store places shoppers' mobile phones at the center of the grocery shopping experience, while also serving as an incubator to adopt and test other technologies. One of its chief innovations is scan-as-you-shop technology through the Sam's Club Now mobile app.
Amazon is No. 8 on Progressive Grocer's Super 50 list of the top grocers in the United States.