10/10/2018
Whole Foods Now Delivers to Prime Now Subscribers in 53 Cities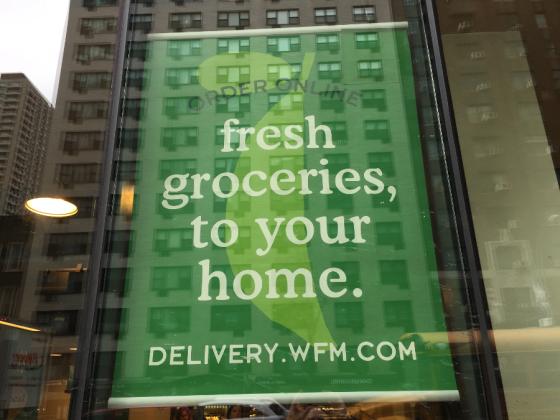 Whole Foods Market has expanded its delivery and click-and-collect footprint once again for members of Amazon's Prime Now service, bringing the numbers of cities serviced by both up to 53 and eight, respectively.
Delivery is now available from Whole Foods through Prime Now in Annapolis, Md.; Cleveland; Louisville, Ky.; north and central New Jersey; and Pittsburgh, as well as additional locations in the San Francisco Bay Area. Starting today, Prime members in those areas can purchase the same fresh produce, meat and seafood, everyday staples, and other locally sourced items that they can get in-store at Whole Foods.
Additionally, curbside grocery pickup is now available in Dayton, Ohio; Louisville, Ky.; and Omaha, Neb. Customers order via the Prime Now app and, after choosing the "pickup" option, select either free pickup in as little as an hour for orders of $35 or more, or pickup in 30 minutes for a fee of $4.99. After arriving at the store, customers park in a designated spot, and a Prime Now shopper will place the groceries in the car within minutes. Orders will be ready upon arrival for those who communicate via the app that they're on their way.
"Prime Now delivery continues to be a hit with our customers, and we're excited to introduce the service in five new cities, plus more neighborhoods in the San Francisco Bay Area," said Christina Minardi, Whole Foods' EVP of operations. "And for our customers in Dayton, Louisville and Omaha, we're thrilled to also offer the option of grocery pickup. It's just another way we're making it even easier for more customers to enjoy Whole Foods Market's healthy and organic food."
Pickup and delivery from Whole Foods are available daily from 8 a.m. to 10 p.m. In addition to ordering via the Prime Now mobile app, shoppers may order by voice using devices enabled with Amazon's Alexa voice-assistant technology: Members can add items to their cart by saying, "Alexa, add eggs to my Whole Foods cart," and when ready to check out, they can just say, "Alexa, check out my Whole Foods cart," and then choose "pickup" or "delivery" on the Prime Now app.
Amazon introduced Prime Now grocery delivery from Whole Foods stores in February, and since then has been expanding the service, which now reaches 48 cities. Earlier this month, Prime Now arrived in the Charlotte and Raleigh, N.C.; Las Vegas; Memphis and Nashville, Tenn.; New Orleans; Oklahoma City; Phoenix; Tucson, Ariz.; and Seattle areas, as well as more neighborhoods in New York, Los Angeles and the Dallas/Fort Worth region. Further expansion is planned throughout the rest of the year.
The launch of Prime Now click-and-collect came in August, beginning with service in Sacramento, Calif., and Virginia Beach, Va. Amazon expanded the service for the first time just two weeks ago.
Austin, Texas-based natural and organic grocer Whole Foods operates more than 470 stores in the United States, Canada and the United Kingdom. Under the name of its Seattle-based parent, Amazon, the grocer is No. 8 on Progressive Grocer's Super 50 list of the top grocers in the United States.