09/20/2018
Walmart to Bring Virtual Reality Training to All U.S. Stores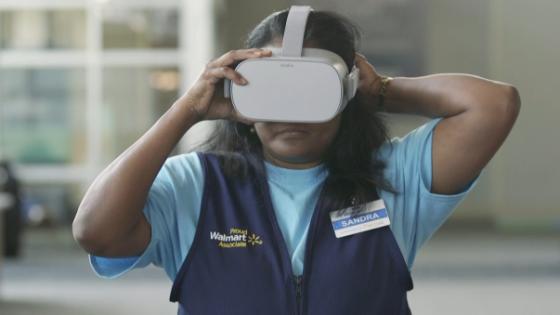 One year after it introduced virtual reality (VR) headsets to upgrade training at Walmart Academies worldwide, the Bentonville, Ark.-based mega-retailer is rolling the headsets out to all stores in the United States, bringing the same level of training to more than 1 million associates.
Next month, every Walmart supercenter will receive four Oculus Go headsets, and every Neighborhood Market and discount store will receive two. By the year's end, every associate – including floor-level ones interacting the most with customers – will have access to the same training as their managers and department managers do at the Academies, with a combined 17,000 headsets available at Walmart stores nationwide.
The technology was piloted at the store level in 10 locations this summer, specifically on the new Pickup Tower units – training the associates on the in-store units before they were even installed.
"I'm a gamer, so I was excited to use" the technology, said Adrian Carthen, who works at a store in Stockbridge, Ga. "It felt like you were actually loading the tower. And I could train any time that I wanted and it was done in just a few minutes."
"The great thing about VR is its ability to make learning experiential," said Andy Trainor, Walmart's senior director of Walmart U.S. Academies. "When you watch a module through the headset, your brain feels like you actually experienced a situation. We've also seen that VR training boosts confidence and retention while improving test scores 10 to 15 percent – even those associates who simply watched others experience the training saw the same retention boosts."
Trainor worked with Senior Director of Digital Operations Brock McKeel to bring the VR training to associates. Currently, there are more than 45 activity-based modules using software provided by StriVR, which is said to deliver "realistic, repeatable and scalable training content" to help associates better and faster learn and retain information.
At the moment, associates will be trained through VR in three main areas: new technology, soft skills like empathy and customer service, and compliance.
Walmart noted that VR is an effective training tool due to its ability to instill confidence. Associates have the ability to make mistakes in VR as they would in real life and learn from those errors without any consequences.
Empowering Associates Better
VR is another way Walmart is leveraging technology to better empower its associates at the store level and beyond. For instance, the retailer also has introduced:
Check Out With Me, which saves customers time by allowing on-the-spot payment in Walmart's Lawn & Garden Centers for such products as flowers, soil and mulch. A customer walks in, chooses what he wishes to purchase, and then brings it to a Check Out With Me associate on the floor. Using a dedicated mobile scanning device, the associate scans the items, swipes the shopper's credit or debit card, and then provides a printed receipt.
A suite of services to help employees plan ahead for bills and savings goals while also allowing them access to wages ahead of paychecks for unexpected expenses.
A suite of custom-built apps for associates to use in-store, allowing them to manage a variety of routine activities directly from a mobile store device. From the moment a product arrives in the back room to the second a customer finds it on the shelf, an ecosystem of data gives associates new visibility that helps them make informed decisions quickly, thus allowing them to take on more ownership of their work.
"Yes, we're focused on helping people do their jobs better every day. But the training we've designed is also hopefully training for life," McKeel said. "That person walks out of their store with new skills and more confidence than they had before – that's the passion behind this project."
Earlier this year, Walmart's Store No. 8 technology-startup incubator – launched in early 2017 to identify changes that will reshape the retail experience – acquired Spatialand, a virtual-reality startup intended to create the foundation of the incubator's third portfolio company. The new venture, which launched with the plan to "operate in stealth," was tasked with developing and exploring products and uses of VR through immersive retail environments that can be incorporated by all facets of Walmart, online and offline.
While Walmart is using VR for the purpose of better training employees – and doing so in an equal manner, regardless of role – the technology can provide myriad other benefits to grocers, some of which can help such current dilemmas as fading center store sales, Bob Mariano, former Dominick's and Roundy's CEO, as well as former board member of Chicago-based VR provider InContext Solutions, told Progressive Grocer a year ago. And while arguably its biggest barrier to adoption is its costliness, the technology's ability to assist in category management, planogram improvement and shopper intelligence could actually make it pay for itself in the long run.
At the time, however, Mariano argued that to move into the future and see VR's potential, food retailers must simply "put their foot in the water and try it."
Walmart operates more than 11,200 stores under 55 banners in 27 countries. The Bentonville, Ark.-based company is No. 1 on Progressive Grocer's list of the top grocers in the United States.